All titles on the Selected Works CDs composed and performed by Carlo Domeniconi.



The CD booklets contain descriptions of the pieces specially written by the composer for these albums.
I did that and promptly got an email reply saying I had been verified poloniex verification (My profile now says I have a 'level 3 verification' — the type that allows $25,000 per day).


Series producer Marcus Waibel ww-studios.de



Published by musica·ex·tempore



Further CDs in the series are planned for release in the near future.



See also the complete list of Carlo Domeniconi's works.



Selected Works CDs are available online at: www.pool-music.com
NEW - MARCH 2015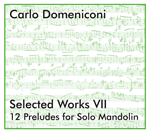 Selected Works VII
12 Preludes for Solo Mandolin