Thea Nielsen is particularly interested in classical world music as well as literature for the flute, which in her opinion is sadly too rarely performed.



Her busy schedule of concerts, appearances on radio and television and her master classes have already taken her through Europe, Asia, Australia and the USA.



The combination of flute and guitar has fascinated her for many years, as she finds that the specific sound of the guitar allows the flute to be played in an especially fine and nuanced way; which is why she considers Carlo Domeniconi's compositions and guitar style exceptionally inspiring.



Further information: www.ethnoclassics.com




Thea Nielsen plays flute

on the Carlo Domeniconi CD

Selected Works VI - Flute and Guitar

Further details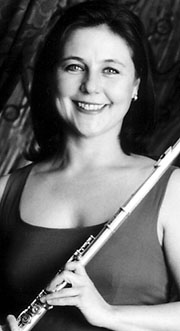 Thea Nielsen


ethnoclassics.com