| | | | | | |
| --- | --- | --- | --- | --- | --- |
| | photo gallery | Hugh Feathertone - photo series 4 | | series 4 of 11 | |
Hugh Featherstone
live at
the Werketage, Berlin

28 June 2003

This was Hugh's second appearance at east Berlin's Werketage at a time when the industrial arts space was in its heyday.

Hugh's concerts were part of a regular programme of exhibitions, concerts and performances by international artists.

Those were the days.




photos: © 2003

and

Konstanze Gundudis





Flyer for Hugh's concert at the Werketage, Berlin.

design: David John © 2003


Hugh Featherstone live at the Werketage, Berlin, June 2003


Hugh and Heike Houben of Berlin band Female Trouble
discuss the finer points of his Kraushaar guitar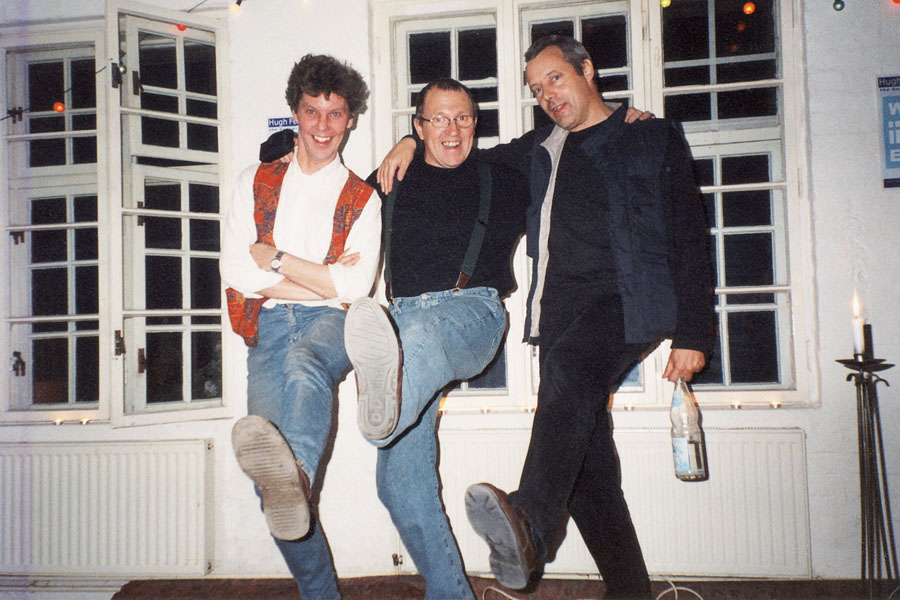 "Yes, we can-can"

Left-right: David John, Edward Povey and Hugh Featherstone.

Analogue photo taken during Hugh's first appearance at the Werketage
on Saturday 5th May 2002. The event was compered by the incomparable
Donna Atiza, and the audience included by a group of dedicated fans from
Rostock on the Baltic coast. Stefan Klinker made a video of the gig.

Photo: Wolfgang Wündsch

Read more about the artist Edward Povey
on the West of Eden page of the discography.




Hugh Featherstone
in concert

at the Werketage, Prenzlauer Berg, Berlin

28 June 2003



"The tiny angels would go flying on the summer breeze
and I would follow with my dreams, across the river into the trees."

Sometime, never, maybe
from Hugh Featherstone's CD Landing
Hugh Featherstone plays Kraushaar Guitars