| | | | | | | |
| --- | --- | --- | --- | --- | --- | --- |
| | back to discography | Hugh Featherstone discs | | previous disc | first disc | |
CD album
9 on the sub-prime
2010
All text

in this rather fetching blue-green

by Hugh Featherstone.

Nine tasty tracks of intelligent and catchy acoustic and hot-wired, typically Featherstone songwriter-stuff for those who still have a shirt to lose. Smooth songs in a sharp package.

Slightly less "music for jumping off bridges to" this time out, I seem to have caught a little of the "hey ho, may as well look on the bright side" attitude currently going around. Could travel.

9 on the sub-prime is the first recording by Hugh and his band A Panel of Experts since their 2005 live album Live at the Chapel.

In 2006 John Renerken replaced Chris Mattar on bass, and David Spencer took over the drummer's stool after PhilBy went to live in New York. Kim Bastian and Chris Sichert remain from the original Experts line-up.

Of special note is the contribution made to this album by legendary Gitarrenmeister

Walter Kraushaar

.

Also in 2010, two tracks from the album,

Kerosene & Caffeine

and

The day you left

, were released on a CD single.

Read the

review

of this album by David John below.

9 on the sub-prime
sample tracks

The Flash player previously on this page has
been removed (R.I.P. Flash). You can play the
songs with the plain HTML audio player below.

We hope to be able to provide
a better-designed player soon.

1. Kerosene and caffeine

2. New obsession

3. Out of this world

4. Boxcar City

5. Healer
The musicians:
Hugh Featherstone
& Kim Bastian

Hugh Featherstone


David Spencer

John Renerken

Chris Sichert
& Kim Bastian
Lead vocals & harmonies


12 string acoustic, baritone,
electric guitars, violin & cittern

Drums

Bass

Percussion
With the addition of:
Walter Kraushaar

Tom Engels

Edgar Liebertz
Lead guitar, tracks 1, 2, 3, 6, 7 & 9

Various charts and internal samples

Diverse gongs, track 8

And of course I shouldn't leave without saying…

BIG THANX to Tom at Tor 2, PhilBy at nemodreaming, Karl Colonerus at DTMCI and all my sponsors. Thanks also to the band for all their hard work and to everyone at Kraushaar Guitars for their input into this most enjoyable enterprise. Thanks to Manfred at Shuttle Music and to David in Berlin. Big hugs to family and friends, far and near, with a very warm welcome to Naïm Maxwell and Selenia!

Produced by

Engineering, Mix & Mastering

Words & music, all songs

Publishing

Design & layout

Photo credits

Online physical sales

Online download sales
Hugh Featherstone & Tom Engels

Tom Engels

Hugh Featherstone hughfeatherstone.com

DTMCI Publishing, sprl, Belgium

PhilBY at nemodreaming.com

PhilBY & Mary Lejoly

blutopia.networks www.blutopia.net

DTMCI dtmci.com

9 on the sub-prime CD cover

design by PhilBy at nemodreaming.com
Hugh Featherstone & a Panel of Experts:
9 on the Subprime

A review by David John for My Favourite Planet

The first reports of Hugh Featherstone's latest recording project 9 on the Sub Prime were that he intended to make an independent, low budget, no frills album. "The name is the programme" as the Germans say: nine songs for the post-industrial, post dotcom, post 9.11, post subprime world. So when it arrived, I somehow expected the CD would be a collection of simple ditties arranged and produced in a way which even a Spartan would consider sub-Ikea. Wrong again.

Austerity, darkness, light and space

Certainly, as if in tune with the current mood of economic austerity, the CD packaging is strictly monochrome. Be assured, the music is anything but. The stark black-&-white appearance and blocked headlines in the booklet have more than a hint of tabloid; however it seems the designer, once again PhilBy at nemodreaming.com, couldn't do entirely without touches of subtle elegance in the typography and the use of white space. The general impression is of light and air, accurately reflecting the overall musical atmosphere created throughout this pop album, though not the darkness impenetrable lurking in the corners of a few of the songs.

The CD comes in an anthracite cardboard sleeve with a protective fold-back inlay card, the booklet in a second white sleeve of its own, a duality taken up with consequence throughout the production. As with Hugh's last CD,

Friendly Skies

, one has the impression that nothing here occurs by accident.

Complete? Yes, very!

As ever with Hugh Featherstone CDs, the lyrics are there. I'm convinced printing the texts is a blessing to humankind and prevents many fruitless arguments about what he really said or meant. There are also photos of Hugh and his band, though sadly not of guest guitarist Walter Kraushaar or producer Tom Engels. This time though, instead of his customary brief comment to each song, Hugh has written a catch-all preface titled "About the difference between songwriting and real life". After reading this I'm not quite sure that there is any. Spooky.

For those who know (or even care about) the difference between a Ludwig Supraphonic Aluminum shell snare and a Sabian HH Thin crash, there is a painstakingly detailed "geeks corner" rundown of all the instruments and gizmos used on the recording, who played which and even a mouth-watering catalogue of microphones – a veritable forest of them. Did you leave anything out, guys? With all that stuff in Tom Engels' Tor 2 studio I'm surprised there was any room for the musicians.

So, despite having to work to a closely calculated budget and a tight schedule during the bleak mid-winter of 2009 - 2010, the Panel of Experts certainly did not lack access to some top-notch equipment. And as anybody who has followed the Experts over the last few years would expect, they do justice to all that gear. The sheer variety of creative interpretations and deft touches by individual musicians in themselves make for a great deal of listening pleasure. Each song as a whole is solidly constructed, richly decorated, highly charged and moves along at breathtaking speed. And still there is space for some aural surprises that tickle the senses and satisfy the soul.

Therapy for the jilted

Each time Hugh releases a disc it is clearly different from previous offerings, reflecting further creative and technical development, the styles and attitudes of participating musicians and particularly the latest stream of consciousness. Songs written since 2005, some of which appeared on his last two CDs, seem to have a spirit of happy abandon. Contrary to many songwriters, it is as if he started his musical career with more earnest material and is getting lyrically looser and more open to experiment with age.

The songs on this album were written over a span of nine years and swing to-and-fro from darkness into light. The harshest juxtaposition occurs right at the end, between the sombre and rather creepy Out of this world (a song of which Hugh writes in the sleeve notes: "I do not personally know anyone I would actually want to sing it to or about, but you may be less lucky") and the ethereal Hawaiian guitar and cheery Motown drum sound of There's a light. This mood shift over time, which is heavily hinted at elsewhere ("I've got a new obsession - I was dead back then - I'm over my depression - I'm on the road again"), is a theme also echoed by the polarised choices I mentioned previously with regard to the cover art.

Lyrically, the listener is taken in these nine tracks on a series of journeys between very different worlds, from the Western shore to Box-Car City, from Heathrow to Kennedy, from penury to winning the lottery, from Virginia Woolf to Yoko Ono, from the light at the end of the tunnel... and into another tunnel, and even right out of this world. The songs cover a lot of ground, geographically, socially and emotionally and the distance marks the space between us: the lover and the beloved, the rich and the poor, the unutterably smart and the utterly clueless.

The cast of characters ranges from someone who fails in everything and admits I just don't get it, to an airline pilot as a cog in the machinery of the cut-throat aviation industry kept going by Kerosene and caffeine, to a doyen of the media world who is willing to give up everything and even move to Box-Car City for the sake of love, to somebody whose luck changes miraculously for the better on The day you left.

This latter song has to be the pleasant surprise of the year. Having first seen the title, I thought we may be in for a sad heartbreak number. Instead it's a hilarious and spirited Celtic style romp. This should be played to all jilted lovers as ultimate music therapy. If this doesn't cheer you up, nothing will.

All the songs in this collection are witty, and a couple of them are very humorous. We are told there is a clear distinction between these two types of "funny"; perhaps listening to this CD could help us tell the difference: an ideal case study for those who like to "compare and contrast". This applies not just to the lyrics and Hugh's delivery but to the myriad musical details embedded throughout: every "bop", "cha-cha-cha", "chunk", "wa-wa" and "zing" has been carefully thought out for effect and enjoyment on several levels.

New line-up, new sound

This is the first recording by Hugh Featherstone & A Panel of Experts since they were joined by drummer David Spencer and bassist John Renerken. Apart from providing the essential rhythmic backbone to the songs, these two young musicians have made considerable creative contributions to the sound of this album.

Percussionist Chris Sichert, Hugh's long-time musical collaborator (Red Shift, Trans/At, Tone Poets), as ever always manages to find exactly the right "extra" sounds to weave into or drop onto the fabric of the music to increase its lustre above the expected.

Kim Bastian, also a founder member of the Experts, provides further percussion as well as her truly seraphic voice, generally raising the tone by several celestial notches.

Guest lead guitarist Walter Kraushaar, who has played at several Experts gigs recently, adds a razor-sharp, distorted rock edge to six of the tracks, his playing masterful mayhem: always threatening to go completely out of control and eat the neighbourhood, but then coming back in line right on the button.

Hugh himself holds the frontline with a seemingly inexhaustible vocabulary of guitar styles and riffs, intelligent tunes and words delivered with finely balanced dramatic tension. His violin and cittern also make a rare appearance on this collection.

Quality, depth, style and substance

All in all, the Experts have pulled it off with style, producing an album of quality, depth and substance, both musically and lyrically. At least five of the songs stand out in every respect, are immediately listenable and in themselves make the CD a good buy at €12.50. If you really want to get your moneys' worth though, it will repay you to make a journey of discovery by listening to all of the tracks on this album more than once. I did this myself, replaying songs again and again while writing this review, each listening brought new discoveries and reasons to be cheerful: a joy.

David John www.my-favourite-planet.com

March 2010

Photos by PhilBY & Mary Lejoly
from the 28-page CD booklet

Hugh Featherstone
vocals, guitars, violin & cittern

Kim Bastian, vocals & percussion

Chris Sichert, percussion

David Spencer, drums

John Renerken, bass
John Renerken
David Spencer
Hugh Featherstone
Kim Bastian
Chris Sichert
Hugh Featherstone and A Panel of Experts in the studio
| | | | | |
| --- | --- | --- | --- | --- |
| Cover of the 28-page booklet | | the sub-prime package | | number 9 |
| | | | |
| --- | --- | --- | --- |
| 9 on the sub-prime | lyrics and notes | | |
Unusually for Hugh, instead of his customary brief comment to each song, for
the booklet which comes with this album he has written a catch-all preface
titled "About the difference between songwriting and real life".

We may be able to include this preface and other material from the booklet at a
later date. In the meantime you could just buy buy the CD. Highly recomnended.

Try www.blutopia.net for the best buy.
| | | |
| --- | --- | --- |
| 9 on the sub-prime | I don't get it (2003) | track 1 |

I drew my gun, I aimed, I fired, I missed
Your sense of fun laughed me to scorn
I aimed again, I fired again, I missed again, you laughed again
I guess my gun was badly drawn
Why do these things keep happening to me?
In the school of life I never make my degree
I need some credit, but I just don't get it

I fall in love, but I fall solo like I fall in everything I know
Guess I don't know dumb, maybe I'm falling wrong
I wait for you, it's a heavy weight, it weighs me down, a long way down
So I wander home, can't wait that long
Why do these things keep happening to me?
Turning round and round into infinity
Life needs an edit, 'cause I just don't get it

We took a ride, it took you away. The first takes are the best, they say
And though it took all night, you weren't taken right
So you took off in a different way and it took me two years and a day
To heal the bite (walk to heel, don't fight!)
Why do these things keep happening to me?
That I lose my head but not my memory
I'm daily fed it, but I still don't get it
How can I regret it, if I just don't get it?
| | | |
| --- | --- | --- |
| 9 on the sub-prime | Western shore (2004) | track 2 |
Hugh made a video of this song for his YouTube channel in 2013, when he wrote:

Western Shore is a study in atmosphere: how the nature of a place influences the events that happen there. It's also an observation on human nature and the way we seek external solutions for the issues we carry inside us. In addition, the song illustrates a recurring theme of mine, that an increase in knowledge does not necessarily bring more clarity ("I understand less now that I've learned a little more") and that some actions will continue to defy comprehension, no matter how many times you go over them in your mind. The second half of verse one is not only a strong piece of writing, but has also given me the title of my future acoustic archive collection: Ribs of memory.

Warm wind blowing, coming off the coast
Whining through the windows, playing the chimneys like a ghost
People round here told you it's best to stay inside
When evening comes with a blade of fur, at night the devil rides, he rides
Warm wind blowing, deep into your soul
Stirring up the places that were cut off by the cold
Forgotten names and faces, forgotten friends like me
The wind licks with a phantom tongue through the ribs of memory
I understand less now, that I've learned a little more
Here we can grieve where we used to believe
It's a sound they've heard before on the western shore

Warm wind blowing, waking up the heart
A pity it can't wake the dead, there has to be an art
An art to mending promises, an art to fixing dreams
A change of air cannot repair what's worn out at the seams
I understand less now, that I've learned a little more
Here we can grieve where we used to believe
It's a sound they've heard before on the western shore

Warm wind blowing, coming off the sea
Howling through the halls of state and the jails of destiny
The fishermen, they told you, when you get a wind like this
A storm is sure to follow, like betrayal to a kiss

I understand less now, that I've learned a little more
Here we can grieve where we used to believe
It's a sound they've heard before on the western shore

I understand less now, that I've learned a little more
They found your book and that cloak I mistook
For a sea-bird once before, on the western shore
| | | |
| --- | --- | --- |
| 9 on the sub-prime | Box-Car City (2005) | track 3 |
A live version of this song was recorded by Hugh Featherstone & A Panel of Experts
for the 2005 album Live at the Chapel.


Ain't nobody here greener than me
I ride a recycled cycle and I live in a tree
I got a weather balloon to track the nozone zone
And I commune with Mother Nature on my solar phone
But I give it up, give it up, I mean it I do
To live in Box-Car City with you

Ain't nobody here richer than I
I'd already left the jet set when the others learned to fly
I got my own private island with a heli-pad
I don't have to sell my mama. I already sold my dad
But I give it up, give it up, believe me, I do
To live in Box-Car City with you

Ain't nobody here more cultured than me
I call Virginia Woolf "Ginny". I had Warhol for tea
I was hip with Yoko Ono long before she met John
I sleep to atonal music with my oxygen on
I've lived in Rome and Barcelona; it was there I met Winona
Though I only took her number so she knows I never phone her
All the people they call famous I don't give a second look
I don't have to see the movie; it was me that wrote the book!
But I give it up, give it up, I mean it, I do
To live in Box-Car City with you
| | | |
| --- | --- | --- |
| 9 on the sub-prime | Kerosene and caffeine (2009) | track 4 |
Also known as The Boeing Man. Hugh made a video of this song
for his YouTube channel in 2011, when he wrote:

This song, the band version of which we took as the single from 9 on the subprime, was written in response to a long-haul pilot telling me that he felt like a glorified bus driver: very little to do for hours on end do but watch the dials, yet the most crushing responsibility at takeoff and landing. Kept alive by kerosene and alert by coffee, these knights of the air are far from the romantic figures we'd like them to be.

I had in mind a character somewhere between the hero who landed his plane on the Hudson River and those two unfortunates who overshot their destination by 150 miles while arguing about pay scales.

Kerosene and caffeine gets you there and back
Half way with the sun and then it's onward into black
From Heathrow out to Kennedy to circle in the stack

A girl in every airport, every turnaround
Some work in the air with me, some work on the ground
This gig ain't conducive if you want to settle down
Put your life in my hand
I'm the Boeing man, I'm the Boeing man
So put your life in my hands, I'm the Boeing man

Cut-rate competition, new kids on the block
Maintenance and servicing all done against the clock
'Til a big bird hits a suburb, throws a nation into shock
Put your life in my hands
I'm the Boeing man, I'm the Boeing man
You put your life in my hands, I'm the Boeing man

Sometimes when I'm drifting above the clouds
I tell myself I'm lucky and I should be proud
We all love a uniform, don't we now?

Put your life in my hands. Put your life in my hands

Kerosene and caffeine gets you across the pool
With my autopilot attitude I'm dancing with the rules
But I used to fly F17s before this ship of fools
Put your life in my hands
I'm the Boeing man, I'm the Boeing man
Put your life in my hands
I'm the Boeing man, I'm the Boeing man
You can put your life in my hands
'Cause I'm the Boeing man
| | | |
| --- | --- | --- |
| 9 on the sub-prime | The day you left (2006) | track 5 |
Hugh made a video of this song for his YouTube channel in 2011, when he wrote:

Of the few songs I've written that are not in 4/4 time, this one features a guy bemoaning the sudden exit of his girlfriend, only to find that life isn't so bad without her after all. It starts with the lines: "On the day you left, my neighbour said to me / A lucky thing that you weren't wed to me / He's been paying these twenty-odd years / For a foolish question after a couple of beers" ... One of the neatest quatrains I've had anything to do with. We took the neo-folksy "subprime" version as double A-side to the very poppy Kerosene and Caffeine.

On the day you left my neighbour said to me
A lucky thing that you weren't wed to me
He's been paying these twenty odd years
For a foolish question after a couple of beers
On the day you left I found my watch again
The favourite one my daddy gave me when
I promised I'd be a man like him
No drink, no horses, no living in sin
On the day you left
On the day you left

On the day you left I won the lottery
Things began to look how they ought to be
From dying at the bottom of the tank
To crying all the way to the bank
On the day you left I found the rainbow's end
A crock of gold and a lucky dividend
A witching stone by a rowan tree
Where the devil offered the world to me
On the day you left
On the day you left

On the day you left I was in penury
An empty fridge and a heart like January
Traces of you all over the place
"Oh, beam me up Scotty, I'm lost in space"
But on the day you left I signed a record deal
Guess you know, how good that made me feel
There was I, about to lose my band
'Til fate dealt me the winning hand
On the day you left
On the day you left
| | | |
| --- | --- | --- |
| 9 on the sub-prime | New obsession (2009) | track 6 |

I got a new obsession, another wave to ride
I need high compression, to keep me satisfied
I got a new obsession, another way to be
A radical expression, a deeper kind of me
I got a new obsession, confessions
Concessions, I'll have to make a few
I got a new obsession, impression
Succession is coming round to you

I got a new obsession, another life to lead
I make it my profession, to keep me up to speed
I got a new obsession, something deep inside
I let it take possession, it cannot be denied
I got a new obsession, confessions
Concessions, I'll have to make a few
I got a new obsession, impression
Succession is coming round to you

I got a new obsession, I was dead back then
I'm over my depression, I'm on the road again ...
… Got a new obsession, confessions
Concessions, I'll have to make a few
I got a new obsession, impression
Succession is coming round to you
I got a new obsession, confessions
Concessions, I'll have to make a few
I got a new obsession, impression
Succession is coming round to you
| | | |
| --- | --- | --- |
| 9 on the sub-prime | Healer (2008) | track 7 |

Healer, who'd you heal today?
Healer, who'd you heal today?
Singer, sing their cares away
Healer

Teacher, what you teach today?
Teacher, what you teach today?
Singer, sing their cares away
Healer
Children, you won't learn that way
Healer

Soldier, who'd you kill today?
Soldier, who'd you kill today?
Singer, sing their cares away
Healer
Woman, why you weep that way?
Healer

Preacher, what do you preach today?
Preacher, what do you preach today?
Singer, sing their cares away
Healer
Angels, I watch you fly away
Healer
Angels, I watch you fly away
Healer
| | | |
| --- | --- | --- |
| 9 on the sub-prime | Out of this world (2000) | track 8 |

Another version of this song appeared on the Red Shift promotional CD.

Let's get this thing clearly understood
Nothing remains here to tell us how it could be
I closed the window shut the door for good
Repaired the damage, everything is as it should be
You're out of my life, out of my place
You're out of my zone, out of my space
You're out of my heart, out of my head
You're out of my car, out of my bed
You're out of this world

There was a time not so long ago
You were the first to get close enough to know me
What's done is done, now it's time to go
Some time to breathe is the least of what you owe me
You're out of my life, out of my place
You're out of my zone, out of my space
You're out of my heart, out of my head
You're out of my car, out of my bed
You're out of this world

Did you still have things to tell me?
As you stood there in the door
Or was there something left to sell me
You ought to know what you're doing
And what you're doing it for

I found some clothes here that smell of you
All that remains when there's no more truth to beauty
I'd like to say, well, to hell with you
But something holds me, a latent sense of duty
You're out of my life, out of my space
You're out of my zone. Get out of my face!
You're out of my heart, out of my head
You're out of my car, out of my bed
You're out of this world
You're out of my bed, nobody's girl
You're out of my head
You're out of this world
| | | |
| --- | --- | --- |
| 9 on the sub-prime | There's a light (2008) | track 9 |

There's a light
At the end of the tunnel, there's a tunnel
At the end of the light, there's a light
At the end of the tunnel, there's a light
There's a light
At the end of the tunnel, there's a tunnel
At the end of the light, there's a light
At the end of the tunnel, there's a light

Strung out on your barbed wire
Savaged in the night
Broken by your hardware
But there's a light

At the end of the tunnel, there's a tunnel
At the end of the light, there's a light
At the end of the tunnel, there's a light
There's a light
At the end of the tunnel, there's a tunnel
At the end of the light, there's a light
At the end of the tunnel, there's a light

Better late than never, couldn't come too soon
Just can't wait forever, with everybody howling at the moon
Because it's alight

Better late than never, dying to be born
Can't hold out forever and everybody's longing for the dawn
There'll be a light

At the end of the tunnel, there's a tunnel
At the end of the light, there's a light
At the end of the tunnel, there's a light
Yeah, there's a light
At the end of the tunnel, there's a tunnel
At the end of the light, there's a light
At the end of the tunnel, there's a light
At the end of the tunnel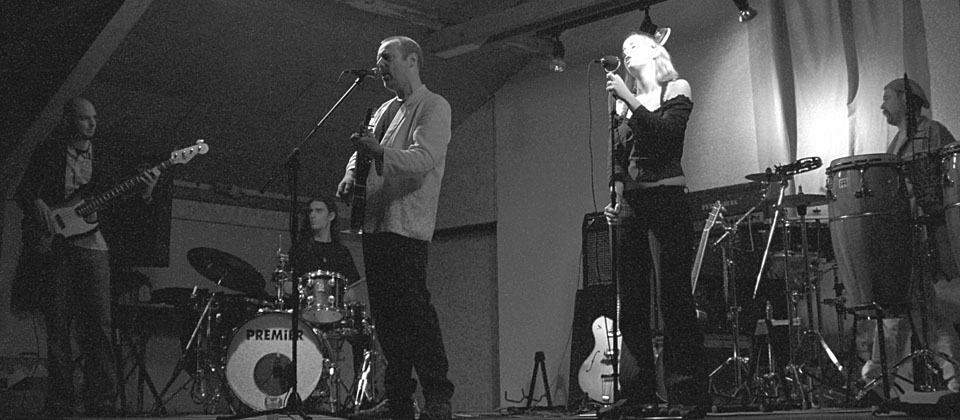 Hugh Featherstone and A Panel of Experts in the studio
Hugh Featherstone plays Kraushaar Guitars