My Favourite Planet > Blogs > Edwin Drood's Column >

back
Edwin Drood's Column

| | | |
| --- | --- | --- |
| | 14 May 2013 | |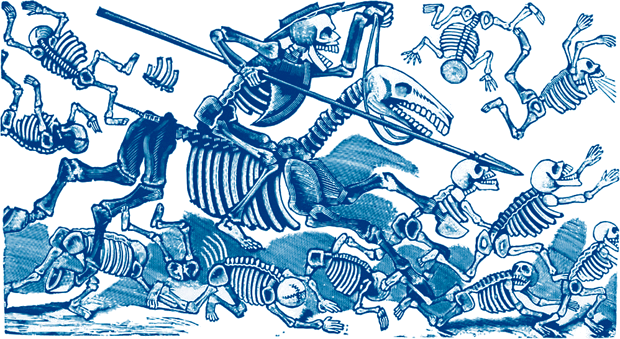 The Game of Consequences
In which Edwin rides into the sunset to meet a bald man with a six gun,
a body denied burial and a tiger under sentence of death.

I've got two horses to thrash today, if horse thrashing is your thing. Speaking of horses, one of my favourite childhood memories was of my first real western, seen in a real cinema, as opposed to Roy Rogers episodes on super-8 at the local boy's club. It was 1962 and I was eleven. It marked me forever. The film was
The Magnificent Seven
, made by John Sturges in 1960, and the mere sound of the theme tune on the radio still sets my blood running today. Of course, what I didn't know at the time was that it was a remake of Akira Kurosawa's 1954 masterpiece
Seven Samurai
, from which it takes much of its moody DNA and its determination that justice be done even where financial motivation is lacking. Seven out-of-work gunslingers sacrifice everything: their reputations, their salaries and, finally, their lives for a Mexican village of no particular virtue or character, whose inhabitants have even ceased to believe in their mercenaries' ability to deliver results by the time the final show-down takes place.

Sturges must have recognised the quintessentially American heart of this oriental tale of justice: bonding, respect, hard men in hard times, doing the right thing even when it hurts your own interests. There is hardly a moment that is not memorable, hardly a wasted line (even the clichés: "We deal in lead, friend") and every one of our dubious heroes has his moment of glory, or the lack of it. The film was the first to begin the deconstruction of the mythic West as a place of clear divisions, white hats and black hats, upright lawmen and downright scoundrels. Already there are the blurred moral edges of later films such as
Monty Walsh
,
McCabe and Mrs Miller
or
High Plains Drifter
, already we are seeing the iconic 60s road-movie character of the man who has lived bad and is seeking money, but finds redemption instead.

Hope of redemption hovers like an angel over the entire film. It is not surprising, therefore, that it opens with a classic dilemma: a man is dead, a bad man and a half-breed Indian as well. Even bad men need closure. Despite the prejudice of the era against native Americans, even half-breeds deserve burial. The undertaker thinks so, but he is almost alone in this. A powerful "element" in the town does not agree. The man who should drive the hearse does not agree either and has fled the scene. A mysterious stranger, Chris (Yul Brynner) agrees to drive the hearse up the hill through the town's main street to its cemetery. A down-on-his-luck roustabout called Vin (Steve McQueen) figures he might need some cover and joins him riding "shotgun".

A certain powerful element in America claiming to be Christian and patriotic wanted to deny burial to suspected Boston bomber Tamerlan Tsarnaev and closure to his family. A hundred cemeteries rejected his body. It travelled far, from Boston, Massachusetts to Worcester, Virginia, where a mysterious stranger called Martha Mullen thought otherwise. She's a mental health counsellor by profession, and her motives were not far different from Brynner's character. "Jesus said we should love our enemies", she reminded her very loud, self-righteous and angry opponents as they threatened her with all manner of revenge: "Somebody had to do something, and I'm somebody". Was this an accidental reference to the Homeric heroes of
My name is Nobody
, another western about flawed men searching for the exit, starring Terence Hill and Henry Fonda, whose son Peter was so distinctly unwelcome in anyone's town in
Easy rider
?

The US in general and Boston in particular, but most of all the families of the dead and the surviving victims have every right to be bitter and full of hate towards any young jerks who call on their hospitality in time of need, accept their generosity and assistance (protection, documentation, food, shelter, education, status ... Tamerlan was even a tryout for the Olympics), only to show their gratitude by blowing them up. For my part, I feel physically sick just looking at the pin-up boy looks of Dzhokhar Tsarnaev. I want to punch him very hard in his pretty face and it's a pity his captors are prevented by regulations from doing this on a daily basis. But Martha Mullen is right, we should love our enemies and the very least we can do is to accord them burial, however much it might stick in our craw to admit it. All it needed was someone to ride the hearse up the hill and someone else, her husband Bill, to give covering fire. Muslims, Chechens and other good citizens who do not identify with the Tsarnaev brothers motives or ideology may be fuming that they will forever be tarred with this particular brush, but that chapter is now closed. The physical remains of Tamerlan Tsarnaev have found rest. His soul will answer in a higher court, one that is beyond our reach and whose deliberations are not our problem. It's been an American story, one that they can be proud of. It's just a pity that so few of them are. "We deal in lead, friend". So it seems.
• • • • • • •
In a year that has already seen its share of events and acts of great import, whose effects have rippled around the globe, it is time to cease considering consequences as unintended or the collateral result of doing business in the real world. I recently supported a petition aiming to "stop the planned slaughter of Sumatra's remaining tigers and orang-utans". A few decades ago, merely to suggest that the mass death of extremely rare animals was in some way planned would have been considered provocative and polemic: an attempt to gain sympathy for an otherwise lost cause, a sensationalist media trick, tabloid-style posturing. However, today there is no case for rejecting the idea that a such a potential hecatomb is anything other than calculated and intentional. Any other conclusion has become irrelevant. Why, what has changed?

For one thing, data modelling has. We can now accurately model global warming scenarios, reproductive curves, migration patterns, food availability, resource depletion, erosion, invasive species expansion ... anything! There can no longer be any valid reason not to know the probable results of our actions. No longer is it possible to hide behind the excuse that we didn't know what would happen, or that we underestimated the effect our acts would have on others, their environment, their health, etc. All these things are now knowable, almost down to a certainty. Very little margin exists today for what was once called latitude and is now called - and quite rightly so - "wiggle room".

Thus we are forced to accept that the men planning the giant reservoir project "want" to uproot thousands of forest people and destroy their lives and culture, that those who introduce risky chemicals into foodstuffs "want" to poison us or give our children attention problems, diabetes or allergies, that those who manufacture dangerous insecticides "want" to kill off all the world's bees, that those who knowingly build substandard high-rises "want" to bury a thousand textile workers, that those who sign away the rain forests of Sumatra "want" the extinction of the orang-utan or the Sumatran tiger, that Monsanto "wants" Indian farmers to slide deeper into debt and, of course, that those who manufacture guns that can easily be fired by children "want" them used to kill other children, as was so convincingly shown by two "kid on kid" gun deaths committed by pre-teen killers in one week.

Similarly, those who drink and drive "want" to run someone over. Surely, this is why the police charge drunk drivers, even after they've safely reached their destination. It's not because they have succeeded in getting home without an accident, but because they have failed in their obvious criminal intention to do physical harm. In other words, they have had warnings enough about the consequences of such behaviour. They cannot expect to get away with attempted murder, even if they have not fulfilled their intention. As someone who lost a brother to a drunken driver I can see the logic of bringing a heavy charge and expecting a heavy penalty. And therein resides the crux of the problem: because the consequences for perpetrators - governments, multi-nationals, food chemists, drug companies, construction companies, building assurers, banks, drunken drivers - all of whom have gambled with other people's lives and safety, are never as harsh as they are for the victims.

This is what creates vigilante justice, this is where the posse ends and the lynch mob begins: with the feeling that justice will never be done until you do it yourself. "Who made us the way we are?" asks Chico, the wannabe gunslinger of the "Seven": "Men with guns. Men like Calvera, men like you ... and now me." he's talking about Eli Wallach's character, the bandit leader who so memorably says: "If God didn't want them sheared, he would not have made them sheep." But in the end it is the sheep who remain, the farmers who triumph, not the men of violence. It is the farmers who are finally ready to endure all for their land, even as the last two hired gunfighters remaining ride off into the sunset: "The old man was right," says Chris to Vin: "Only the farmers won. We lost. We always lose."

Which leave the Sumatran tiger and the orang-utan just where? On the side of the Western hero doomed to extinction in a rational world, or on the side of the millions of humble peasants like you and I who sign petitions and lobby for change? Maybe neither, maybe both. For perhaps the awesome power of the internet is already succeeding where the Magnificent Seven failed: we're big enough and strong enough together to pick a fight on several fronts and win them all, without a shot being fired in anger. Monsanto lost in Europe, the bees won in Europe and maybe tomorrow in the US. The game of virtual consequences just got serious. Let the mighty take heed.
©
Edwin Drood
, May 2013
Illustration:

"Esta es de Don Quijote la primera, la sin par la gigante calavera" (This is about Don Quixote the First, the unparalleled giant skull), engraving by the Mexican artist José-Guadalupe Posada (1852–1913). From a Calavera broadside, published by Antonio Vanegas Arroyo, Mexico, 1905.

Source: Library of Congress,
www.loc.gov/pictures/collection/pga/item/99615945/
Edwin Drood's Column, the blog by The Mysterious Edwin Drood,



at My Favourite Planet Blogs.


We welcome all considerate responses to this article
and all other blogs on My Favourite Planet.
Please get in contact.
Visit the My Favourite Planet Group on Facebook.

Join the group, write a message or comment,
post photos and videos, start a discussion...
Views of blog authors do not necessarily reflect those of the publishers
or anyone else at, on or in the vicinity of My Favourite Planet.






George Alvanos


rooms
in Kavala's historic Panagia District



Anthemiou 35,
Kavala, Greece


kavalarooms.gr


Olive Garden Restaurant


Kastellorizo, Greece



+30 22460 49 109


kastellorizo.de


Papoutsis
Travel Agency


Kastellorizo, Greece



+30 22460 49 286


greeklodgings.gr