My Favourite Planet > English > Europe > Greece > Northern Aegean >

| | | | | | |
| --- | --- | --- | --- | --- | --- |
| Samothraki, Greece | Introduction to Samothraki | | | page 1 | |




Samothraki's north coast from the sea near Kamariotissa. 1611 metre high Mount Fengari dominates.

Samothraki - island of the Great Gods

The 1611 metre high

Mount Fengari

(Φεγγάρι, Moon Mountain) dominates the island of Samothraki and spreads itself wide to occupy most of its area. According to Homer, the sea god Poseidon sat on top of this mountain in order to get a good view of the Trojan War.

The main port of

Kamariotissa

(Καμαριώτισσα) lies low on the northwestern tip of a wide plain on the west of the island, and thinner coastal strips along the north and east allow roads to connect it with the other small villages. On the south side the mountain plummets into the sea, leaving a little room at its foot for a few isolated homes.

Chora

(Χώρα, literally "village"), the capital, perches high on a steep hill around 8 km inland, east of the port, beneath the steep sides of one of the mountain's lower flanks.

The island sits near the western end of the Dardanelles, the sea channel which leads from the Thracian Sea in the North Aegean, through to the Sea of Marmara and on to the Bosphorus Strait at Istanbul and the Black Sea. This has been an important route for traders, colonizers, armies and pirates since prehistory. However, because of the island's terrain and the fact that it has no natural harbour against the often rough winds on the Thracian Main, it never became a large strategic military base like many of its neighbours.

Its isolation in modern times has meant that it has remained relatively unspoiled by "progress", and it has much to offer nature lovers and hikers in the way of beautiful wooded paths, small rivers, waterfalls, uncrowded beaches and marvellous views over the Aegean.

To people in ancient times, this remoteness and the huge brooding mountain rising dramatically from the sea made it seem mysterious, perhaps even forbidding, and the perfect place for the home of the enigmatic Cabeiri (Κάβειροι, Kabeiroi), otherwise known as "the Great Gods".

The worship of these archaic deities at the Pan-Hellenic

Sanctuary of the Great Gods

survived the predominance of the Olympian gods into Classical, Hellenistic and Roman times. Their secretive cult even grew in poularity, partly due to its democratic character - it permitted initiates from all classes, including slaves - but also drew the wealthy and rulers, including

King Philip of Macedon and his wife Olympia

(the parents of

Alexander the Great

who first met here) and Roman emperors.

The fascinating archaeological site of the Sanctuary of the Great Gods and the adjoining small

museum

, at Paleopolis on the north coast 6 kilometres east of Kamariotissa, are the island's most popular attractions for tourists, the majority of whom are Greek.

The small island has a very limited choice of accommodation and restaurants, and in summer they tend to get booked out very quickly.

| | | | |
| --- | --- | --- | --- |
| Samothraki | Facts and figures | | |

Sanctuary of the Great Gods
archaeological site

and

Archaeological Museum of Samothraki
68002 Paleopolis, Samothraki, Greece.

The fascinating archaeological site of the Sanctuary of the Great Gods
and the adjoining small museum, at Paleopolis on the north coast
6 km east of Kamariotissa, are the island's most popular attractions
for tourists, the majority of whom are Greek.

The museum is at the entrance to the archaeological site.

Tel: +30 25510 41474
Fax: +30 25510 89274
e-mail: ithepka@culture.gr

The archaeological site and museum do not have their own website,
but Odysseus, the website of the Greek Ministry of Culture and Sports
has information in Greek and English:

The archaeological site

odysseus.culture.gr/h/3/eh355.jsp?obj_id=2510

The archaeological museum

odysseus.culture.gr/h/1/eh151.jsp?obj_id=3398

Opening hours

Tuesday - Sunday, 8:30 - 15:00

Admission

€3, reduced €2

(Same ticket and opening hours for site and museum)

name:
Samothraki (Greek, Σαμοθράκη),
also known as Samothrace

During the period of Ottoman rule (1457-1913), the island was also known by its Turkish name Semadirek.


country:
Greece


location:
Geographically, Samothraki is one of the northernmost islands of the Northern Aegean islands, in the Thracian Sea, which is part of the northeastern Aegean Sea.

It is around 43 km southwest of Alexandroupoli, on the Thracian coast in northeastern Greece.


periphery:
(administrative region) East Macedonia and Thrace, which is part of the larger semi-autonomous Macedonia Region.

Capital: Thessaloniki

For further information about Greece's administrative regions, see our introduction to Greece, Greece page 4: Facts and figures.


regional unit:
Evros (Έβρος), capital Alexandroupoli


municipality:
Samothraki


capital:
Chora (Χώρα, literally means "village"), also known simply as Samothraki. The hilltop village, around 8 km southeast of Kamariotissa port, is the island's second largest settlement (population 653).


communities:
The largest settlement and main port Kamariotissa (Καμαριώτισσα, population 1,069) is at the northwest tip of the island.

Other villages:

Alonia (Αλώνια, 291),
Ano Karyotes (Άνω Καρυώτες, 22),
Ano Meria (Άνω Μεριά, 57),
Dafnes (Δάφνες, 16),
Kato Karyotes (Κάτω Καρυώτες, 41),
Katsampas (Κατσαμπάς, 15),
Lakomma (Λάκωμμα, 317),
Makrylies (Μακρυλιές, 12),
Palaiopoli (Παλαιάπολη, 36),
Potamia (Ποταμιά, 6),
Profitis Ilias (Προφήτης Ηλίας, 189),
Therma (Θέρμα, 106),
Xiropotamos (Ξηροπόταμος, 29)


area:
178 square kilometres

Samothraki is 22 km long, from west to east,
and 12 km north to south.

Coastline 59 km


highest point:
Saos Mountain (Σάος), is a compact range of steep mountains which take up most of the area of the island. Saos is often referred to as Mount Fengari (Φεγγάρι, Moon), which is the name of the highest peak, 1611 metres above sea level.

The height of the mountain's peaks:
Marmara (Μαρµαρά) 1611 metres;
Louloudi (Λουλούδι) 1475 metres;
Agios Georgios (Άγιος Γεώργιος) 1455 metres;
Ai-Lias (Αϊ-Λιας) 1403 metres.


population:
2,859 (2011 census)

local time:
Eastern European Time (EET)
Daylight Saving Schedule:
Summer (from last Sunday in March)
GMT/UTC +3 hours
Winter (from last Sunday in October)
GMT/UTC +2 hours


currency:
Euro (€)


climate:
Mediterranean (temperate, with wet winters and hot, dry summers)


language:
Greek


post code:
680 02


telephone code:
+30 25510


website:
Samothraki Municipality
samothraki.gr (Greek only)

Much more interesting (and useful) is Ralf Scheel's website dedicated to the island www.samothraki.com (in Greek, German, English, Bulgarian and Romanian).
Further information for Greece can be found
in our introduction to Greece pages.
| | | | |
| --- | --- | --- | --- |
| Samothraki | Addresses and telephone numbers | | |
Dialling code for Greece: +30

Samothraki Port Authority, Kamariotissa

Tel: 25510 41305

Travel Agencies

Tel: 25510 41505, 25510 41465

Taxi

Samothraki has several private taxis.

Tel: 6976 991270, 6972 883501, 6972 381762

Taxi Alexandroupolis: 2551033500

Municipality of Samothraki

Town Hall, Chora
samothraki.gr (Greek only)

Information (some of it out-of-date) about ferry and bus schedules,
local services and events.

Tel: 25513-50800

Information Centre

Town Hall, Chora

Tel: 25510 89243

Petrol station

The island's only petrol station is about 1.5 km southeast
of Kamariotissa, on the road to Chora.

Camp sites

Summer only

Camping Free Living: 2551098244

Camping Varades: 2551098291

Post Office, Kamariotissa

Just to the west of the ferry port.

Elta Courier Eurobank and Western Union money transfer services.

Opening hours: Monday-Friday 7:30 - 14:00

Tel: 25510 41244

Samothraki Health Centre, Chora

Tel: 25513 50700

Community Clinic, Kamariotissa

Tel: 25510 41376

Pharmacies

Tel: 25510 41581, 25510 41770

Police

Tel: 25510 41202

Tourist Police

Tel: 25510 37411

Fire Department

Tel: 25510 41129

Agricultural Bank, Kamariotissa

Tel: 25510 41210

National Bank, Kamariotissa

Tel: 25510 41750

Samothraki Archaeological Site and Museum

(Sanctuary of the Great Gods),
68002 Paleopolis, Samothraki.
Tel: 25510 41474

See gallery pages 8 - 14 (museum) and gallery pages 15 - 25 (site)

Folklore Museum Samothraki, Chora

Το Λαογραφικό Μουσείο Σαμοθράκης

Opening hours:
Summer 8:00 - 14:00 and 17:30 - 23:45

Admission free

Tel: 25510 41227

Hot Springs, Therma

Summer only

Tel: 25510 98490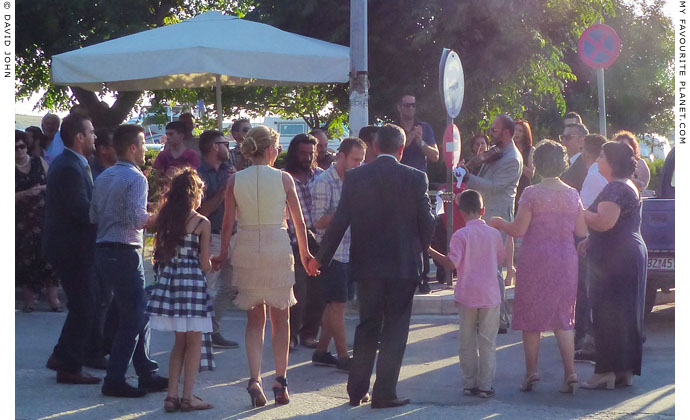 A circle dance at Kamariotissa harbour before a fireman's wedding.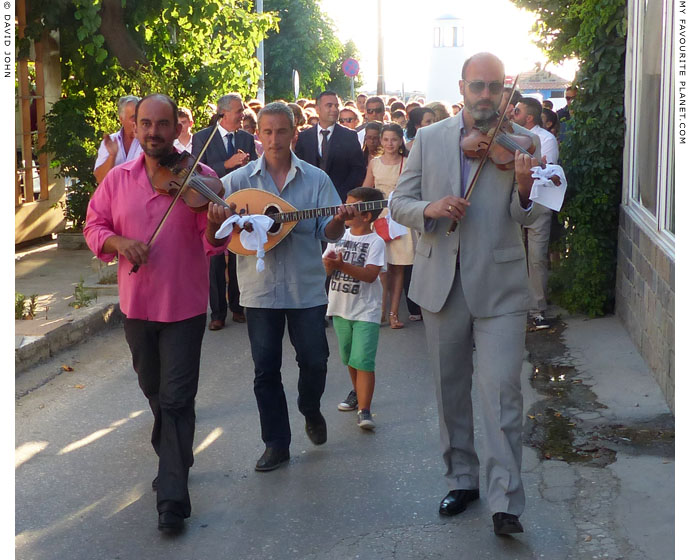 Musicians lead the wedding procession from Kamariotissa harbour
along the narrow street to the church.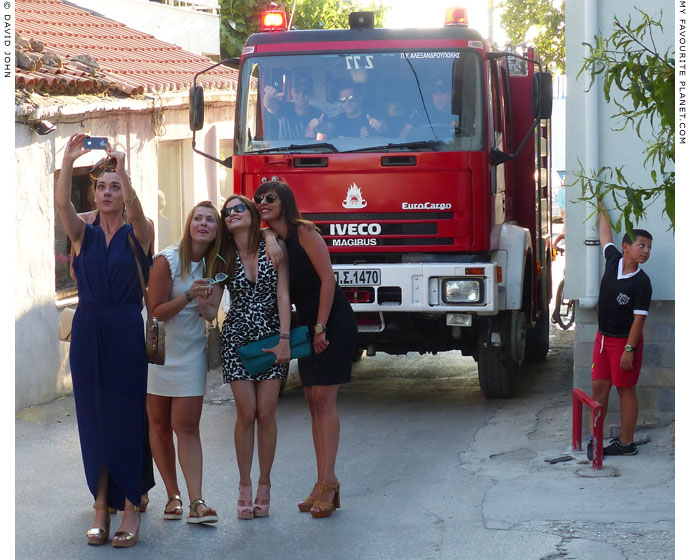 The local fire engine and selfie brigade bring up the rear of the wedding procession.
| | | | |
| --- | --- | --- | --- |
| Samothraki | Area Map | | |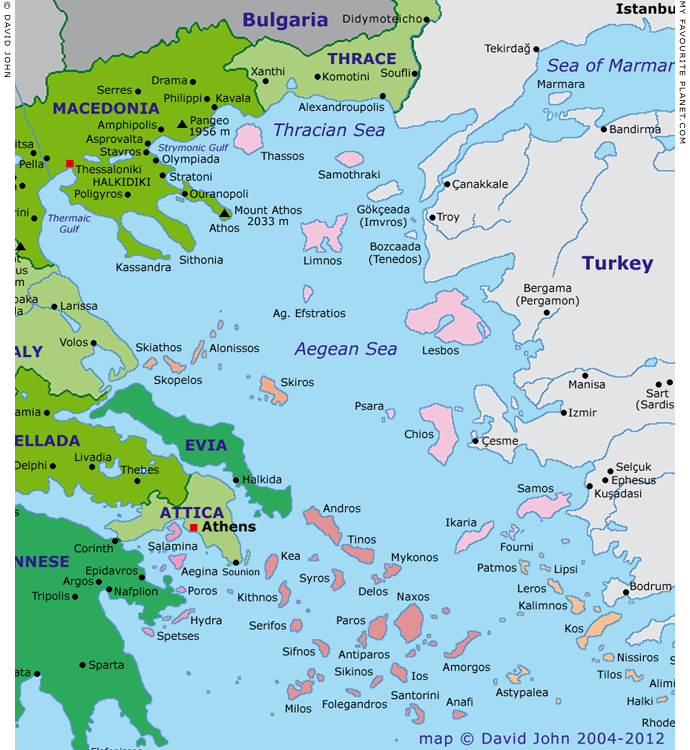 Interactive map of the North Aegean islands

Colour key for Greek island groups (west-east)


| | | | | | | | | | | | | | | | | | | |
| --- | --- | --- | --- | --- | --- | --- | --- | --- | --- | --- | --- | --- | --- | --- | --- | --- | --- | --- |
| | | Argo-Saronic | | | | Sporades | | | | Cyclades | | | | Northern Aegean | | | | Dodecanese |


See also our interactive map of Greece.
Photos, maps and articles: © David John,
except where otherwise specified.

All photos and articles are copyright protected.

Images and materials by other authors
have been attributed where applicable.

Please do not use these photos or articles without permission.

If you are interested in using any of the photos for your website,
project or publication, please get in contact.

Higher resolution versions are available on request.

Some of the information and photos in this guide to Samothraki
originally appeared in 2004 on davidjohnberlin.de.

My Favourite Planet makes great efforts to provide comprehensive and accurate information across this website. However, we can take no responsibility for inaccuracies or changes made by providers of services mentioned on these pages.
Visit the My Favourite Planet Group on Facebook.

Join the group, write a message or comment,
post photos and videos, start a discussion...






George Alvanos


rooms
in Kavala's historic Panagia District



Anthemiou 35,
Kavala, Greece


kavalarooms.gr