My Favourite Planet > English > Europe > Greece > Northern Aegean >

| | | | | | |
| --- | --- | --- | --- | --- | --- |
| Samothraki, Greece | How to get to Samothraki | | | page 2 | |




The Alexandroupoli-Samothraki ferry in Kamariotissa harbour, Samothraki.

Currently the only way to get to Samothraki is by ferry from Alexandroupoli. We have included a section on nearby airports on the mainland.

Once you are on the island there a few buses each day buses from the main port Kamariotissa to other villages. There are also taxis and vehicle hire companies at Kamariotissa.

On our most recent visit to the island (July 2015) we could find no information about bus timetables posted in Kamariotissa, and visitors have to ask locals about the latest times.

Please note:

Due to Greece's economic crisis, information about timetables,
fares, prices, opening times, etc. is changing continually.

Many tourist information offices have been closed, and many
official websites offer no indication of these changes.

Below is the most up-to-date information we have been able to find.
If you have any more information you would like to share,
please get in contact.

Getting to
Samothraki
Nearby airports

There is no airport on Samothraki.

The nearest airports are Kavala, Alexandroupoli and Thessaloniki.

There are regular bus services between these three cities
and trains between Thessaloniki and Alexandroupolis.

There is also an airport on the neighbouring island of Limnos. Unfortunately, ferry connections between Limnos and Samothraki have been cancelled.

For further details, see:

How to get to Kavala

How to get to Alexandroupoli

How to get to Macedonia, Greece

Getting to
Samothraki
By ferry

All ferries to Samothraki land at the main port Kamariotissa.

Ferries to Limnos and connections to other islands
have been suspended indefinitely.

Flying Dolphins

The Flying Dolphin hydrofoil ferries between Alexandroupoli and Samothrace has also ceased.

Alexandroupoli - Samothraki

The SAOS II car ferry sails from Alexandroupoli
to Samothraki and back once a day Monday - Friday.
Schedules change constantly.
In summer there is a sailing every day, on some days two.

The crossing takes around 2 hours 30 minutes.

The Economy one-way fare is 9.60 € or 14.50 €, depending on
which ferry you take (the cheaper fare is subsidized).

The ferry is operated by SAOS ANES Lines.
For Current schedules and fares see: www.saos.gr
(website in Greek, English, Italian and German)

Since the ferry is quite large, the crossing is usually comfortable, and in fine weather there are good views of the Thracian coast and the approach to the dramatic form of Samothraki.

Kavala - Samothraki

The very useful ferry service between Kavala and Samothraki has been suspended. There is currently no information available about when or if it will restart.

The route was:

Kavala - Samothraki - Limnos - Mytilini (Lesbos) - Lavrion (near Sounion, south of Athens)

This route enabled passengers to sail all the way from near Athens to the island. It also gave the island greater connectibility, particularly via Lesbos and from Kavala, which is easier to reach from the rest of Greece and Alexandroupolis. So we hope it will be resumed.

If you have any further information, please get in contact.


A Flying Dolphin hydrofoil arriving at Kamariotissa harbour in 2004.

Flying Dolpins to Samothraki are no longer operating.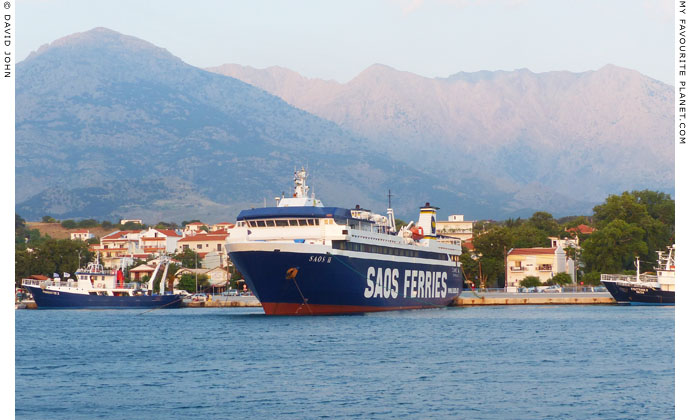 The SAOS II Alexandroupoli-Samothraki ferry in the harbour of Kamariotissa.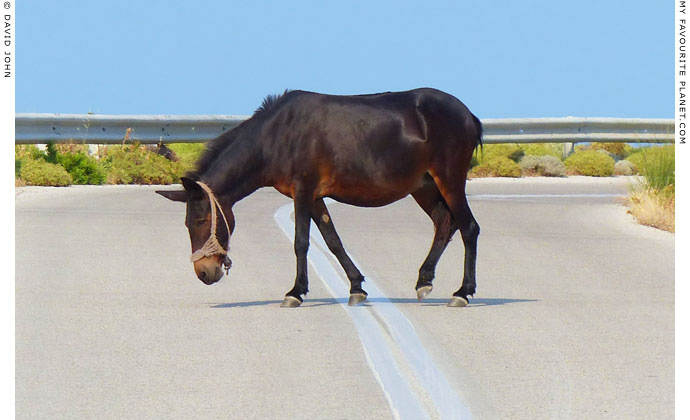 Caution - mule crossing!



As in many places in rural Greece, you are sure to find
various animals crossing the roads on Samothraki.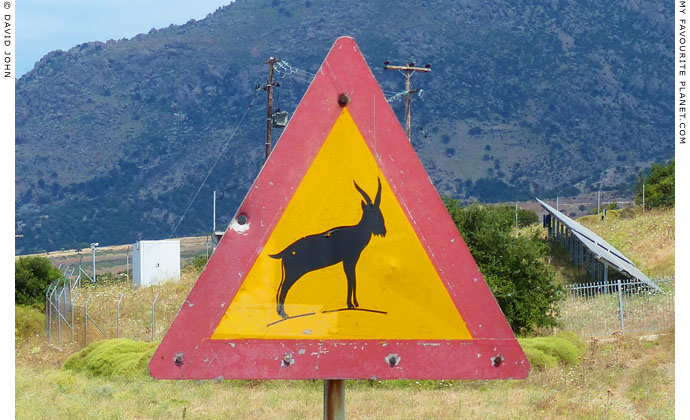 Oh yeah, and watch out for the goats too.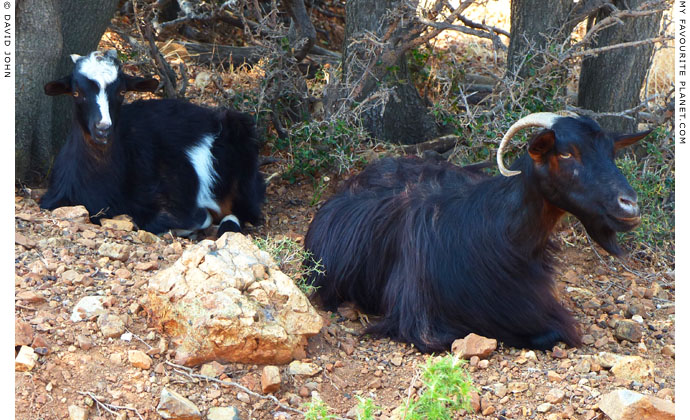 Goats sitting out the afternoon heat in the shade on the slopes of Mount Saos, Samothraki.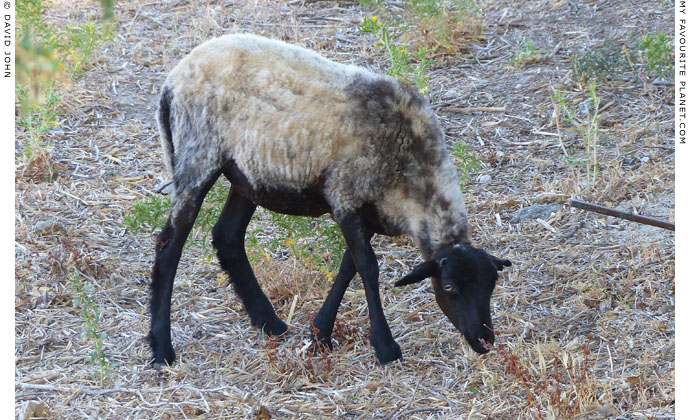 Shawn
| | | | |
| --- | --- | --- | --- |
| Samothraki | Area Map | | |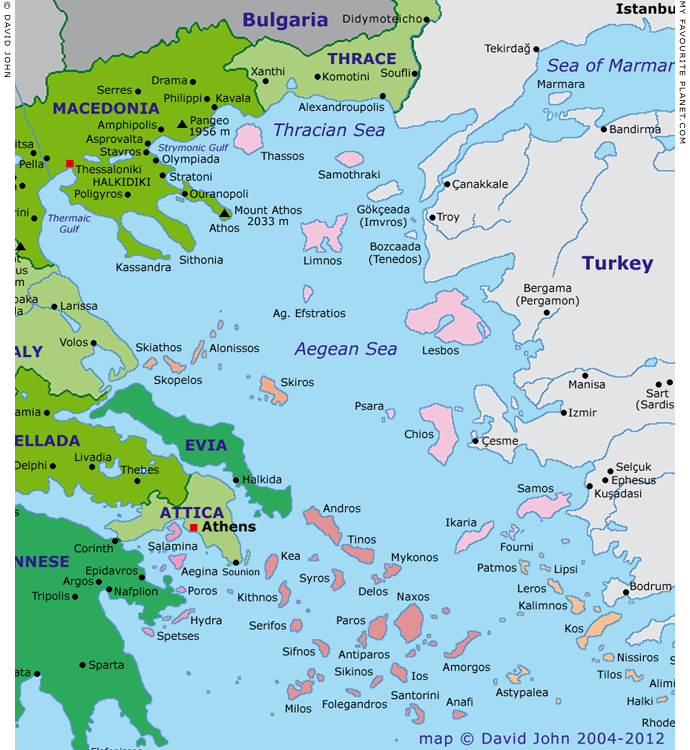 Interactive map of the North Aegean islands

Colour key for Greek island groups (west-east)


| | | | | | | | | | | | | | | | | | | |
| --- | --- | --- | --- | --- | --- | --- | --- | --- | --- | --- | --- | --- | --- | --- | --- | --- | --- | --- |
| | | Argo-Saronic | | | | Sporades | | | | Cyclades | | | | Northern Aegean | | | | Dodecanese |


See also our interactive map of Greece.
Photos, maps and articles: © David John,
except where otherwise specified.

All photos and articles are copyright protected.

Images and materials by other authors
have been attributed where applicable.

Please do not use these photos or articles without permission.

If you are interested in using any of the photos for your website,
project or publication, please get in contact.

Higher resolution versions are available on request.

Some of the information and photos in this guide to Samothraki
originally appeared in 2004 on davidjohnberlin.de.

My Favourite Planet makes great efforts to provide comprehensive and accurate information across this website. However, we can take no responsibility for inaccuracies or changes made by providers of services mentioned on these pages.
Visit the My Favourite Planet Group on Facebook.

Join the group, write a message or comment,
post photos and videos, start a discussion...






George Alvanos


rooms
in Kavala's historic Panagia District



Anthemiou 35,
Kavala, Greece


kavalarooms.gr