My Favourite Planet > English > Europe > Greece > Northern Aegean > Samothraki >

| | | | | | | |
| --- | --- | --- | --- | --- | --- | --- |
| Samothraki, Greece | Samothraki gallery | | | 42 of 46 | | |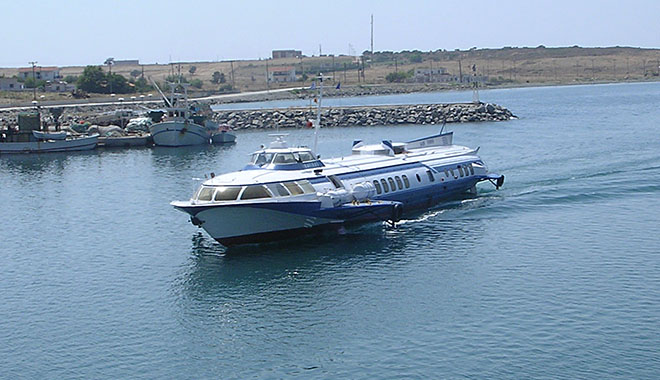 Kamariotissa, Samothraki. A flying dolphin arrives at Kamariotissa from Alexandroupolis.
Note: Flying dolphins to Samothraki are no longer operating.

For some obscure reason the so-called "flying dolphin" hydrofoils which ply Greek waters used to be painted shit-brown (brown dolphins? I think not.). They reminded one of sea-going cockroaches. They stunk to high heaven of cheap polluting fuel and provided a quick but bumpy bus-ride over the Aegean at double the cost and 0% of the romantic element of ye olde ferries.

These days they are easier on the eye and nostrils, and it could be that they are actually more energy-efficient than many of the huge old ferries which chug from port to port on the power of low-grade heating oil. Efficient but very boring.

If you need to get from A to B by sea quickly, in half the time, be it at double the price, the flying dolphins are at your disposal from several ports around the Aegean.

If, on the other hand, you are on a tighter budget, or just want to experience something of the majesty of the Mediterranean (sometimes accompanied by real dolphins ! ) take the old-fashioned boat. Grab yourself a place on the top deck (sleeping bag or blanket recommended, even in summer) and enjoy the stars from beyond the urban light-smog. Romantic? Very!

See an article about hydrofoils in the Northern Aegean in our guide to Kavala.
photo:
© David John
Photos, maps and articles: © David John,
except where otherwise specified.

All photos and articles are copyright protected.

Images and materials by other authors
have been attributed where applicable.

Please do not use these photos or articles without permission.

If you are interested in using any of the photos for your website,
project or publication, please get in contact.

Higher resolution versions are available on request.

Some of the information and photos in this guide to Samothraki
originally appeared in 2004 on davidjohnberlin.de.

My Favourite Planet makes great efforts to provide comprehensive and accurate information across this website. However, we can take no responsibility for inaccuracies or changes made by providers of services mentioned on these pages.
Visit the My Favourite Planet Group on Facebook.

Join the group, write a message or comment,
post photos and videos, start a discussion...






George Alvanos


rooms
in Kavala's historic Panagia District



Anthemiou 35,
Kavala, Greece


kavalarooms.gr