My Favourite Planet > English > Europe > Greece > Dodecanese > Patmos >
| | | | | | | |
| --- | --- | --- | --- | --- | --- | --- |
| Patmos, greece | Patmos gallery | | | 2 of 27 | | |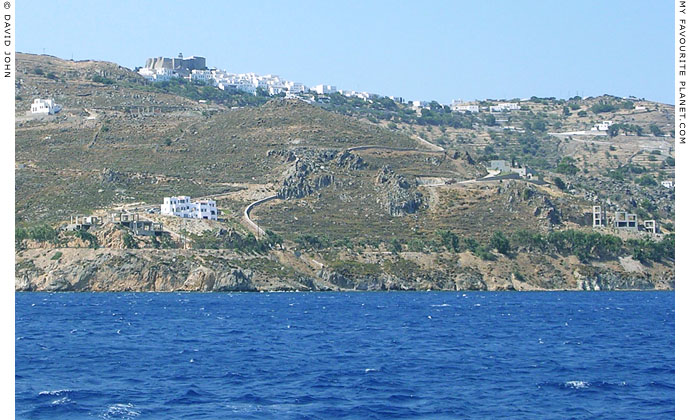 The fortified Monastery of Saint John and Hora (250 metres above sea level) from off the east coast.
Although the highest hill on Patmos, Profitis Ilias, is only 269 metres high, and few others reach 200 metres, as can be seen in the above photo, many of the island's slopes are very steep. This can make hiking and cycling challenging, especially during the hot summer months.

Although the direct distances between places on the island are short, roads and paths often zig-zag up the steep slopes, greatly adding to the distances you have to travel.

Many people visiting for the first time look at the map of the tiny island and believe it will be just a short stroll from, say Skala up to Hora and the Monastery of Saint John ("only" 2.5 km away "as the crow flies" and 250 metres uphill) or to the top of Profitis Ilias, and are then surprised how strenuous and time-consuming it turns out to be.
photos and articles:
© David John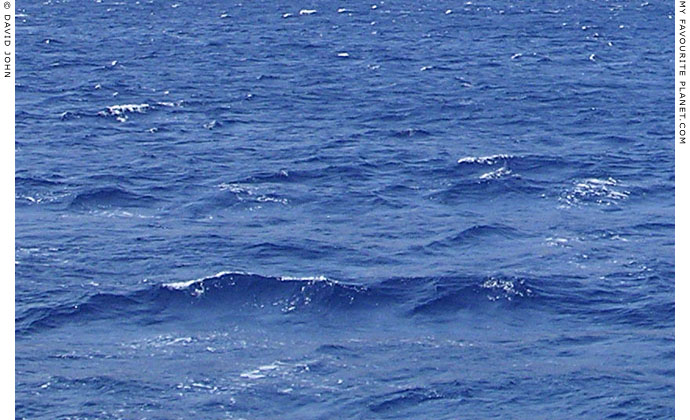 A bit of a swell on the Aegean Sea off the coast of Patmos.


| | |
| --- | --- |
| The only way to get to Patmos is by boat, and for most of us this means by ferry. Crossing the Aegean on one of the smaller ferries can be a bit of an up-and-down experience. While on calm days the sea can sometimes be as smooth as glass, when the local Meltemi wind starts blowing in summer it can get quite rough. In winter there are ferocious storms which make sailing in small boats unfeasible. | |
Maps, photos and articles: © David John,
except where otherwise specified.

Some of the information and photos in this guide to Patmos
originally appeared in 2004 on davidjohnberlin.de.

All photos and articles are copyright protected.

Images and materials by other authors
have been attributed where applicable.

Please do not use these photos or articles without permission.

If you are interested in using any of the photos for your website,
project or publication, please get in contact.

Higher resolution versions are available on request.

My Favourite Planet makes great efforts to provide comprehensive and accurate information across this website. However, we can take no responsibility for inaccuracies or changes made by providers of services mentioned on these pages.
Visit the My Favourite Planet Group on Facebook.

Join the group, write a message or comment,
post photos and videos, start a discussion...