My Favourite Planet > English > Europe > Greece > Macedonia >
| | | | | |
| --- | --- | --- | --- | --- |
| Pella, Greece | Pella facts and figures | | page 3 | |

The New Archaeological Museum of Pella (opened 2010) during construction work on the forecourt.
Pella facts and figures

Pella Archaeological Site and Museum

For details, including ticket prices and opening times,
see page 1 of this guide.

Please note

Due to Greece's economic crisis, information about opening times, timetables, fares, prices, etc. is changing continually.

Many tourist information offices have been closed, and many official websites offer no indication of these changes.

Below is the most up-to-date information we have been able to find.
If you have any more up-to-date information you would like to share,
please get in contact.

name:

Pella (Greek, Πέλλα)

Also referred to as Palaia Pella (Old Pella), to distinguish it from the nearby village Nea Pella (Νέα Πέλλα, New Pella).

Byzantine and Ottoman periods:
Greek: Agii Apostoli (Άγιοι Απόστολοι, Holy Apostles);
Macedonian Slavic: Postol (Постол, Свети Апостол, Sveti Apostol, Holy Apostles);
Ottomon Turkish: Allah Kilise (God's Church).

The name Pella was reinstated by the Greek government in 1926.


country:
Greece

location:

The archaeological site and museum of Pella are to the west of the farming village of Pella, on the Central Macedonian Plain, 30km north of the Thermaic Gulf, 40 km northwest of Thessaloniki, Central Macedonia, Northern Greece.

For further information about the location, see:

See also:

ppage 4: How to get to Pella

page 5: Map of Pella



Distances:
Athens (Αθήνα) 502 km
Dion (Δίον) 100 km
Thessaloniki (Θεσσαλονίκη) 40 km
Veria (Βέροια) 56 km
Giannitsa (Γιαννιτσά) 12 km
Edessa (Έδεσσα) 48 km

Nea Pella (Νέα Πέλλα) 3.8 km by the back road,
5.9 km by main road EO2 (E86)

All distances are approximate, and vary according to route.



Pella
photo gallery

Pella
Archaeological
Site

Pella Museum
coordinates:
40° 47′ N, 22° 25′ E


elevation:
19 metres above sea level


region:
Central Macedonia
(Κεντρική Μακεδονία, Kentrikí Makedonía)


regional unit:

Pella (Περιφερειακή ενότητα Πέλλας), capital Edessa

For further details, see:
Regions and Regional Units of Macedonia

Pella Regional Unit is divided into 4 municipalities:
Almopia (Αλμωπία),
Edessa (Έδεσσα),
Pella (Πέλλα),
Skydra (Σκύδρα)


municipality:

Pella (Ο Δήμος Πέλλας), administrative centre Giannitsa

Pella Municipality is divided into 5 municipal units:
Giannitsa (Γιαννιτσά),
Krya Vrysi (Κρύα Βρύση),
Kyrros (Κύρρος),
Megas Alexandros (Μέγας Αλέξανδρος, Alexander the Great),
Pella (Πέλλα)

Pella municipal unit is divided into 6 communities (κοινότητες):
Pella (Πέλλα),
Agrosykea (Αγροσυκιά),
Athyra (Άθυρα),
Dytiko (Δυτικό),
Nea Pella (Νέα Πέλλα),
Rachona (Ραχώνα)


total area:

Pella Municipality: 669.2 square km

Pella Regional Unit: 2,506 square km


population:

Pella village (Δημοτική Κοινότητα Πέλλας): 2,398

Pella municipal unit (Δημοτική Ενότητα Πέλλας), including Pella, Agrosykea, Athyra, Dytiko, Livaditsa, Nea Pella and Rachona: 6,798

Pella Municipality: 63,122

Pella Regional Unit: 139,680

figures based on the 2011 census.


local time:

Eastern European Time (EET)

Daylight Saving Schedule:

Summer (from last Sunday in March)
GMT/UTC +3 hours

Winter (from last Sunday in October)
GMT/UTC +2 hours


currency:
Euro (€)


climate:
As with the rest of northern Greece, between Mediterranean (temperate, with wet winters and hot, dry summers) and continental (wetter, cooler).


language:
Greek
Further information for Greece can be found
in our introduction to Greece pages.
| | | | |
| --- | --- | --- | --- |
| Pella | Local addresses and telephone numbers | | |
Pella village has a petrol station, pharmacy, newspaper kiosk (periptero), bakery,
a few shops, cafes and tavernas.

The town hall building (Dimarcheio) houses a doctor's surgery and a post office
which serves as a postbank, but there is no ATM (cash machine) in the village.



Pella Archaeological Site and Museum

For details, including ticket prices and opening times,
see page 1 of this guide.



Folklore Museum of Pella

(Λαογραφικό Μουσείο Πέλλας, Laografiko Museio Pellas)

22 Odos Tavoulari, Pella.

Next to the church of the Holy Apostles Peter and Paul,
600 metres north of Pella town hall (see the map of Pella).

Tel: 23820 32655, 23820 32420, 23820 31878

See: www.pellaia.gr/Photos_Laografiko.htm (Greek only)



Bus and train stations

See page 4 how to get there.



Post office

Makedonomachon 2, 58005 Pella.
Tel: +30 23820 32777
Opening hours: Monday - Friday 7.30 - 14.00
Full post office services, including postbank, but no ATM.



Municipality of Pella

Town Hall, 58005 Pella, Greece.
Tel: +30 23823 51700
website: www.dimospellas.gr (Greek only)



Regional Unit of Pella, Edessa

Tourism Dept.: +30 23810 37 224

Tourist Information Center, Edessa
In its own pavilion in the Waterfall Park.
Excellent local knowledge, very friendly and helpful.
Opening hours: 10:00 - 20:00
Tel: +30 23810 20 300

Website: www.edessacity.gr

The website is in Greek only, but there are links to tourist
information brochures in several language versions.

Brochure in English (PDF document, opens in a new window):

www.edessacity.gr/office/8guide-edessa-greece_en.pdf

Station Radio Taxi Edessa: +30 23810 23392 - 22904

Archaeological Site of Logos, Edessa (entrance free)
Tel: +30 23810 28040

Folklore Museum, Edessa: +30 23810 28787

Folklore Museum, Giannitsa: +30 23810 83770


| | | | |
| --- | --- | --- | --- |
| Pella | Area map | | |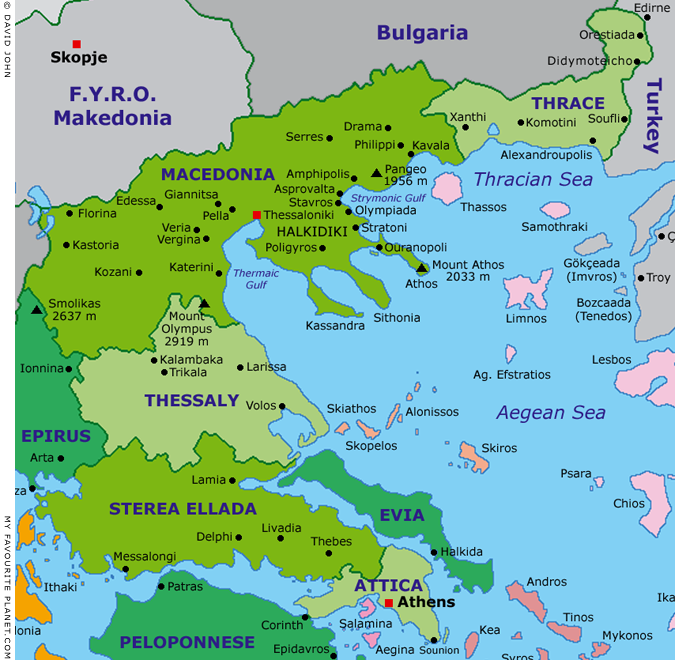 Interactive map of Macedonia, Thrace, Central Greece and the Aegean.


Colour key for Greek island groups (west-east)



See also our interactive map of Greece.
Photos, maps and articles: copyright © David John,
except where otherwise specified.

Some of the information and photos in this guide to Pella
originally appeared in 2004 on davidjohnberlin.de.

All photos and articles are copyright protected.

Images and materials by other authors
have been attributed where applicable.

Please do not use these photos or articles without permission.

If you are interested in using any of the photos for your website,
project or publication, please get in contact.

Higher resolution versions are available on request.

My Favourite Planet makes great efforts to provide comprehensive and accurate information across this website. However, we can take no responsibility for inaccuracies or changes made by providers of services mentioned on these pages.
Visit the My Favourite Planet Group on Facebook.

Join the group, write a message or comment,
post photos and videos, start a discussion...


George Alvanos
rooms in
Kavala's historic Panagia District
Anthemiou 35,
Kavala, Greece
kavalarooms.gr