My Favourite Planet > English > Europe > Greece > Thrace >

| | | | | | |
| --- | --- | --- | --- | --- | --- |
| Alexandroupoli, Greece | Practical information | | | page 3 | |


The Alexandroupoli Port Authority building on the harbour front.
Most of Alexandroupoli's public offices, main businesses, public transport terminals (see page 4: getting there) and sights (see page 5: sightseeing) are within short walking distances around the city centre. The large, modern General Hospital (see below) is 8km west of the city. Beaches are also to the west of town.

The centre has no shortage of shops, restaurants, bars, cafes and hotels. There is a good Municipal Campsite (details below), but no low-budget rooms or hostels. Most shops, offices and churches are closed during the afternoon. Museums are closed on Mondays.

The streets of the city centre generally follow a grid system, with most main streets running roughly west-to-east and narrower streets running south-to-north (starting from the sea). Many streets don't quite follow the chequerboard principle and run diagonally. Street maps, available free at hotels and the Town Hall (see below), make finding your way around much easier.

The two main streets are Odos Vasileos Alexandrou (see below), the city's waterfront promenade, and Leoforos Dimokratias (Dimokratias Avenue) which runs parallel to it, three blocks inland.

Along Alexandrou are several grand public buildings as well as the Lighthouse and a number of bars and restaurants; it is also where locals take their "volta", the early evening pre-dinner stroll which is a great tradition all over Greece.

Dimokratias is the busy main street, lined with shops, banks and modern official buildings, including the City Hall (Dimarcheio).

Odos Kountouriotou

(Οδός Κουντουριώτου), one of the narrow streets which runs between them, is a pedestrianized, cobblestoned thoroughfare with several small, traditional souvlaki restaurants, offering good, cheap food and drink. Highly recommended (

see photo below

).

The symbol of
East Macedonia
and Thrace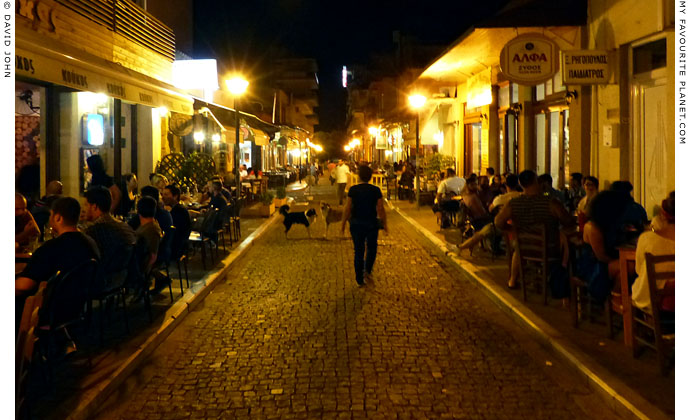 Odos Kountouriotou, a cobblestoned, pedestrianized street running north-south between
Odos Basileios Alexandrou and Leoforos Dimokratias has plenty of good, cheap food and drink.
This is where locals come in the evening to eat a souvlaki with friends and family.
| | | | |
| --- | --- | --- | --- |
| Alexandroupoli | Addresses and telephone numbers | | |
Where the streets have several names

Many official and unofficial information sources refer to the broad seafront promenade, on which the Alexandroupoli's trademark Lighthouse of Alexandroupolis stands, as "Leoforos Megalou Alexandrou" (Λεωφόρος Μεγάλου Αλεξάνδρου, Alexander the Great Avenue). It seems that most towns in Greece (and other countries) have recently named or renamed streets, squares, airports and other locations after the famed Macedonian king, so why not Alexandroupoli?

However, other sources and street maps of Alexandroupoli, including those issued by the city itself, still refer to the street as Odos Vasileos Alexandrou (Οδός Βασιλέως Αλεξάνδρου, King Alexander Street), after the modern King Alexander of Greece (1893-1920) in whose honour the city was renamed in 1920 (see History of Alexandroupoli). The street signs along the promenade also show this name.

Is this all some great mistake, or has the city only recently changed the name and not yet got around to altering the maps and signs?

Just to make things even more confusing, older travel guides refer to this street as Leoforos Vasileos Georgios B (Λεωφόρος Βασιλέως Γεωργίου Β΄, King George II Avenue). Streets named after this king have been renamed due to his extreme unpopularity, particularly for his support of the pre World War II fascist dictator Ioannis Metaxas.




Odos Vasileos Alexandrou street sign



Tourist information

Municipal Tourist Office, Town Hall,
Leoforos Demokratias 306, 68100 Alexandroupoli.

Tel: +30 25510 64184

Opening hours: 7:30 - 15:00

5 minutes walk north from the ferry port.
Maps and accommodation and transport information.

Note: We can not be sure if this office is still operating.
Many tourist information offices in Greece have been closed due to the economic crisis. There is no recent reference to it, even on the municipality's official website. Try phoning before visiting, or ask at your hotel.



Alexandroupolis Municipality

(Δήμος Αλεξανδρούπολης)

Town Hall, Leoforos Demokratias 306, 68100 Alexandroupoli.

Tel: +30 25510 64100

Website: www.alexpolis.gr
(in Greek and English, but not much information in English)



Transport

For information about Alexandroupoli airport, bus station,
train station and ferry port, as well as local buses and taxis,
see How to get to Alexandroupoli.



Museums, churches and beaches

See Sightseeing in Alexandroupoli.



Alexandroupolis Municipal Camping

(Δημοτικό Κάμπινγκ Αλεξανδρούπολης)
Makris Avenue, 68100 Alexandroupoli.

A large, well-organized, friendly campsite for tents, caravans and campervans. English speaking staff. Good facilities for families and children. Beaches, supermarkets, restaurants and an open-air cinema nearby.

2 km west of the town centre. Near the sea.
Open all year.
Rates from 19 Euros per night.

Tel / Fax: +30 25510 28735 and +30 25510 26055
Fax: +30 25510 28735

Website: www.ditea.gr (Flash website in Greek and English)

See also: www.tieda.gr/en/campingeng/information

Panhellenic Camping Association: www.greececamping.gr



Banks

There are several banks and ATMs in the centre.



Post Office

Odos Nikiforou Foka 1, 68100 Alexandroupoli.

On the corner of Leoforos Megalou Alexandrou,
near the Lighthouse on the west side of the port.

Tel: +30 25510 23 122

Open: Monday - Friday 7.30 - 14.00

See a photo and information about the historic post office
on page 2: History of Alexandroupoli.



Port Authority

Port Authority of Alexandroupoli

Commercial Port - TOL,
68100 Alexandroupoli.

Tel: +30 25510 26251, +30 25510 28463

Website: www.ola-sa.gr/en-us/home.aspx (English version)

For information about the ferry to Samothraki
see How to get to Alexandroupoli.



Emergency numbers

Police: 100
Fire: 199
Ambulance: 166



Tourist Police

Karaiskaki 6.
Tel: +30 25510 37411, +30 25510 66103, +30 25510 66120



Police Headquarters

Tel: +30 25510 37440, +30 25510 66140-1



Pharmacies

There are several pharmacies in and around Alexandroupoli.
Look out for the green cross symbol (often a neon sign).

In Greece pharmacies are usually open Monday-Friday
8 am - 1 pm, and 5 pm - 8 pm, and closed at weekends.
Some pharmacies choose to open when they please.

Every pharmacy should display a list showing which local duty pharmacist is open late night and weekends, usually on the door. These lists are in Greek, so you may need the help of a local. Your hotel should be able to find which pharmacy is open late.

Some kiosks (peripteros) and shops sell aspirins, condoms and sun cream.



Hospital

University General Hospital of Alexandroupoli,

(Πανεπιστημιακό Γενικό Νοσοκομείο Αλεξανδρούπολης, Panepistimiako Geniko Nosokomio Alexandroupolis)

Dragana, 68100 Nea Chili, 681 00 Alexandroupoli.

A large, modern hospital complex (opened 2002),
8 km west of the city centre,
3 km west of the village of Nea Chili (Νέα Χιλή),
1 km north of the EO2 National Road.

Tel: +30 25513 51000 and +30 25513 52000

Emergency: +30 25513 52421

Website: pgna.gr (Greek only)

Local bus Line 1 runs frequently to the hospital from the city centre (see How to get to Alexandroupoli: local buses).

A typical green cross pharmacy sign.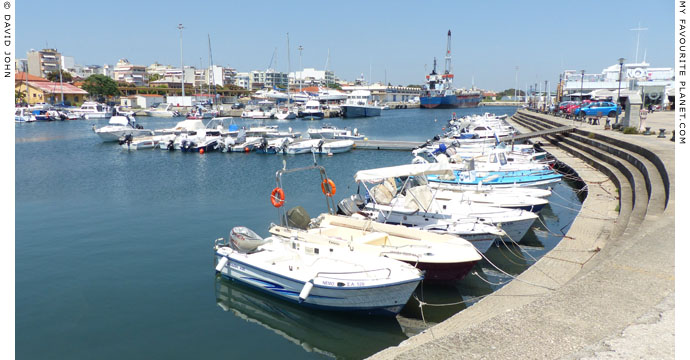 Fishing boats and private vessels in the fishing harbour of Alexandroupoli.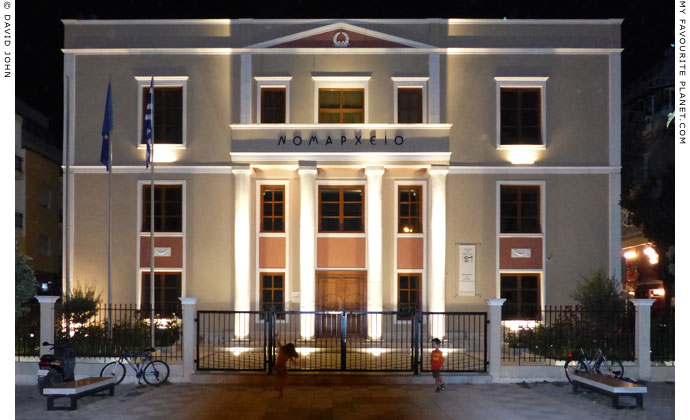 The New "Nomarcheio", former administrative centre of
the Evros regional unit, now a cultural centre and art gallery.

See Sightseeing in Alexandroupoli for further details.
| | | | |
| --- | --- | --- | --- |
| Alexandroupoli | Area map | | |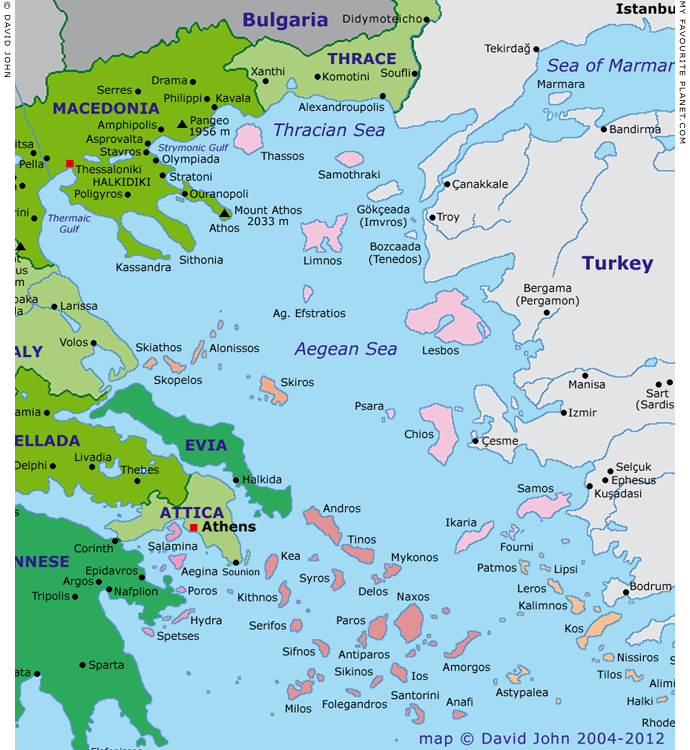 Interactive map of Macedonia, Thrace, Central Greece and the Aegean.

Colour key for Greek island groups (west-east)


| | | | | | | | | | | | | | | | | | | |
| --- | --- | --- | --- | --- | --- | --- | --- | --- | --- | --- | --- | --- | --- | --- | --- | --- | --- | --- |
| | | Argo-Saronic | | | | Sporades | | | | Cyclades | | | | Northern Aegean | | | | Dodecanese |


See also our interactive map of Greece.
Photos, maps and articles: © David John,
except where otherwise specified.




All photos and articles are copyright protected.

Images and materials by other authors
have been attributed where applicable.

Please do not use these photos or articles without permission.

If you are interested in using any of the photos for your website,

project or publication, please get in contact.

Higher resolution versions are available on request.


My Favourite Planet makes great efforts to provide
comprehensive and accurate information across this website.
However, we can take no responsibility for inaccuracies or changes
made by providers of services mentioned on these pages.
Visit the My Favourite Planet Group on Facebook.

Join the group, write a message or comment,
post photos and videos, start a discussion...


George Alvanos
rooms in
Kavala's historic Panagia District
Anthemiou 35,
Kavala, Greece
kavalarooms.gr




Olive Garden Restaurant
Kastellorizo,
Greece
+30 22460 49 109
kastellorizo.de
Papoutsis
Travel Agency
Kastellorizo,
Greece
+30 22460 49 286
greeklodgings.gr