My Favourite Planet > English > Middle East > Turkey > Selçuk >

| | | | | | | |
| --- | --- | --- | --- | --- | --- | --- |
| Selçuk gallery 1 | Serbian dancers visit Selçuk | | | 2 of 12 | | |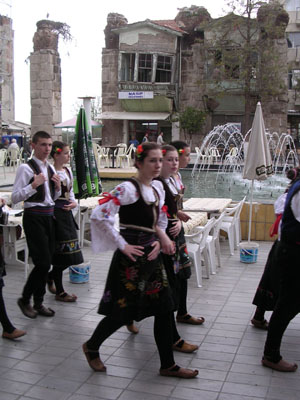 Serbian folk dancers visit Selçuk.
April 2004

On a quiet, overcast spring afternoon in Selçuk local people sit at open-air cafes around a pedestrianized square beneath the arches of the Byzantine aqueduct in the town centre. The only sounds to be heard are the gushing of water from the squar'e fountain, the clinking of cutlery and crockery and the clapping of the beaks of storks nesting on the aqueduct (see gallery 1, pages 21-28).

Quite unexpectedly, a troupe of young people in unusual costumes walk quietly onto the square in rows of three. Although the local news and posters all over town have announced events of an arts festival, the locals are quite surprised by this apparition, and most of them have no idea what is about to take place.

But once the music and dancing begin, everybody crowds around the energetic young Serbian folk dancers as they give a spirited performance. The growing audience are delighted, and some remark on the similarites and differences between the styles of the Serbian performers and their own local dances. Everybody agrees that it is a wonderful way to brighten up a dull afternoon.

Just about every region and village in Turkey has its own dance traditions, including those of ethnic minorities such as Kurds, Arabs, Armenians, Gypsies and Greeks. There are also dances imported from other countries as well as those developed as entertainment for the general public and Ottoman courts. According to the Turkish author Professor Metin And [1], there are around 1500 different village dances in Turkey, many with ancient roots, in the form of pantomime depicting village life, nature, combat and courtship.




1. See Istanbul essentials - Part 3, Istanbul wedding dance,
The Cheshire Cat Blog, June 2011.
Map, photos and articles: © David John,
except where otherwise specified.

Additional photos: © Konstanze Gundudis

All photos and articles are copyright protected.

Images and materials by other authors
have been attributed where applicable.

Please do not use these photos or articles without permission.

If you are interested in using any of the photos for your
website, project or publication, please get in contact.

Higher resolution versions are available on request.
Visit the My Favourite Planet Group on Facebook.

Join the group, write a message or comment,
post photos and videos, start a discussion...