My Favourite Planet > Blogs > Cheshire Cat Blog >

back
The Cheshire Cat Blog


| | | |
| --- | --- | --- |
| | 21 May 2013 | |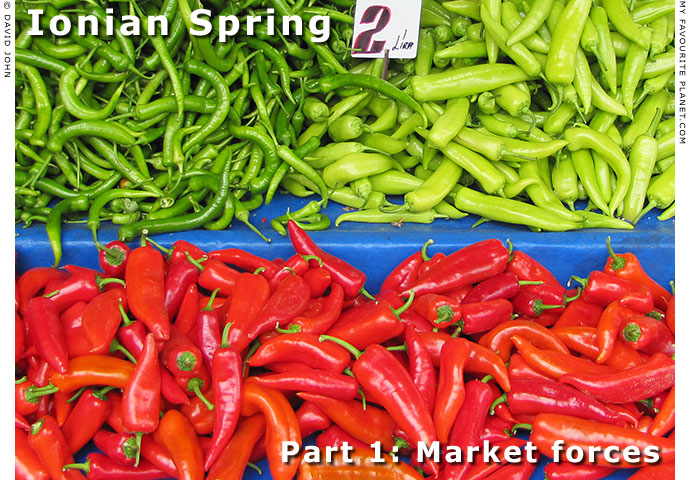 Chilli peppers on sale - from less than €1 per kilogram - at the Saturday market in Selçuk, Turkey.

Ionian Spring

Part 1 - Market forces

Some aspects of tourism, business, economics and politics on the Central Aegean coast of Turkey,
known in ancient times as Ionia, the location of cities such as Ephesus, Miletus and Priene.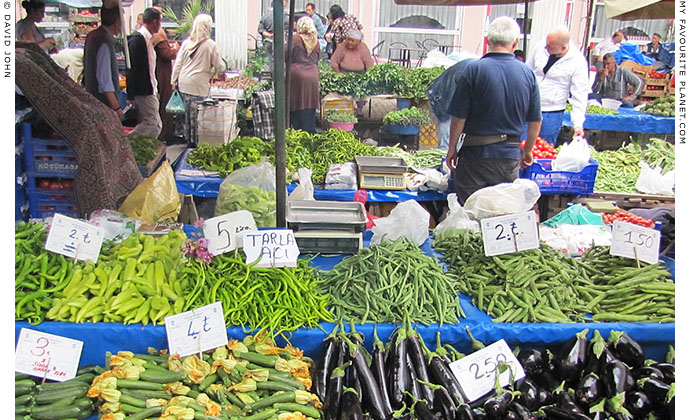 Eat your greens


Around Turkey street markets are held on different days in various towns and villages. Farmers and traders travel from place to place to sell their fruit and veg, fabrics, clothes, shoes, tools, toys and whatnots.

This is the Saturday market in Selçuk, near the site of ancient Ephesus. Streets are closed to traffic on the large market square in the centre of town, near the otogar (bus station), and shoppers flood in from the surrounding countryside to select their weekly groceries.

Both men and women, in traditional or in modern dress, undertake the task of weighing up the price and quality of a wide range of local seasonal produce. Some have their preferred stalls and traders, and many take the opportunity to chat and exchange the latest gossip with friends and renew acquaintances.

Tourists also wander around, as well as an increasing number of foreign residents from northern Europe who have bought homes in the area in order to enjoy the climate, the lifestyle and the way their pensions stretch a little further.

The climate and soil of Ionia, the coastal area of Turkey's Central Aegean Region, allow an ernomous variety of fruits, vegetables, grains and nuts to be grown; rice, cotton, poultry, sheep and cattle are also farmed here.

The area is also well wooded, including an extensive forest stretching from Selçuk to Kuşadası which was threatened a few years ago by a large fire. The fear of fire, and the fact that the military control much of this area, mean that most of the forest is out of bounds to visitors. There are other areas of natural beauty around Ionia which are accessible to ramblers, hikers and wildlife lovers, such as the nearby Dilek Peninsula - Büyük Menderes Delta National Park (Dilek Yarımadası Milli Parkı, known locally as Milli Parkı).

An experienced shopper scrutinizes the wares
on offer in Selçuk's Saturday market.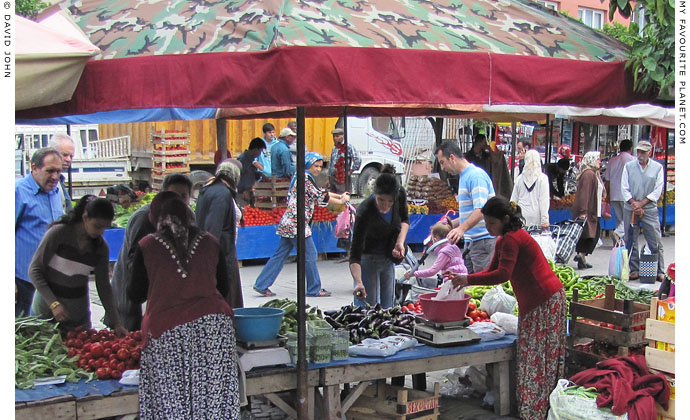 Selçuk Saturday market in full swing.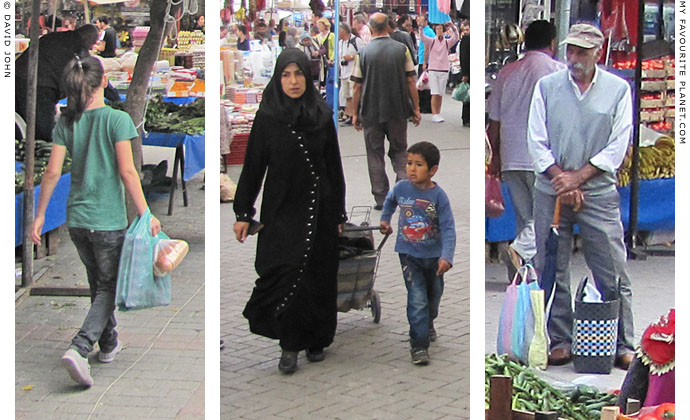 Some walk, some wait.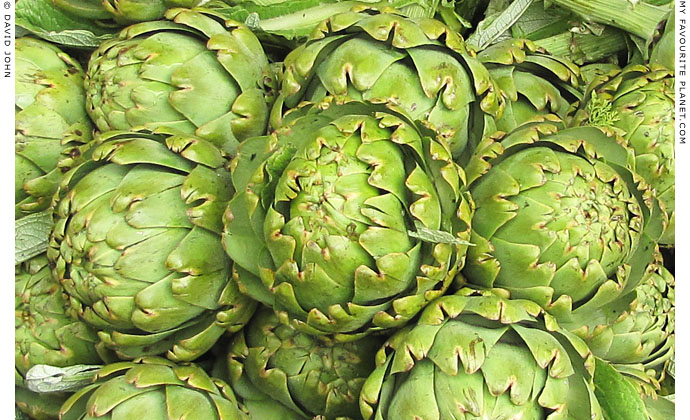 Enormous Ephesus artichokes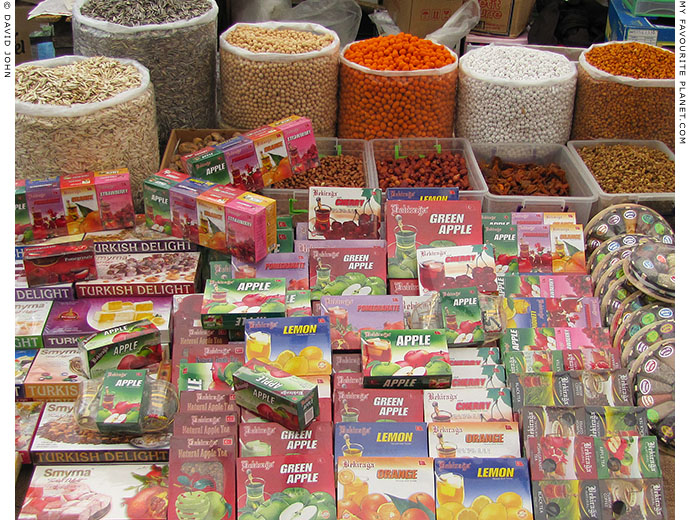 Tea, Turkish delight, nuts, seeds, herbs and spices with packaging in English for the tourists.

Tea flavours include orange, lemon, green apple, pomegranate and strawberry.
There are also mixed packs for those who just can't decide. Another stall sold quite good Earl Grey.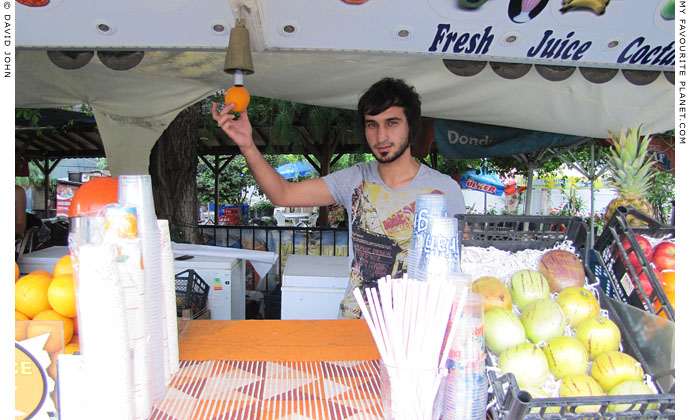 Juiced in time


Kuşadası, the seaside town 20 km south of Selçuk, has three markets a week, on Tuesday, Wednesday and Friday. The Wednesday market, offering mostly clothes, accessories and jewellery aimed at the tourists, and the Friday fruit and veg market are held on the northwest side of the busy junction between Adnan Menderes Bulvar and Candan Tathan Bulvar, opposite the central dolmuş (minibus) station. Locals still call this area simply Friday Market, despite a large sign declaring its official name as Şevki Hasirci Meydani.

On the corner of the market area you may find this young man and his colleagues busy preparing fresh fruit juices for shoppers and passers-by. The juices are tasty, refreshing and real life-savers when you are running around town and don't have time to sit in a café. I guess the the bell is there to tell customers when their order is ready.

Read also about Istanbul juice shops in Istanbul Essentials - Part 2.

My favourite orange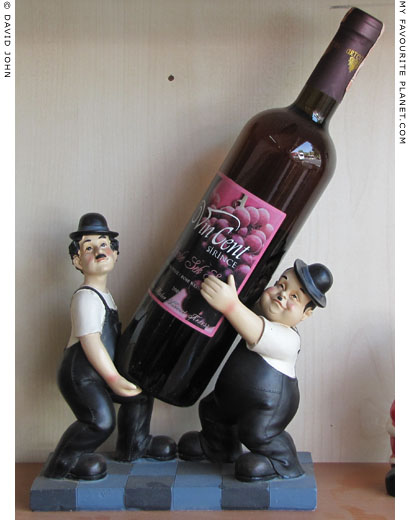 There's another fine mess you got me into.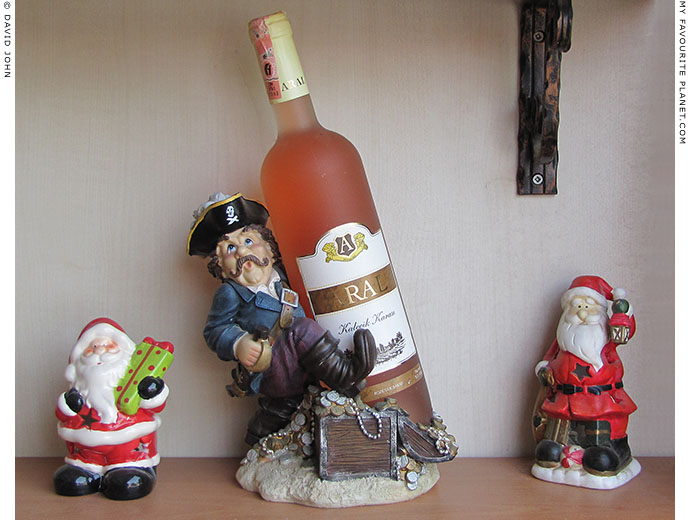 Pirate wine


Now here's a novel way to display your wares. The figures above show off local wines in a restaurant outside the archaeological site of Ephesus. Perhaps they would be more suitable for soft drinks for children. But what the heck, it's just a bit of fun.

I have no idea why the Father Christmas figures are there (see another Turkish Santa below). Equally, I don't know what the wines taste like; not a drop passed my lips.

A pirate's life for me

Pirate watches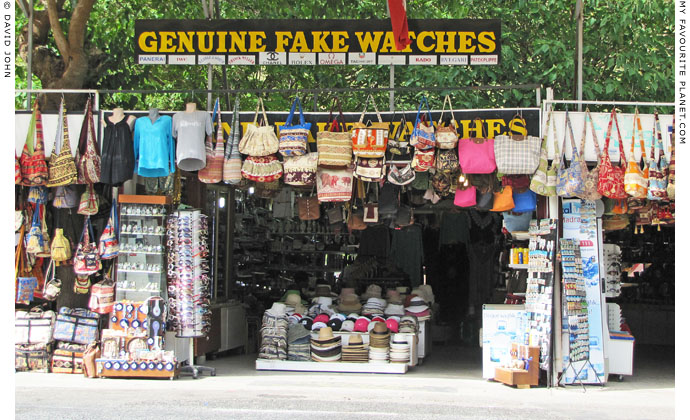 Genuine fake watches in Ephesus


It seems that no blog about Turkey is complete these days without a snap of a banner advertising "GENUINE FAKE WATCHES". A bit of a giggle; even funnier when the banner also screams "REAL FAKE WATCHES" as well, just in case you don't get it the first time.

Presumably, pointing out that the cheap and nasty replicas of famous brands are fakes somehow makes the trade legal, or perhaps technically not illegal. Imitation may be the sincerest form of flattery, and makers of fabulously expensive watches may indeed be flattered that so many people aspire to own even something which merely resembles their products. But mostly these fakes are crap, and even if you can haggle the price down to ten dollars, chances are your brand new bargain watch will go kaputt even before your holiday is over. The fakes are are usually not waterproof or even spit-proof, and many are made of base metal which rusts or corrodes and may cause a nasty rash on your wrist.

A couple of decades ago many watch manufacturers were bemoaning the slump in the market. People were just not buying traditional wristwatches any more. The digital watch fad (albeit short-lived) and the introduction of electronic analogue watches were major threats, and these days, with the proliferation of mobile phones, many no longer needed an extra timepiece. In the 1980s Swatch introduced a range of cheap, light, colourful watches, which proved so popular that it forced other firms serving the mass market, such as Timex, to reappraise their design ideas, manufacturing processes and pricing policies. Mass-produced watches became lighter, brighter and trendier and prices plummeted.

In recent years though, prices have been increasing again as Swatch, Timex, Seiko and co. attempt to reposition their products in the "value-added", luxury sector of the market. The Russian company Sekonda once produced cheap, reliable watches for the proletariat at home and abroad, and earned desperately-needed hard currency from the exports. Today it is following the trend and pushing up-market.

So it's no wonder people are buying fakes and cheap watches from the Far East. A bit of bling, to show off or just for fun. They are not buying a family heirloom, just another disposable accessory with a built-in rapid obsolescence factor. Prices for a real genuine new Rolex start at around $3,700. You pays your money and you takes your choice.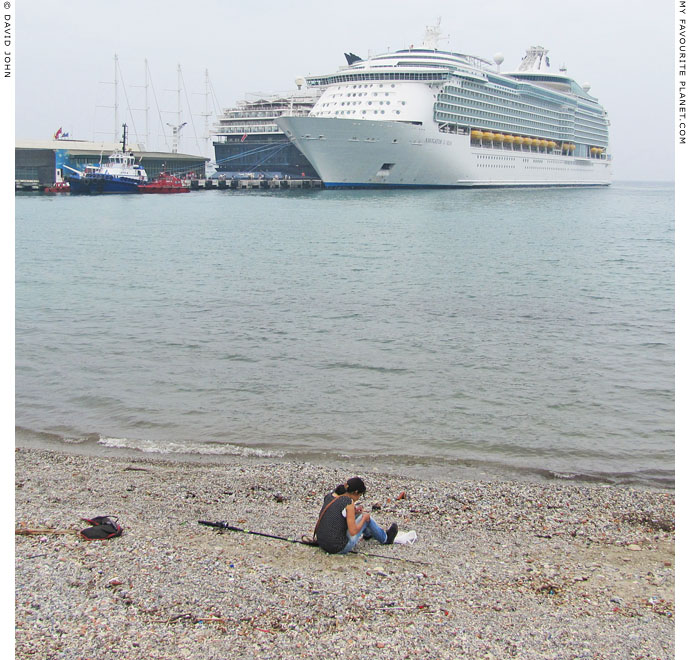 Let me take you on a spring cruise


Kuşadası, Turkey, May 2013

Two swallows may not make a spring, but two mega cruise ships certainly do. After a tourist-thin winter, local shopkeepers and restaurant owners rub their hands in glee as hundreds of passengers swarm ashore for a day of shopping and sight-seeing. As they regain their land-legs, the midday cruisers search the narrow streets of Kuşadası's old town in search of bargains in carpets, kilims, leatherwear, jewellery and tourist nick-nacks.

Other shipmates will take the opportunity of visiting nearby archaeological sites such as Ephesus, Miletus and Priene, to which they will be whisked off en masse in fleets of tour buses.

While some of the locals will profit from such flash-floods of seasonal Mediterranean migrants, lured by ancient marbles and Chinese-made fridge magnets, others will be using quite another bait to catch their supper.

As we noticed in Istanbul (see Istanbul essentials - Part 1, The Cheshire Cat Blog, 16 September 2010), Turkish people are keen anglers, often more out of necessity than merely for pleasure. Wherever there is a stretch of water, a beach, a jetty or a bridge you will find Turks stoically and patiently waiting for a bite. Here a young woman, dwarfed by two colossal cruise ships moored at the end of Kuşadası's town beach, puts worm to hook in the hope of providing herself, and perhaps her family with an evening meal.

Turkey has been enjoying a tourist boom over recent years, particularly as many other holiday destinations have become more expensive, packed out and spoiled, and political instability in others, such as Egypt and Tunisia, have kept visitors away. The Turkish government and business community are keen to make the most of this upswing, and many ordinary people want to get into the industry: the country's main industry agriculture can not provide work for everybody, and increasingly people are leaving the countryside for the cities in search of a future which doesn't involve back-breaking work picking potatoes for low wages.

But often people trade low-paid agricultural labour for low-paid, insecure jobs in hotels, restaurants and shops. As everywhere, there are winners and losers, and the playing field is anything but level.

Meanwhile, mass-tourism and fast money have become the priorities, the cruise ships get ever bigger, and hordes of trippers pour off cruisers, jumbos and buses into the sightseeing centres in greater numbers; new hotel complexes spring up like mushrooms along the Aegean coast and fishing villages mutate into gawdy tourist traps. Mountains are reduced to rubble to build the new hotels, vast estates of holiday apartments, shops, malls and motorways; valleys are dammed and flooded to provide power and water for thirsty El Dorados-on-sea.

One can not blame people for wanting to escape from rural poverty and enjoy the crumbs of the giant global economic pie, but how long can this kind of growth be sustained, and how long before much of what has actually been attracting visitors to these places for decades is totally ruined? Will it kill the goose that lays the golden eggs? Will Turkey's Aegean and Mediterranean areas be turned into an Anatolian Costa del Watneys and eventually face the economic collapse and dire water shortages which already threaten Spain? Probably.

The fly in the soup is already beginning to float to the surface. Turkey has long had a problem with inflation, and prices are rising rapidly: a meal in a restaurant, Turkish beer, wine and raki, as well as domestically-produced goods in supermarkets now cost more in tourist towns than in EU countries. Business owners blame this on the government's high taxes, but as one travels to places further off the tourist trails prices miraculously fall. One suspects that visitors are being charged as much as the market can stand so long as the bubble grows.

Tomorrow, these cruise ships will be on their way to their next ports-of-call, the shopkeepers here will be restocking for the next shiploads of customers and this young woman will be hooking another worm.

Gone fishing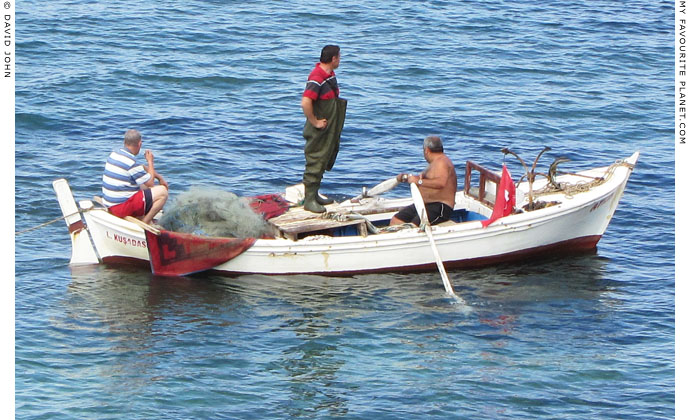 There are three types of people in this world: those who get to sit,
those who must stand and those who do the rowing.

Fishermen on the Aegean, north of the Dilek Peninsula, Turkey.


And while we're on the subject of fishing...

This trio of fisherman row along this stretch of Ionian coast every morning to see what the sea has to offer. The water is quite shallow here, which explains the waders, but what exactly they were searching for I was never certain. I suspected they had laid pots or baskets to catch crustaceans or octopuses, but I never saw them actually catch anything.

As we have discussed elsewhere (see for example Olympiada gallery page 16), overfishing on a vast industrial scale has caused an alarming reduction in the number of marine creatures in the world's seas and oceans. This means ever-diminishing returns for small-scale fisherman like these who row home with smaller catches.

See also In search of fish (Istanbul essentials Part 1, The Cheshire Cat Blog, 16 September 2010).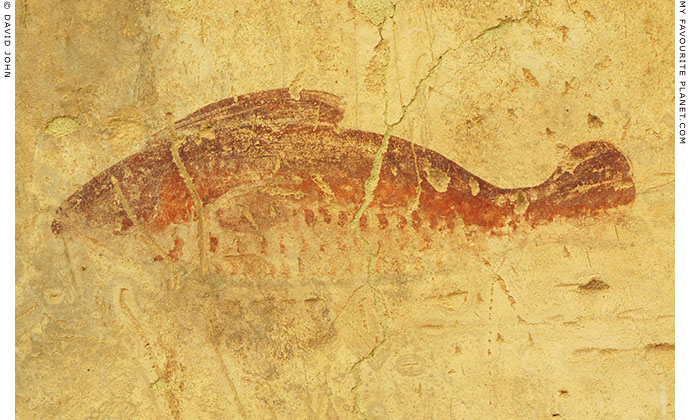 Fish fresco in the Terrace Houses, Ephesus. Roman Imperial period.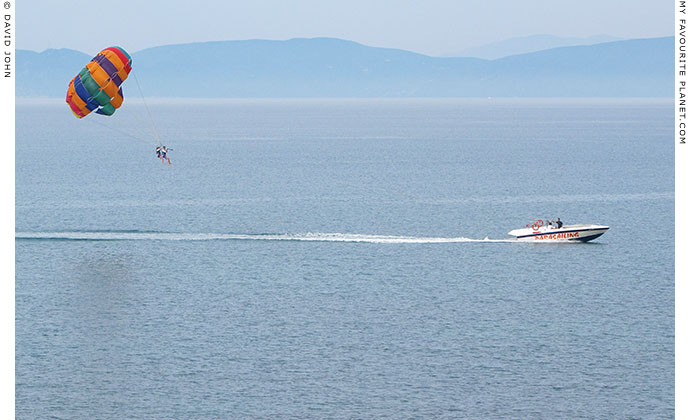 Parachute gliding (or parasailing) off the coast of the Dilek Peninsula


This is probably another reason why fish are becoming more scarce: they have been scared off by all the speedboats that rage up and down the coast.

But I hate to be a killjoy, so I'll tell you that you can enjoy the thrills of parasailing around here for as little as 30 Euros. Paragliding is also on offer.

"A mind is like a parachute,
it doesn't work unless it's open."

This quote, of which there are a number of variants, has been attributed to several people, including the Scottish chemist and physicist Sir James Dewar, the Scottish whisky distiller Baron Thomas Dewar, the American author Napoleon Hill (Think and grow rich), and more recently to the rock star Frank Zappa. I haven't yet discovered who really said or wrote it, but I'm trying to keep an open mind on the subject.

Edwin Drood adds:

"The mind is like an umbrella: you're only sure to need it when you left it at the pub."

You can be certain Edwin said that.

Up, up and away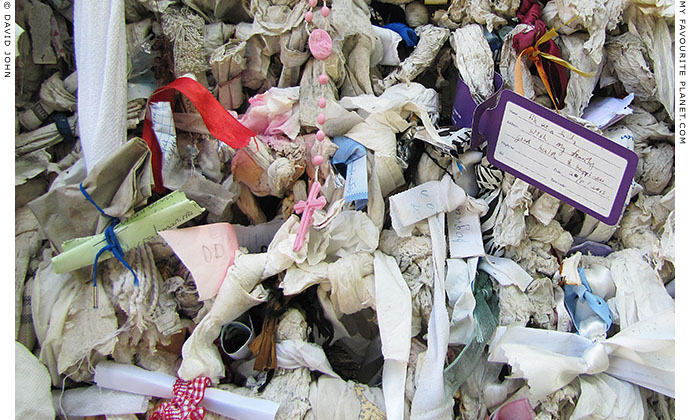 Rags of faith

Greetings, wishes and prayers to the Virgin Mary
on the "wishing wall" at Meryemana, Ephesus.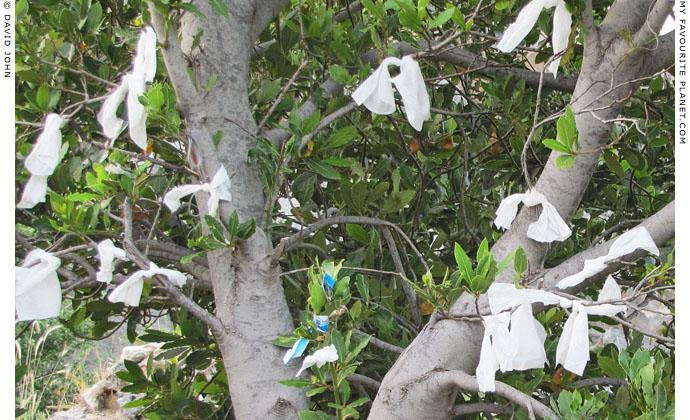 Strange fruit

Pieces of cloth, as tokens of wishes and prayers, tied
to a tree at the Cave of the Seven Sleepers, Ephesus.


The tradition of tying pieces of cloth and other items to trees as tokens of prayers or wishes, particularly at places considered sacred, is widespread and as old as the hills. In Bulgaria I came across a tree festooned with lengths of red cloth attached by women hoping for a child.

According to legend, the Virgin Mary came to Ephesus with Saint John the Evangelist (see Selçuk gallery 1, page 5), although there appears to be no historical basis for this belief; and the notion that she lived in the tourist attraction and place of pilgrimage known as the House of the Virgin Mary, or Meryemana (Mother Mary) is based on very dubious grounds. Still, it has been accepted by the Roman Catholic Church, other Christian denominations, and even some Muslims.

Admission to the Meryemana, on a wooded hill 5 km south of Ephesus, costs 15 Turkish Lira (around 7 Euros) plus parking fees. A sign informs visitors that all the ticket money is taken by the Selçuk municipality, and requests donations for the upkeep of the place. The Turkish Post Office, PTT, have helpfully built a bank with ATMs at the site so that visitors can give cash or transfer funds. There are also restaurants on the grounds as well as tourist shops selling religious bric-a-brac. With thousands of believers streaming in every day, there is an awful lot of lucre sloshing around a tiny house, which some think was actually built in Byzantine times. What would Jesus think of all these businesses and money-changers?

Boards have been set up on a long stone wall - the "wishing wall" - for visitors to leave their messages to Mary. Strips of white cloth are provided, but many people leave their own tokens in the form of handkerchieves and ribbons, or write prayers and wishes on scraps of paper, luggage tags, receipts or whatever comes to hand. It is weird and rather sad to see the thousands of tokens fluttering in the spring breeze. Each one tells a story: a plea for recovery from illness, for the soul of a dead relative, for peace, love and understanding.

The site of the Cave of the Seven Sleepers, nearer to Ephesus, is even sadder and more bewildering. While the Meryemana has been immaculately restored, and much of the archaeological site of Ephesus similarly made fit for tourists, the area around the cave looks neglected and in bad condition. The ancient necropolis, set into a deep crag at the foot of the eastern side of Panayir Dagi (Mount Pion), became associated with a legend about seven early Christians who fell asleep here while hiding from their Roman persecutors and woke up 200 years later. Similar legends are told at other places in the world, and this sounds like another tall story. But here too the faithful come to pray and leave their pieces of cloth and scraps of paper tied to a tree.

Gilded statue of the Virgin Mary
on the side of the road between
Ephesus and the Meryemana.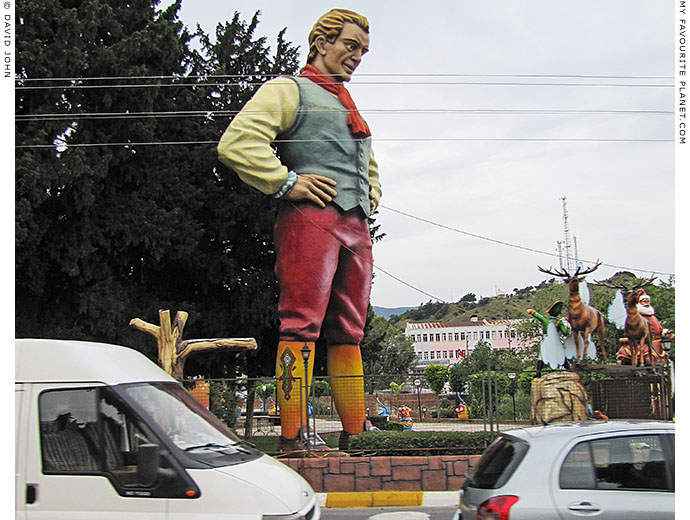 They might be giants


In an amusement park on the edge of the farming town of Söke stands a giant fibreglass statue of Gulliver confronting appropriately smaller figures of Lilliputians. Amongst the other statues in the park is Santa Claus and two of his reindeer.

While Jonathan Swift's 18th century story Gulliver's Travels, in Turkish Gulliver'in Gezileri, is internationally well-known, it's a bit of a surprise to find Santa here, even if the original Saint Nikolaos did come from Myra in Lycia, which is now in Southwestern Turkey (see Kastellorizo gallery page 99). What do Turkish kids make of it all? And how do their parents explain the connection between a jolly, red-suited, early Christian saint from Lycia and reindeer from Lapland?

The sculptures in the Söke Harikalar Diyarı (Fairytale Park) are by Esra and Ragıp Çeçen. See aloraart.com.

Santa, reindeer and a Lilliputian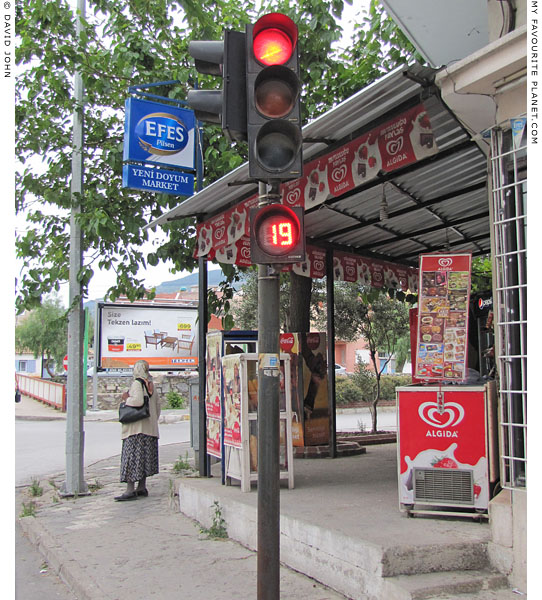 Hurry up slowly


I'm entirely not sure what the point of this traffic light countdown in Söke is. Perhaps it gives drivers something to look at while they are waiting for the light to change.

In Spain I have seen such countdowns on pedestrian crossings. In some cases pedestrians are given only 20 seconds to rush across the road before being mown down by a juggernaut. I guess it keeps them fit, but I also wonder what goes on in the minds of town planners. Yet another unfathomable region.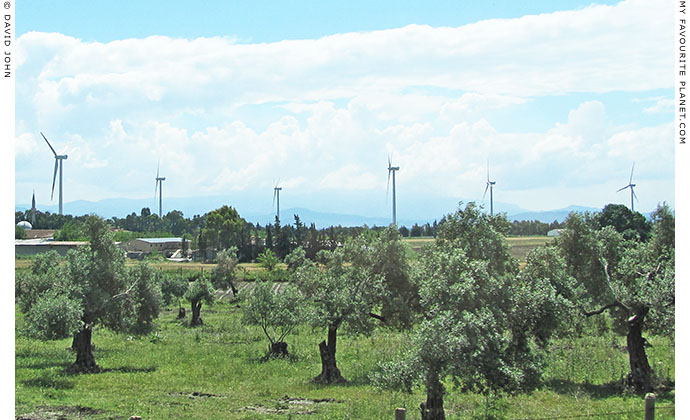 Power to the people

The Söke-Çatalbuk wind farm generating electricity outside Söke


Turkey has to import much of its electricity, which in 2012 cost the country $60 billion. And still Turkish consumers pay much less for power than those in western Europe. Local people say how wonderful it is to be able to afford to run the air conditioning all day. The rapid increase in the use of cheap air conditioning units and other electronic devices, the fast-growing population, industrial and commercial expansion and the tourist boom are all putting a strain on energy supplies.

The government is determined to press ahead with the privatization of the domestic industry and the construction of a nuclear plant with the help of the Russians (the people who brought you Chernobyl), to the horror of critics who point out the dangers, including the constant threat of major earthquakes. Hydroelectric schemes have also proved controversial as the creation of dams and reservoirs for electricity production and irrigation (see water below) has meant flooding environmentally sensitive areas and important historical sites such as the ancient healing centre of Allianoi near Pergamon.

Many people remain undecided about wind farms. The down-side is that they can be very noisy, are seen as a blot on the landscape and are a danger to birds, bats and other flying creatures. The up-side is that they are very effective at producing electricity and are more environmentally friendly than coal, gas, diesel, nuclear and even hydroelectric power plants.

Söke-Çatalbuk Wind Energy Production Power Station, just outside Söke, seems unobtrosive enough, situated as it is in a field among trees, on the side of the southbound D525 Söke-Milas highway. Söke's location on a plain above the Aegean coast also ensures plenty of wind. Built by the ABK Company with the Danish renewable energy consulting firm enXco, and completed in November 2011, the wind farm's fifteen Gamesa G-90 wind turbines produce a total of 30 Megawatts. See abkenerji.com.tr.

Söke has a reputation for being a left-wing town and its people are no great fans of the governing AKP party in Ankara, and perhaps this is why they opted for wind energy.

Solar energy also seems like an obvious renewable energy option for sun-drenched Turkey (an average 2640 hours of sunshine per annum according to turkey-electricity.com), although an ernomous acreage of solar panels would be required to supply even a fraction of the ever-rising demand.

Find out how to build a wind turbine and generate your own electricity on Mike Davis' website:
"How I home-built an electricity producing wind turbine". "It was easy. You can do it too." Says Mike.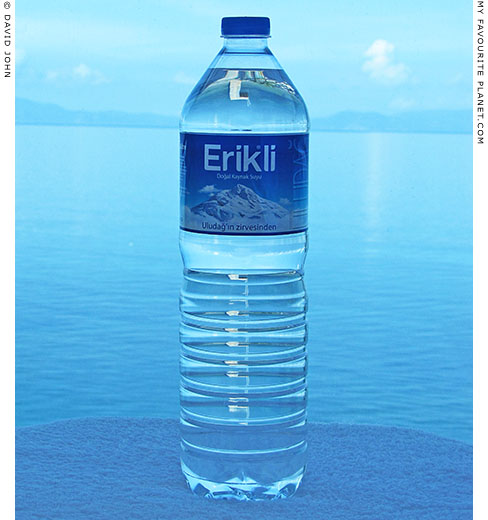 Cool, clear, expensive water


You used to be able to drink the water just about everywhere in Turkey. Not any more. Despite huge irrigation and dam-building projects, supply just can't keep up with agricultural, industrial and domestic demand. As with elctricity, the tourist boom has created a substantial extra drain on resources. In many places in Ionia, including the port of Çeşme, whose name means "fountain" and which was renowned for its drinking water, the locals no longer drink what comes out of their taps.

Everybody is forced to buy bottled water, which costs between 0.50 to over 2 Turkish Lira per litre, depending on the brand and where you shop. Nestlé bottled water, for example, isn't even mineral or natural spring water, just cleaned-up tap water. It seems astonishing that so many people support a government which is praised for its large-scale building projects and road construction, and given the credit for current economic growth, but which can not provide decent drinking water. Presumably they see it as one of the costs of the all-important "progress".

In other places, such as Istanbul, the water is drinkable, though chlorinated. If you are travelling in Turkey, it is always best to ask about the potability of local water supplies. Carrying a water bottle is also advisable, especially in summer.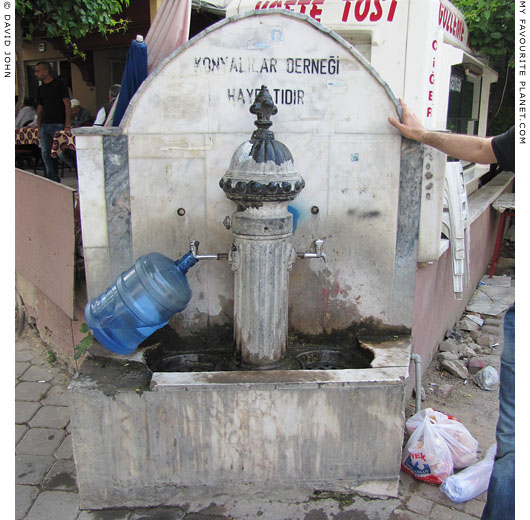 Public water fountain in the centre of Kuşadası


| | |
| --- | --- |
| The provision of public water fountains which began in ancient times, was raised to an exact science and a fine art by the Romans, and continued in grand style by the Ottomans, remains a blessing for poorer people who can not afford expensive bottled water. In and around villages, towns and cities you will often see people, sometimes whole families, lugging large containers to fill them at such fountains. Many of these use different sources to the mains which supply the taps. I usually ask people about the water before trying it. | |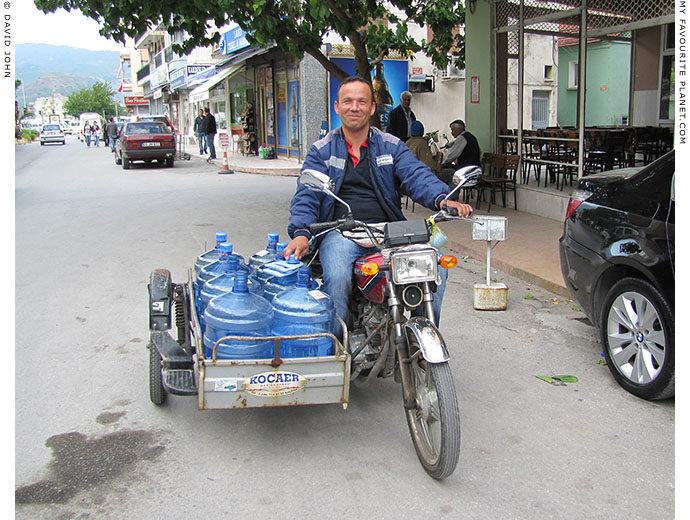 Water delivery man in Söke


Every cloud has a silver lining, and the demand for bottled water provides jobs for many. I stopped to look at this motorbike and sidecar combo in Söke, and its friendly driver happily posed for a photo, much to the amusement of the men sitting outside the corner café. I guess he delivers other things apart from water as he works in a store which also supplies bottled gas and who knows what else.

I particularly like the sidecar's little running-board and step. This makes it easier for grandma to get in for her ride to the shops or the mosque. I kid you not.

The reason I stopped to look at the combo in the first place is that I recognized the type. I had seen such machines around Sardis and Salihli, over 170 km inland from here, where they are used as the poor man's pick-up truck, particularly by farmers, to carry just about everything imaginable. And sure enough, the label on the sidecar reveals that it came from Salihli.

The Sahihli based company Kocaer Makina Sanayi produces a range of motorbike sidecars, trailers and combos, including some cool customized kit. Their website kocaermakina.com is in Turkish only, but features fascinating photos of their products. I would like one for Christmas, please. There is also a YouTube video of the firm's factory:
youtube.com/watch?v=0fdQe_fLSJw

Easy rider

Sidecar label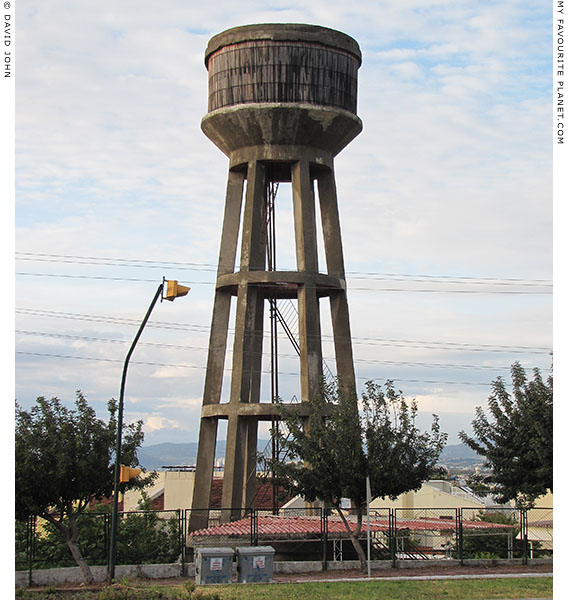 A water tower in the seaside village of Güzelçamlı


It's hardly a pretty sight, but it's about the only object here which passes for a landmark. The small seaside village of Güzelçamlı lies around 25 kilometres south of Kuşadası and just before the entrance to the Dilek Peninsula - Büyük Menderes Delta National Park (Dilek Yarımadası Milli Parkı, known locally as Milli Parkı). It is opposite the Greek island of Samos, and at the foot of the northwest side of Samsun Daği, known in ancient times as Mount Mykale (Greek, Μυκάλη). Directly on the opposite side of the mountain are the remains of the ancient Ionian city of Priene (see Ionian Spring part 3).

Over the road from the water tower is the beginning of the path leading to ancient Panionion (Greek, Πανιώνιον), a sanctuary dedicated to Poseidon Helikonios and the meeting place of the Ionian League, the confederation of twelve Ionian cities (later Smyrna was also accepted into the league). Today there is not much to see of this sanctuary apart from the remains of a small theatre and a few barely identifiable piles of stone overgrown by wild vegetation.

There is now even some doubt as to whether this site is actually the location of Panionion, as another site discovered in 2004 further up the mountain has now become the main contender.

2 kilometres further south is the Cave of Zeus (Zeus Mağarası), a large grotto with a pool fed by a cold spring. Legend has it that Zeus used to take refuge here from the tantrums of his brother Poseidon, god of the sea.

The countryside around Güzelçamlı is beautiful, there are some good beaches, and what remains of the old part of the village (until 1922 the Greek village of Giaur-Changlee, also referred to as Changli or Tshangli, and in Turkish as Rumçamlısı) is also quite charming, but most of the land on the sea side of the main road through the village has been overtaken by endless boring blocks of identical holiday apartments connected by rutted dirt roads which are flooded when it rains.

Güzelçamlı can be reached directly by dolmus (minibus) from Kuşadası and Söke, about every half hour. Journey time around 30-45 minutes.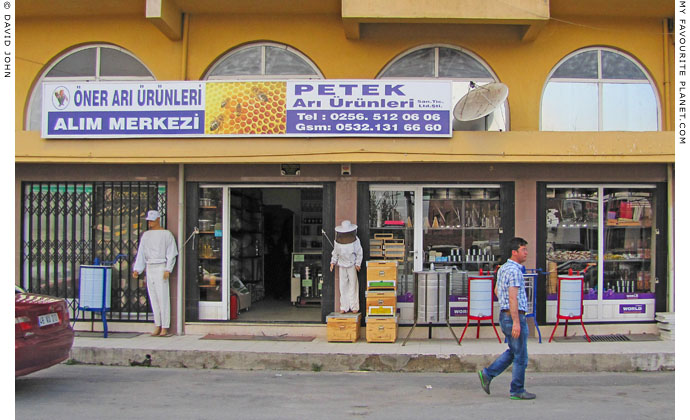 Beekeepers' supply shop in Söke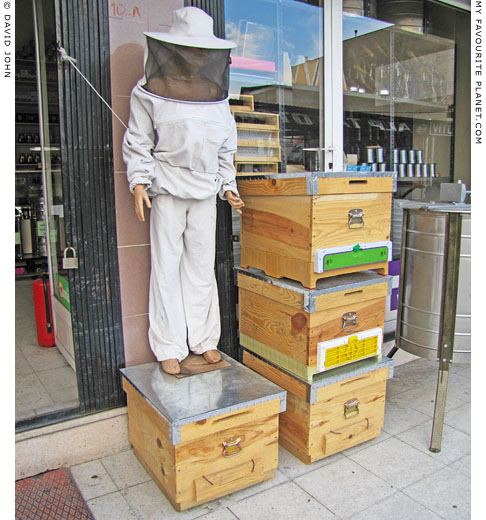 Big bee business


Like hunting and fishing, taking honey from the bees is one of the oldest human occupations. Farmers have been breeding bees for over 4000 years, and apiculture early on became an important economic factor in many societies: before the spread of beet and cane sugars, honey was one of the few natural sweeteners almost universally available, used in food and drink preparation, and was also valued for its antiseptic and health-promoting properties; other bee products such as royal jelly and beeswax were - and still are - considered luxuries. These days there is also a demand for bee venom for scientific and medicinal uses.

The Turkish government recognizes the importance of beekeeping and has estimated that in 2000 the production of honey and beeswax contributed 140 billion Turkish Lira (around 70 billion Euro) to the national economy, and the country is the world's fourth largest producer of honey (see About beekeeping at the Turkish Ministry of Food, Agriculture and Livestock website). Since then output has increased several-fold due to technical improvements, increased yields and to the fact that ever more farmers and rural inhabitants are taking up apiculture in order to supplement their incomes. Hives of all shapes and sizes can be seen around the Turkish countryside and at the edge of villages.

Small start-ups in beekeeping require minimal capital investment and technical knowledge, and newcomers can add new hives gradually, although the government advises that a minimum of 50-60 bee colonies are necessary in order to generate income.​

Beekeepers' supply shops, like this one in Söke, provide economical, mass-produced essentials and accessories as well as friendly advice, while many of the tricks of the trade are passed on between farmers over a glass of tea or a raki.

Environmentalists generally see beekeeping as a good thing, and amongst other benefits it helps farmers become more aware of their environment and the danger of pesticides and other bee-unfriendly factors. The mysterious decline in bee populations in many other countries has sent alarm bells ringing around the world, and sharpened people's awareness of the vital importance of bees not only to our economies but to our very survival.

Since spring was slow in arriving here this year, it was too cold and wet for bee-spotting. Therefore we were unable to include any snaps of bees in part 3 of this blog, which will deal with animal life in Ionia. But we shall undoubtedly return to the subject of bees and beekeeping on future My Favourite Planet pages. So, stay tuned, apiphiles.

The latest fashion for apiculturists

Honey machine



Shameless plug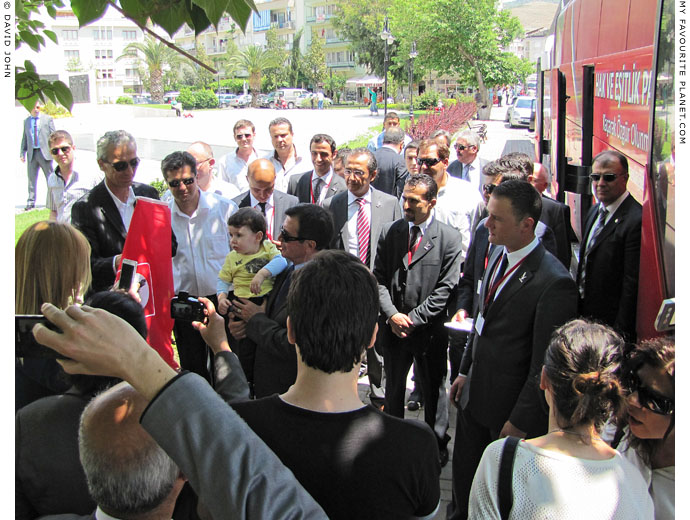 On the campaign trail


A quiet lunchtime in Selçuk. The tourist buses have rolled off to wherever tourist buses roll off to, the shoppers, the schoolkids and just about everybody else in town seems to have gone home, leaving the streets more or less deserted.

The driver of one of the two large red buses parked in a side street near the town hall stands before his vehicle and is obviously waiting for something or somebody. He sees a small group of people approaching, hops on his bus and starts the music. A strident patriotic march booms out of the row of loudspeakers cunningly built into the roof of what turns out to be a campaign bus of the nationalist Rights and Equality Party (Hak ve Eşitlik Partisi, HEPAR).

The party founder and leader is approaching, accompanied by the faithful and buzzed by young activists snapping and videoing away with smartphones and cameras. Osman Pamuköglu, for it is he, doesn't even crack a smile. In his dark suit and matching sunglasses, surrounded by his acolytes, he looks weary as he heads to the safety and privacy of his windowless bus. Not the dynamic strongman one may have expected from his speeches, interviews and TV appearances. The former modern major general's statements may be a storm warning to those he and his party dislike, but right now his face and body language are saying: "Get me off the streets, onto the bus and the hell out of here!"

During his lightning visit to Selçuk Mr Pamuköglu has cut the ribbon to open the local party offices and undertaken the briefest of walkabouts through the almost empty streets, greeting anybody he can find, mostly bewildered shopkeepers, some of whom suddenly find their hand being shaken by that of the famous smiter of Kurdish rebels.

A tall, blonde woman suddenly appears and thrusts a young child into his arms. Wait a minute, where did she come from? She wasn't here a second ago. Ah, of course, she was on the bus the whole time. His wife, most likely. It's baby-kissing time.

The toddler appears more than a little perplexed to find himself suddenly surrounded by all these people; he looks as though he has been snatched from his nap to take on this role. But he is not playing along, ignores the great leader and searches among the sea of faces for his mother. Members of Mr Pamuköglu's entourage attempt to encourage the child; one tries unsuccessfully to put a party flag into his hand. The world is watching, kid. Well, at least a handful of Facebookers and YouTubers. The leader has had enough: he hands the reluctant young media star back to the woman and disappears onto the bus. Show over. The buses move on to the next stop on the campaign trail, taking the marching music with them.

kissing babies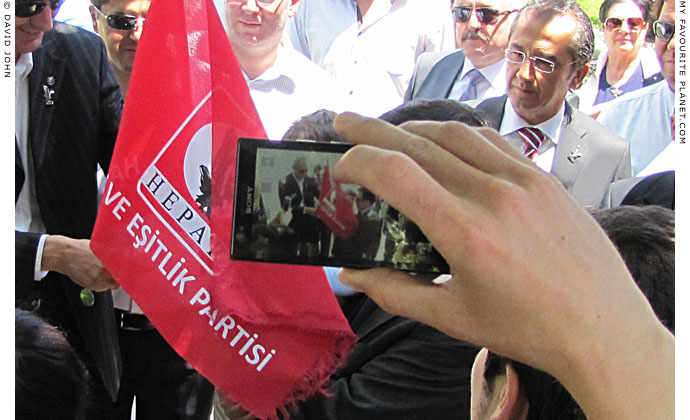 One for the money, two for the show, thirty three for facebook, now go, go, go...


Osman Pamuköglu is a former army major general who was decorated for his part in the military campaign to defeat the armed Kurdish rebellion of the PKK (Kurdistan Workers' Party) during the 1990s. In 2008 he founded HEPAR (Hak ve Eşitlik Partisi, Rights and Equality Party), which by election year 2011 claimed 100,000 members. Although the party received 0.28% per cent of the vote - not an inconsiderable achievement for a new party in a country the size of Turkey - it was way below the 10% minimum required to win a seat in parliament.

Despite the large number of parties across the political spectrum, only four are currently represented in the Ankara parliament. Prime Minister Recep Tayyip Erdoğan's AKP (Adalet ve Kalkınma Partisi, Justice and Development Party) has a enormous parliamentary majority with 326 seats, while his nearest contender, the social democratic Kemalist CHP (Cumhuriyet Halk Partisi, Republican People's Party), has only 135 MPs. This means that the AKP can effectively push through just about any legislation it wants.

The situation does not please everyone, even other nationalist right wingers, and particularly not Mr Pamuköglu, who uses every available opportunity to attack Erdoğan's policies.

One of the biggest problems, according to Pamuköglu, is that the AKP is just not Turkish enough. His party's name "Rights and Equality" sounds egalitarian enough, but his claimed ideological aim to create "a merged society with no classes or privileges" with social justice for Turkish citizens does not seem to apply to foreigners or ethnic minorities such as the Kurds. HEPAR youth activists have been accused of attacking Kurds in Turkish towns (see "Tension simmers in northwestern Turkey in wake of BDP, HEPAR fight", Hürriyet Daily News 6/8/2011).

The rather militaristic HEPAR party logo shows an Anatolian eagle swooping down to attack its prey. The angular graphic of the eagle is rendered in black, on a white circle surrounded by a red background. Remind you of anything? And if that is not chilling enough, the front page of the party's website, hakveesitlik.org.tr, carries a photo of an eagle about to grab a goose in flight. Who, one wonders, is the goose?



Osman Pamuköglu
Update: 10 June 2013

Turkish Prime Minister Erdoğan has announced that he is losing patience with the tens of thousands of anti-government protesters who have been on the streets around Ankara's Kizilay Square and Istanbul's Taksim Square for over ten days. He has accused them of being looters, vandals and terrorists, and has threatened them with severe though unspecified consequences, saying that they would "pay a heavy price". Many have already paid dearly for their dissent, with 4 dead and over 5000 injured in confrontations with the police, who have used tear gas and water cannons.

Mr Erdoğan may prefer not to be reminded of his part in illegal demonstrations in the 1990s as a member of the outlawed fundamentalist Welfare Party. In 1998 he was imprisoned and forced to resign as mayor of Istanbul for incitement to religious and racial hatred after publicly reciting a poem which included the lines: "The mosques are our barracks, the domes our helmets, the minarets our bayonets and the faithful our soldiers...."

Because of his criminal conviction Erdoğan was banned from participating in parliamentary elections, and it took an amendment to the Turkish constitution in 2001 to allow him to stand for parliament.

(See Turkey's charismatic pro-Islamic leader, BBC News, 4 November 2002)

Despite the courage of the protesters and the weight of the ethical and political arguments of opponents to the ruling party, the AKP's massive populist appeal will ensure that Erdoğan will remain in power and continue with the same policies for some time to come. Large counter-demonstrations in the form of party rallies have already been scheduled, and will dwarf the current protests. It can only be hoped that the opposing groups will not be allowed to confront each other on the streets.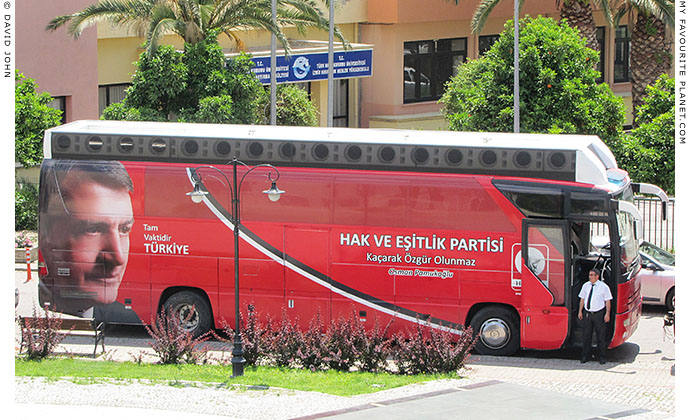 Party bus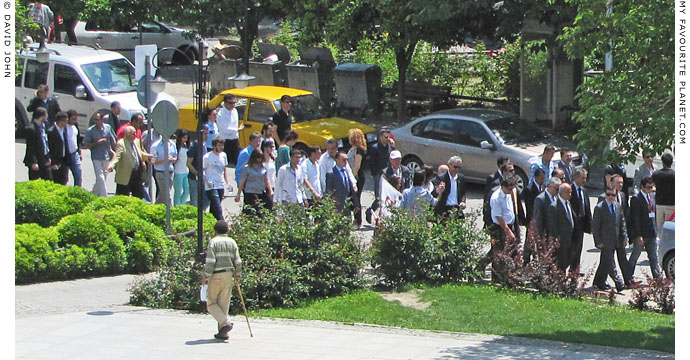 The party line

HEPAR (Hak ve Eşitlik Partisi, Rights and Equality Party) supporters in Selçuk.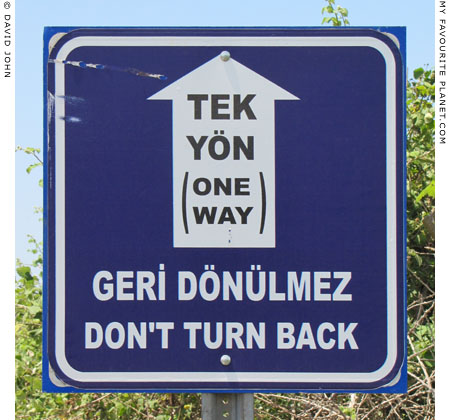 DON'T TURN BACK
Articles and photos copyright © David John 2013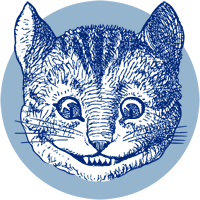 The Cheshire Cat Blog at My Favourite Planet Blogs


We welcome considerate responses to these articles
and all other content on My Favourite Planet.
Please get in contact.




The photos on this page are copyright protected.

Please do not use them without permission.

If you wish to use any of the photos for your website,
blog, project or publication, please get in contact.

Higher resolution versions are available on request.
Visit the My Favourite Planet Group on Facebook.

Join the group, write a message or comment,
post photos and videos, start a discussion...
Views of blog authors do not necessarily reflect those of the publishers
or anyone else at, on or in the vicinity of My Favourite Planet.







George Alvanos
rooms
in Kavala's historic Panagia District
Anthemiou 35,
Kavala, Greece
kavalarooms.gr
Olive Garden Restaurant
Kastellorizo,
Greece
+30 22460 49 109
kastellorizo.de
Papoutsis
Travel Agency
Kastellorizo,
Greece
+30 22460 49 286
greeklodgings.gr