My Favourite Planet > Blogs > Cheshire Cat Blog >

back
The Cheshire Cat Blog


| | | |
| --- | --- | --- |
| | September 2013 | |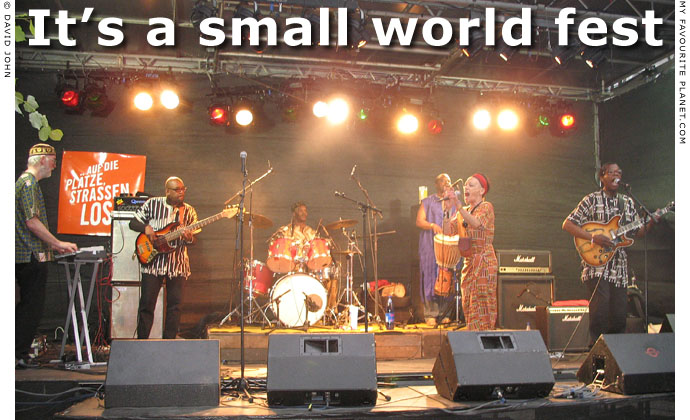 Mfa Kera and Black Heritage onstage at Weltfest 2007.

It's a small world fest

The Cheshire Cat walks around a square in Berlin to discover the globe.
In Europe the season for open air concerts and festivals is coming to an end, but there is at least one more great little fest to put in your calendar for mid September.

Since 2001 Weltfest (World Festival) has been held on Boxhagener Platz, a green square in former East Berlin. The fest grew out of the tradition of German Kiezfests, neighbourhood street festivals distantly related to British village fetes. Usually, they are about enjoying beer, sausages and other Teutonic culinary delights while a Dixieland jazz band or a local combo strut their stuff on a small stage.

The Weltfest on Boxhagener Platz (known locally as "Boxi") stands out as a forum for global social and political issues, including development, migration, the environment, sustainability and human rights. The organizers, Southern Network for Environment and Development (SONED e.V.), describe the event as "a bi-annual street festival as a platform for inter-cultural dialogue, particularly in the context of world development politics". Weltfest 2013 is co-organized by the campaign Deine Stimme gegen Armut (Your voice against poverty), the German umbrella group for non-governmental organizations (NGOs), similar to the British Make Poverty History.

Each Weltfest concentrates on a specific topic of international concern, and previous themes have included water, children's rights, refugees and nutrition. The motto this year is "Global goes Local – Zukunftsfähig werden - Utopien umsetzen" (get fit for the future, create utopias). Guest speakers will introduce interviews and discussions on alternative ways of countering the negative aspects of globalization and improving the lives of people worldwide. One question which will be explored is how can those living in the developed world learn from initiatives and lifestyles of those in developing regions.

Various actions and entertainments will be staged to illustrate the themes, including the children's musical Global New Generation. Several NGOs and other initiatives will be setting up their information stands around the square, and lively discussion is bound to be heard on the streets.

On the festival's main stage, musicians and DJs from various countries, including Chile, Jamaica and Kenya, will no doubt get many of the expected 5000 visitors on their feet and dancing late into the evening. Refreshment stands will provide a wide variety of international cuisine, including the inevitable local beer and sausages, and no doubt the Berliners' favourite, Currywurst.





Weltfest 2013, Boxhagener Platz, Friedrichshain, Berlin, Germany.

Saturday 14 September 2013,
from 2.30 pm. Entrance free.

www.weltfest-am-boxi.de

(web address now defunct)

David John has been involved
in organizing Weltfest since 2004, and this year
My Favourite Planet
is a sponsor of the festival.
| | | |
| --- | --- | --- |
| | on stage | |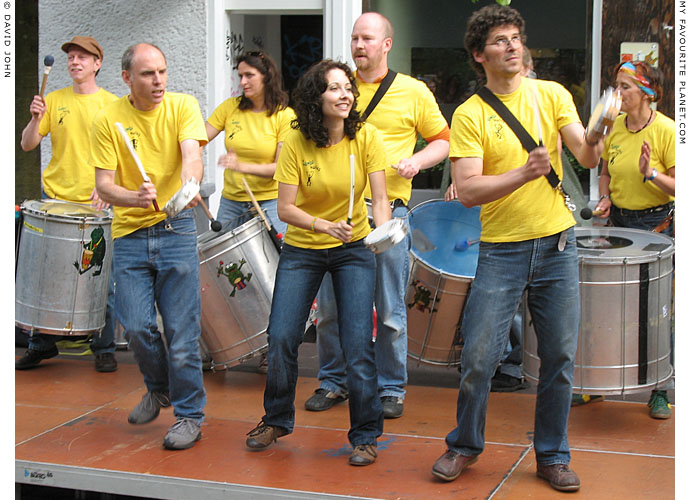 The Sambaholics bang the drum for Weltfest 2007.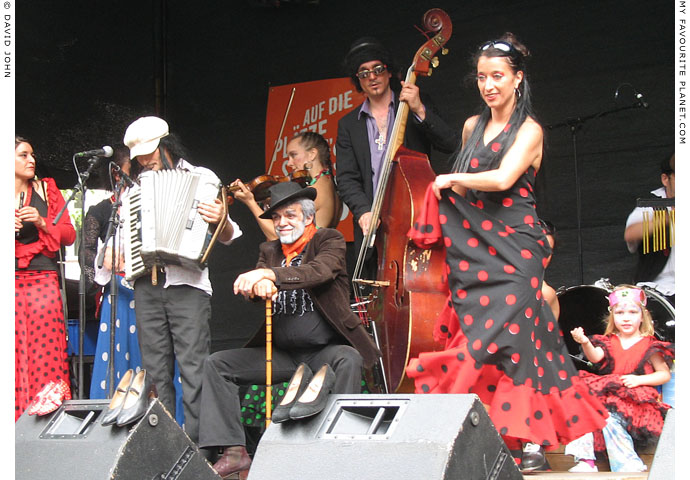 A cast of thousands

Gypsy flamenco polka punk band Casino Gitano present a musical fable at Weltfest 2007.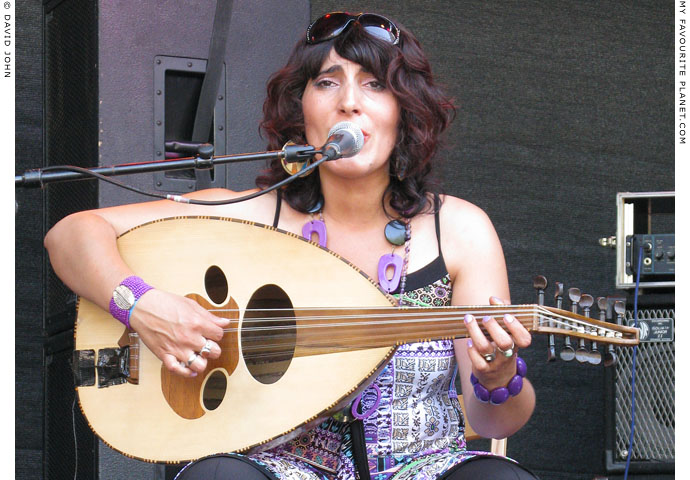 Sumeja Hiltmann of Sumeya Duo,
who performed their mix of oriental and western music at Weltfest 2008.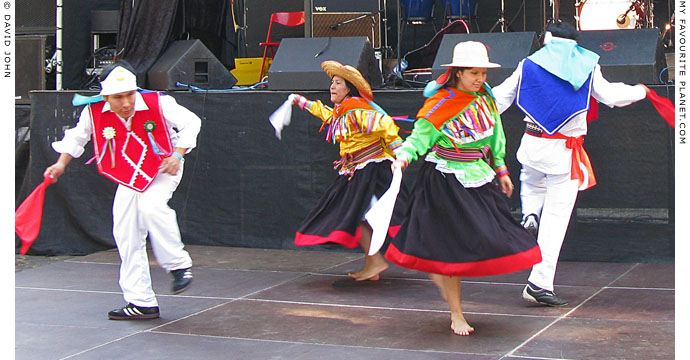 Traditional South American dance in front of the main stage at Weltfest 2008.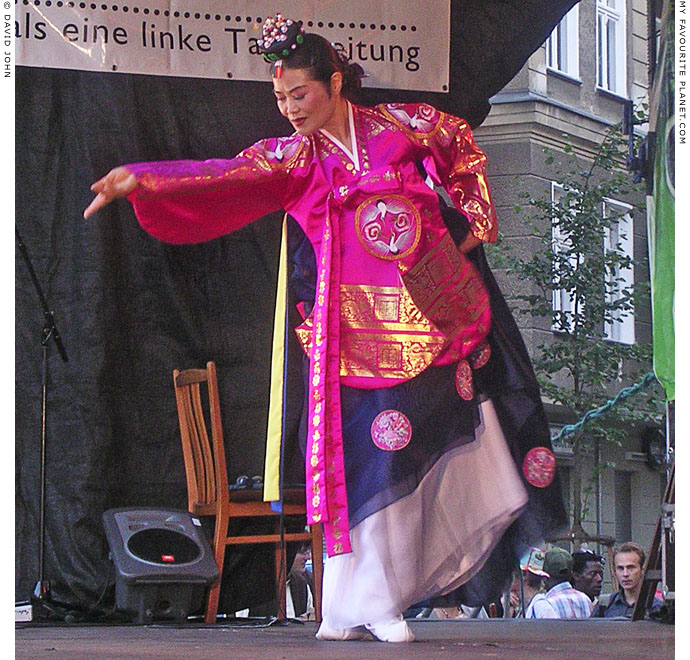 A member of the Youn-Hwa traditional Korean dance troupe at Weltfest 2004.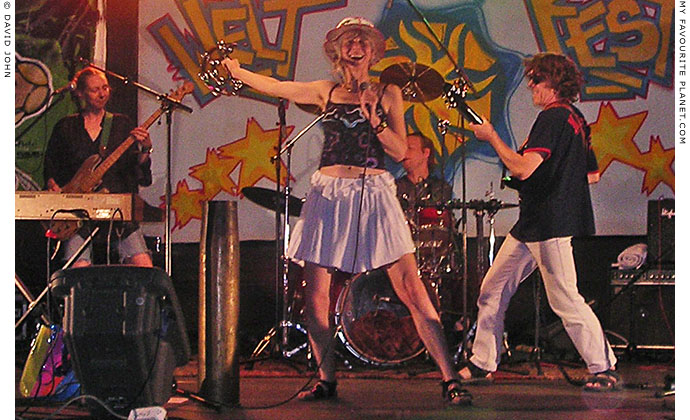 HoloTropicTrancePunx play exactly that. Weltfest 2004.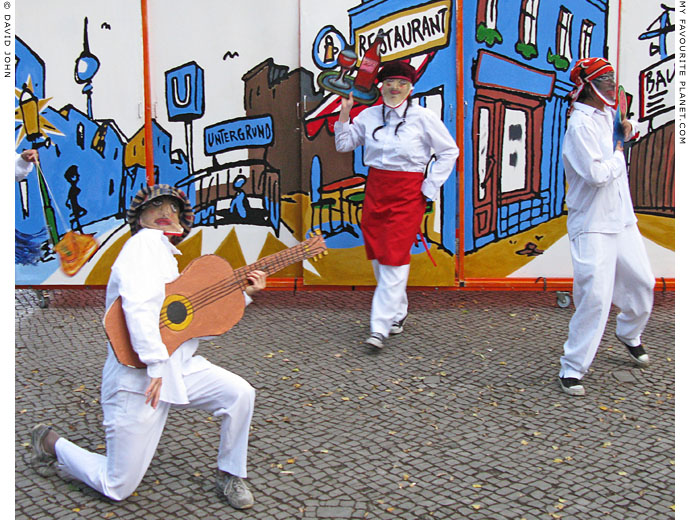 The Invisibles' mime theatre performance highlights the
plight of refugees and illegal migrants. Weltfest 2009.

I looked for their website so I could include a
link here, but I couldn't see them anywhere.

Try www.calaca.de/aktivitaeten/invisibles.html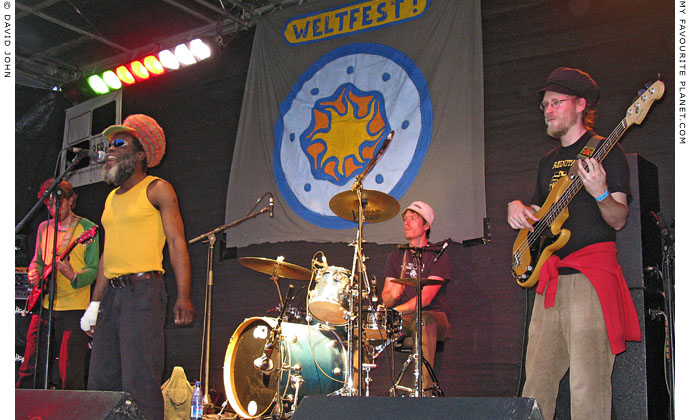 Fôô Fanick (left) and his Afro-reggae band One Roots, a Weltfest regular. Weltfest 2008.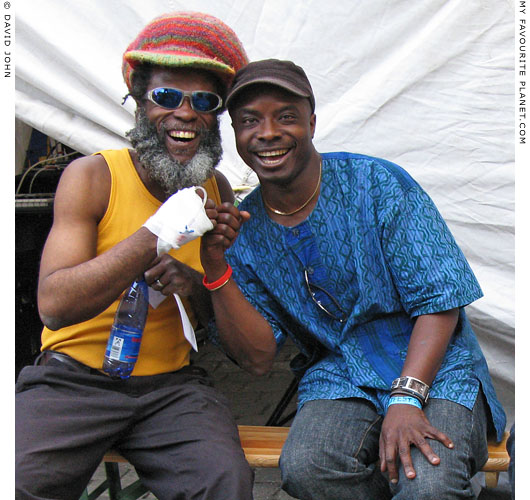 Fôô Fanick and Nigerian musician Akinola Famson,
who produced the stage programme until 2008.
Weltfest 2008.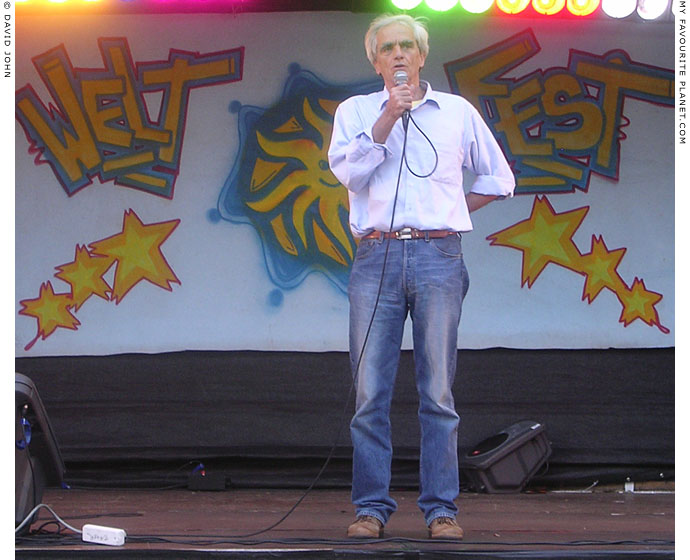 German Green Party MP Hans-Christian Ströbele,
another regular Weltfest participant, on stage in 2004.
| | | |
| --- | --- | --- |
| | on the streets | |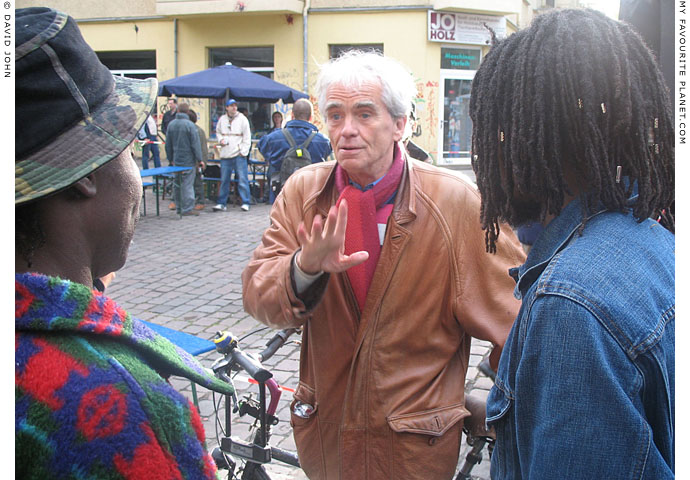 Hans-Christian Ströbele can often be seen discussing politics
with the public on Boxhagener Platz. Weltfest 2006.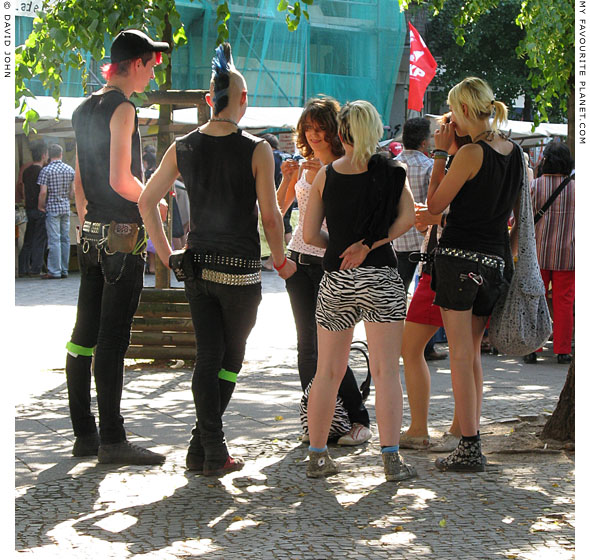 Berlin youth on Boxhagener Platz. Welfest 2008.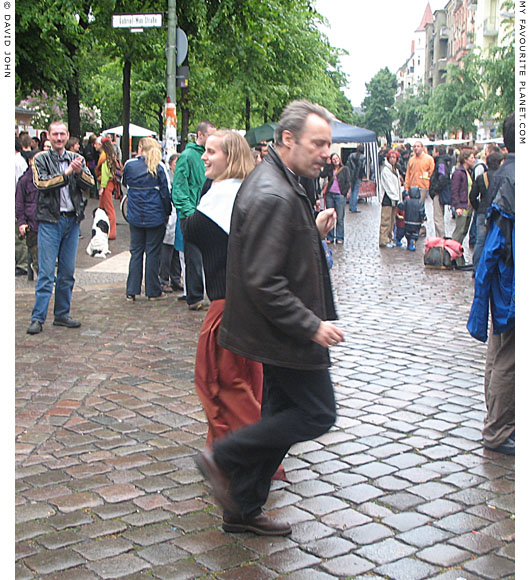 Hugh Featherstone and Kim Bastian of the Tone Poets
do a rain dance before going on stage. Weltfest 2006.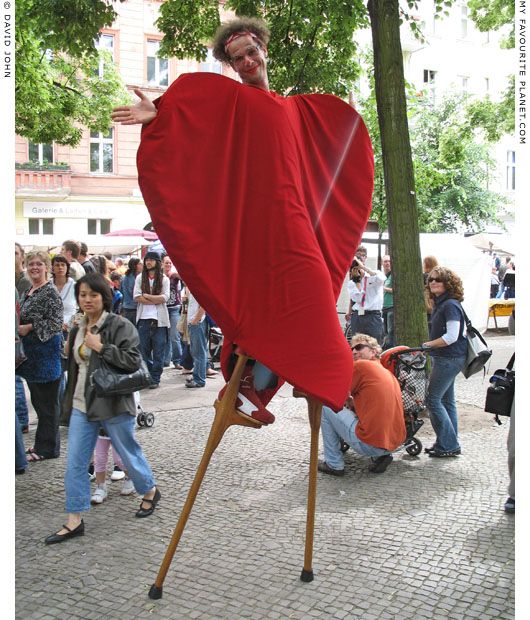 Here's someone who wears his heart not on his sleeve but on his stilts.
Weltfest 2007.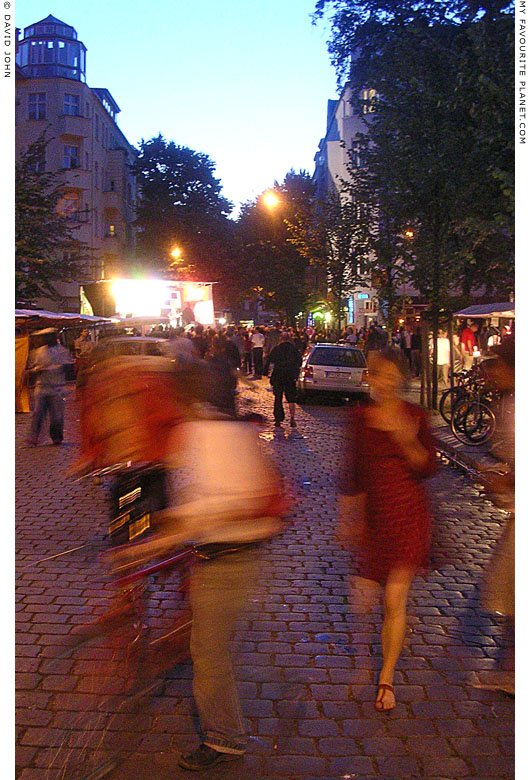 Dancing in the streets. Weltfest 2004.
| | | |
| --- | --- | --- |
| | on the green | |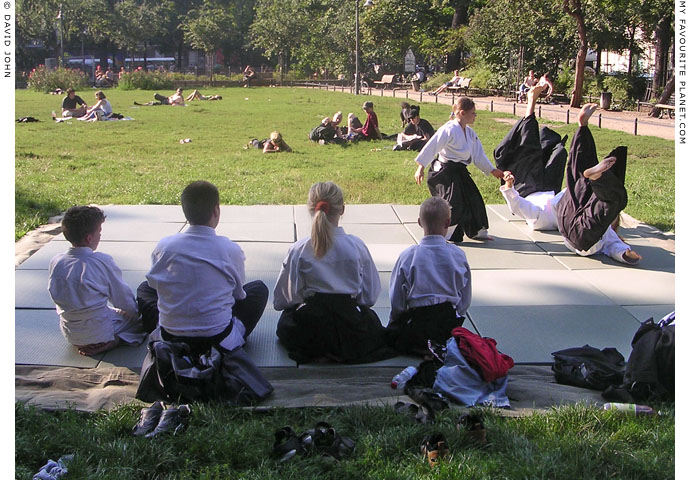 Part of the Weltfest tradition is the involvement of children. The children's programme usually
includes theatre, circus acts and plenty of interactive fun. Here is a demonstration of aikido,
the Japanese art of passive self-defence, on the green of Boxhagener Platz. Welfest 2004.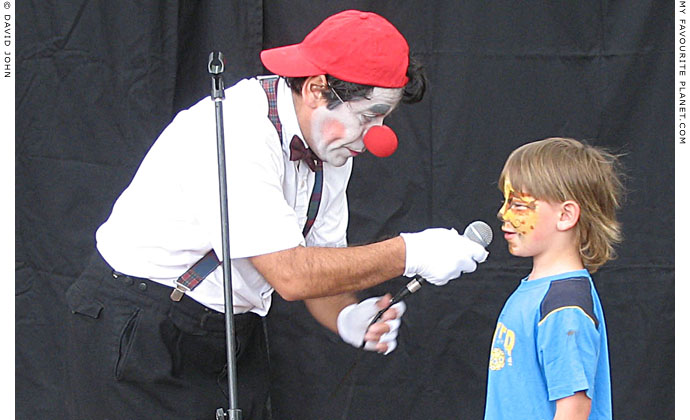 Chilean Clown Pepino conducts an in-depth interview with a young world citizen at Weltfest 2007.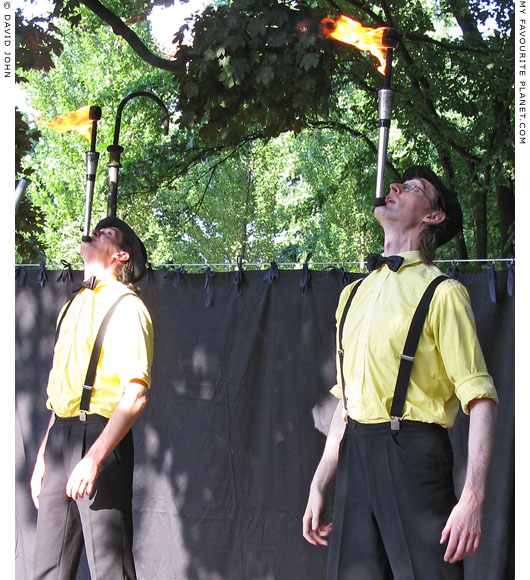 Fire-juggling Duo Goidon take it on the chin. Weltfest 2008.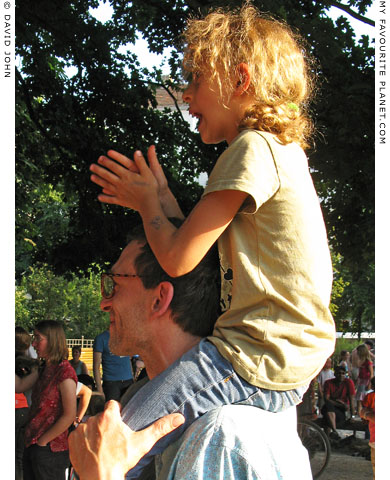 And the audience love it. Weltfest 2008.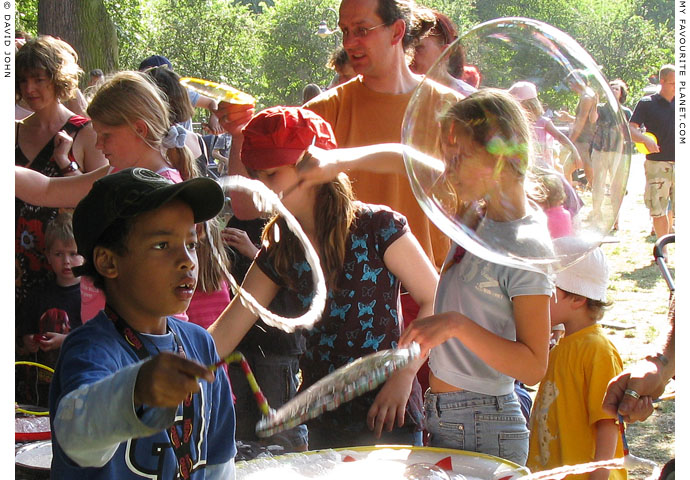 Giant bubble action at Weltfest 2008 Kinderfest.


In 2008 Welfest-goers were invited to paint a
picture of how they imagined a peaceful planet.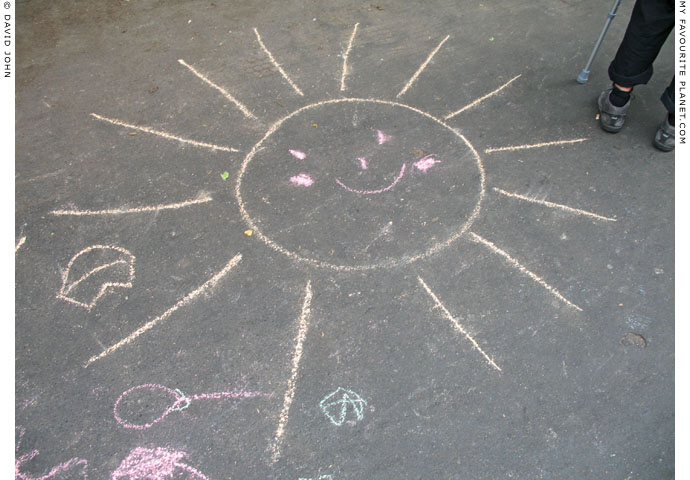 "Long live the sun!" A child's pavement chalk drawing illustrates
the motto of Weltfest 2007 which concentrated on children's rights.
Articles and photos copyright © David John 2004-2013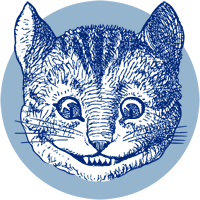 The Cheshire Cat Blog at My Favourite Planet Blogs


We welcome considerate responses to these articles
and all other content on My Favourite Planet.
Please get in contact.




The photos on this page are copyright protected.

Please do not use them without permission.

If you wish to use any of the photos for your website,
blog, project or publication, please get in contact.

Higher resolution versions are available on request.
Visit the My Favourite Planet Group on Facebook.

Join the group, write a message or comment,
post photos and videos, start a discussion...
Views of blog authors do not necessarily reflect those of the publishers
or anyone else at, on or in the vicinity of My Favourite Planet.