My Favourite Planet > English > Europe > Greece > Macedonia >

| | | | | | |
| --- | --- | --- | --- | --- | --- |
| Polygyros, Halkidiki, Greece | How to get to Polygyros | | | page 2 | |




Polygyros Town Hall (Dimarcheion), designed by Xenpohon Paionidis.
Trains

There are no trains to Polygyros or anywhere else on the Halkidiki Peninsula.
The nearest railway station is in Thessaloniki, about 67 km to the northwest.
See How to get to Macedonia, Greece.

Taxi

A taxi from Thessaloniki to Polygyros costs around 70 Euros.

By road from
Thessaloniki to Polygyros

Greek National Road EO16

(Greek, Εθνική Οδός 16, Ethniki Odos 16,
abbreviated as EO16)

The EO16 starts at Thessaloniki's southeastern coastal suburb of Votsi.

Follow signs southeastwards to Thermi. The road heads east and inland, winding up around plains and wooded hills of central Halkidiki (the highest is the 1165 metre Mount Holomontas), through small towns and villages, including Galatista, Agios Prodromos, Paleochora, Arnaia, Paleohori, Neochora, modern Stageira (not to be confused with ancient Stageira), Stratoniki, then on to Stratoni on the eastern Halkidiki coast, and southwards to Ierissos and the border with Mount Athos at Ouranoupoli.

The turn-off south for Polygyros is 40 km from the start of the road, 9.5 km east of Galatista. The 16A, a good minor road, runs south for 14 km to Polygyros, then continues to the seaside resort of Gerakini.



EO 16
National Road
Getting to
Polygyros
Bus from Thessaloniki to Polygyros
Buses between Thessaloniki and Polygyros and other
places in Halkidiki (except Olympiada) are operated
by the KTEL Chalkidikis bus company.

KTEL Chalkidikis bus station, Thessaloniki

Buses for destinations in Halkidiki (except Olympiada) depart
from the KTEL Chalkidikis bus station in the Thessaloniki suburb
Pylaia (Πυλαία), 10 km southeast of the city centre.

It is located just east of Motorway A24, the city's
eastern beltway (inner ring road), near the 9 km
Ano Toumba (Άνω Τούμπα) turn-off.

Tel: (+30) 2310 316555

Strangely, the KTEL Chalkidikis website makes no mention
of the bus station, it is not on its lists of destinations or its
small route map (which does not even include Thessaloniki).
However, there are directions to the unnamed bus station
under "Getting here from..." on its "contact us" page.

You can get to the bus station from Thessaloniki Airport
and other places in the city by local buses run by
OASTH (ΟΑΣΘ, Organization of Urban Transportation
of Thessaloniki). Its website has information about
timetables and routes in Greek and English:

oasth.gr/#en/

From Thessaloniki airport

Take the OASTH X1 bus (at night N1) to IKEA
(large suburban shopping centre), then change
to the 36 bus to the KTEL Chalkidikis bus station.

Journey time: around 30-40 minutes, depending on traffic.

The airport bus fare is 2 Euro.
Other local buses cost 1 Euro.

Bus tickets can be purchased from a ticket booth at the
airport bus stop, directly in front of the arrivals entrance,
or from ticket machines on the bus (correct change needed).

Local bus tickets in Thessaloniki are also sold at
newspaper kiosks (peripteros) around the city.

From Thessaloniki city centre

OASTH bus 45
runs from the KTEL Macedonia inter-city bus station,
5 km west of the city centre, eastwards to the
railway station, through the centre and on
to the KTEL Chalkidikis bus station.

There is a bus stop for the 45 (also 45a) on Egnatias Odos
in the city centre, just to the west of Aristotelis Square.

The bus destination is "KTEL Halkidikis KOSMOS".
"Kosmos" is a huge suburban shopping centre
near the bus station.

Journey times:
from KTEL Macedonia inter-city bus station 1 hour;
from the train station 40 minutes;
from the centre around 30 minutes.

The local bus fare is 1 Euro.

Taxis

From the airport around 15 Euros.
From the city centre 15-20 Euros.

Further details about getting to and around Thessaloniki
can be found on How to get to Macedonia, Greece.

Buses Thessaloniki - Polygyros

Buses leave around once an hour for the seaside resort Gerakini,
stopping at Polygyros bus station. Journey time about 1.5 hours.

Polygyros bus station is 10 minutes walk north of the town centre.

Monday - Saturday:
6:30, 9:30, 11:15, 12:45, 14:30, 17:45, 20:00

Sunday and holidays:
09:30, 11:15, 12:45, 14:30, 17:45, 20:00

Buses Polygyros - Thessaloniki

Monday - Saturday:
8:00, 9:30, 13:00, 14:30, 18:00, 20:15

Sunday and holidays:
9:30, 14:30, 16:30, 18:00, 20:15

Bus fare Thessaloniki - Polygyros: one-way € 6.90

Savings can be made by buying return tickets, valid for 20 days, available for all destinations between Thessaloniki and Halkidiki.



KTEL Chalkidikis bus company

www.ktel-chalkidikis.gr

The splendidly simple website
has information about routes, timetables and fares for buses
to and around Halkidiki,
in Greek and English. [1]

Information about buses from
Thessaloniki to Polygyros is
on the "Routes" page, under
Sithonia, the middle "prong"
of Halkidiki (see map below).


KTEL Chakidikis
telephone numbers

Thessaloniki:
(+30) 2310 316 555
(+30) 2310 316 565
(+30) 2310 316 575

Polygyros:
(+30) 23710 22 309

Nea Kallikrateia:
(+30) 23990 21 048

Nea Moudania:
(+30) 23730 21 228

Kassandreia:
(+30) 23740 22 214

Parcel delivery:
(+30) 6985 169179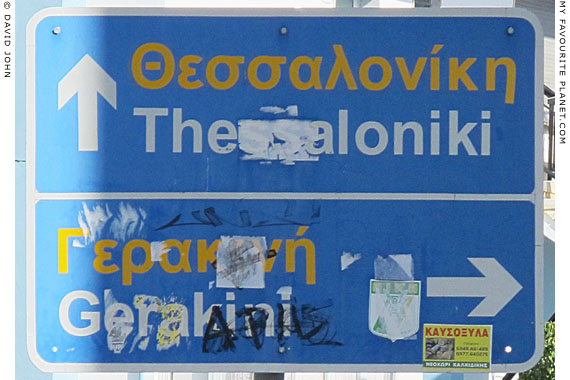 Road sign in Polygyros, showing directions to Thessaloniki (north) and Gerakini (south).
| | | | |
| --- | --- | --- | --- |
| Polygyros | Area map | | |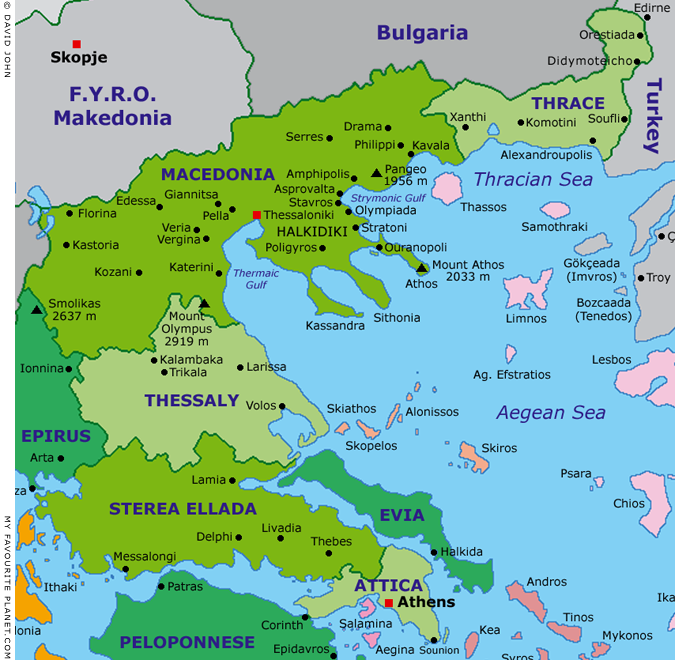 Interactive map of Macedonia and the North Aegean Sea.

See also our interactive map of Greece.
Getting to
Polygyros
Notes, references and links

1. Greek bus company websites

The KTEL Chalkidikis website is exceptional and exemplary in Greece in that it provides clear simple information in Greek and English. Tough luck, however, for passengers and tourists from countries where other languages are spoken. Some timetables inexplicably open in separate pop-up windows (very old fashioned).

Information about bus destinations is grouped according to the three end points of the routes, from west to east: the Kassandra peninsula, the Sithonia peninsula and Ouranoupoli on the border with the Athos peninsula (the monasteries of the "monk's republic", see Facts and figures for Macedonia, Greece), beyond which there are no buses. Towns and villages along the way are listed in alphabetical order rather their relative positions along routes.

If you want to travel to a place not on one of the pensinsulas or "prongs" of Halkidiki (see map above), for example Polygyros or Stratoni, you have to read through the three lists to find your destination.

The website now provides an online ticket booking form ("eticket"), but this is a separate part of the website without links back to the other pages:

eticket.ktel-chalkidikis.gr/#!/dashboard/overview/search (Greek and English)

The Greek word for timetables, dromologia (δρομολόγια), is usually translated on Greek travel service websites as "routes", although actual route information is rarely provided. The KTEL Chalkidikis website has a small map of Halkidiki showing principal roads as well as towns and villages along routes, which is quite helpful. However, bus stops at smaller places are not marked or mentioned. If you wish to visit an out-of-the-way archaeological site or your hotel is outside a village, you have to enquire by phone or ask at a bus station.

Another problem for travellers is how to get from a place on one bus route to somewhere on another route. Where are the points of connection? Some places in Halkidiki remain beyond the reach of the routes, and for some reason there is no bus connection between Olympiada and Ancient Stageira and other towns in Halkidiki.

Even this website could benefit from a few simple improvements, which would help passengers immensely. On the whole, though, it is one of the best bus company websites in Greece. Other companies could learn from it and make a little more effort to provide customers with better information.

We also recommend the website of the "Macedonia" central KTEL inter-city bus station in Thessaloniki for information about bus services to and from other places in Greece - except Halkidiki - as well as some international destinations:

ktelmacedonia.gr (Greek and English)
Text, map and photos: © David John,
except where otherwise specified.

Additional photos: © Konstanze Gundudis

All photos and articles are copyright protected.

Images and materials by other authors
have been attributed where applicable.

Please do not use these photos or articles without permission.

If you are interested in using any of the photos for your website,
project or publication, please get in contact.

Higher resolution versions are available on request.

My Favourite Planet makes great efforts to provide comprehensive and accurate information across this website. However, we can take no responsibility for inaccuracies or changes made by providers of services mentioned on these pages.
See also
The Cheshire Cat Blog
photo essays and
articles about Greece:

Athens (street life)

Athens (Aristotle's Lyceum)

Dion

Meteora

Pella

Polygyros

Thessaloniki

Visit the My Favourite Planet Group on Facebook.

Join the group, write a message or comment,
post photos and videos, start a discussion...




George Alvanos
rooms in
Kavala's historic Panagia District
Anthemiou 35,
Kavala, Greece
kavalarooms.gr