My Favourite Planet > English > Europe > Greece > Macedonia >

| | | | | | | |
| --- | --- | --- | --- | --- | --- | --- |
| Polygyros, Halkidiki, Greece | Polygyros gallery | | | 1 of 9 | | |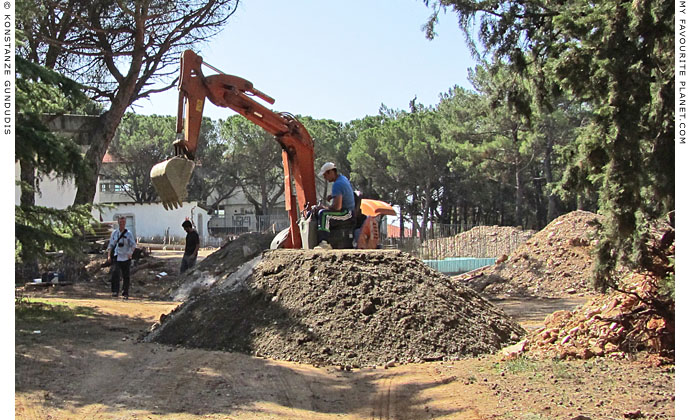 Construction work on the new archaeological museum in Polygyros, September 2012.
Polygyros Archaeological Museum
is currently closed for renovation.
photos: ©
Konstanze Gundudis
Polygyros Archaeological Museum (Αρχαιολογικό Μουσείο Πολυγύρου) is the largest museum in Halkidiki and houses archeological finds from sites around the peninsula, including ancient Stageira, Aphytos, Ierissos, Olynthos, Pyrgadikia, Sane, Stratoni and Toroni. Exhibits illustrate human occupation of the area through the Palaeolithic, Neolithic, Geometric, Archaic, Classical, Hellenistic and Roman periods.

Although no details of the renovation plans appear to have been published, it looks like a large extension to the museum is being built. Likewise, there is as yet no information available about exactly when the new museum extension will be completed or opened.

The renovation was scheduled to be completed by the end of 2013, but it now appears that the reopening of the museum has been suspended indefinitely due to lack of funds.

We look forward to visiting the museum again soon, and bringing you more photos and information, hopefully from the inside.

If you have any further information about this museum
or when it will be reopening, please get in contact.

See also Museum BOOM, a photo essay
about museums at The Cheshire Cat Blog.



Polygyros Archaeological Museum
is closed due to renovation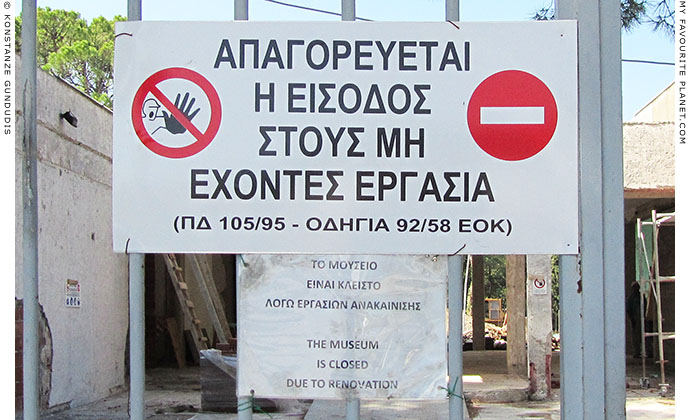 Yep, the Polygyros Archaeological Museum is definitely closed.
Text, map and photos: © David John

Additional photos: © Konstanze Gundudis 2012 - 2013

All photos and articles are copyright protected.

Images and materials by other authors
have been attributed where applicable.

Please do not use these photos or articles without permission.

If you are interested in using any of the photos for your website,
blog or publication, please get in contact.

Higher resolution versions are available on request.
See also
The Cheshire Cat Blog
photo essays and
articles about Greece:

Athens (street life)

Athens (Aristotle's Lyceum)

Dion

Meteora

Pella

Polygyros

Thessaloniki

Visit the My Favourite Planet Group on Facebook.

Join the group, write a message or comment,
post photos and videos, start a discussion...










George Alvanos


rooms
in Kavala's historic Panagia District



Anthemiou 35,
Kavala, Greece


kavalarooms.gr