My Favourite Planet > English > Europe > Greece > Macedonia >

| | | | | | | |
| --- | --- | --- | --- | --- | --- | --- |
| Veria, Macedonia, Greece | Veria gallery | | | 8 of 12 | | |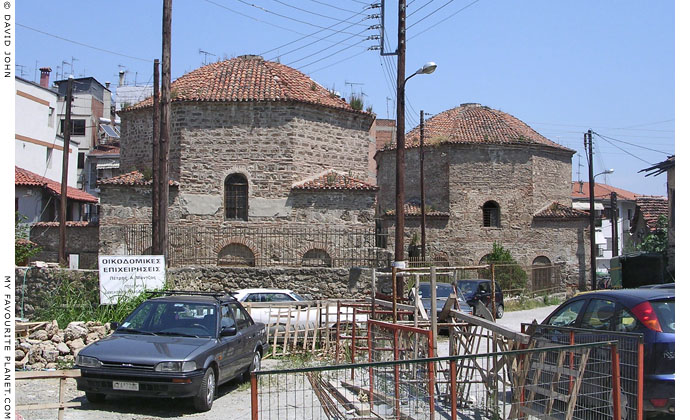 The 15th century Sinan Tuzci Hamam in the centre of Veria.
Like the Romans, the Arabs and Turks considered public baths an important part of daily life, and the Ottomans built impressive hamams throughout their empire. After Greece gained its independence in the 19th to early 20th century and the Turkish population left, most of these hamams sadly fell into disuse.

As in the case of the declining Roman Empire, when the legions deserted their outposts and the baths and other public buildings crumbled, perhaps the Greek subjects of the defunct Ottoman Empire had no use for such foreign trappings, or perhaps they were were too expensive in terms of fuel to maintain.



Like most of Veria's surviving old buildings, the Sinan Tuzci Hamam
is hidden among the sidestreets of the town. You could drive
through Veria and never know that they were here.
Photos, maps and articles: copyright © David John,
except where otherwise specified.

Some of the information and photos in this guide to Veria
originally appeared in 2004 on davidjohnberlin.de.

All photos and articles are copyright protected.

Images and materials by other authors
have been attributed where applicable.

Please do not use these photos or articles without permission.

If you are interested in using any of the photos for your website,
project or publication, please get in contact.

Higher resolution versions are available on request.

My Favourite Planet makes great efforts to provide comprehensive and accurate information across this website. However, we can take no responsibility for inaccuracies or changes made by providers of services mentioned on these pages.
Visit the My Favourite Planet Group on Facebook.

Join the group, write a message or comment,
post photos and videos, start a discussion...




George Alvanos
rooms in
Kavala's historic Panagia District
Anthemiou 35,
Kavala, Greece
kavalarooms.gr