The enormous urn (or jar, Turkish, mermer küp), around 2 metres high, is one of a matching pair carved from single blocks of marble during the Hellenistic period. They were taken from Pergamon to Istanbul during the reign of Sultan Murad III (1546-1595, ruled 1574-1595) and placed at either side of the entrance to the nave of the Hagia Sophia (Greek, Ἁγία Σοφία, Holy Wisdom; Turkish, Ayasofya).



It is difficult to tell whether the decorated neck and lid of the urn are original or later Ottoman additions. There appears to be no inscription stating its dedication, maker or donor.



Near the bottom of the urn is a small decorated plaque surrounding a hole, in which there was originally a spout or tap. The urn is described as a "lustration urn", that is for storing liquid - oil or water - for religious cleansing rituals (from Latin lūstrāre, to purify, illumine).



Although unusual in size, these urns are not unique in design; similar, large ancient urns, made in metal and ceramic, have been discovered in Asia.



A pair of capitals from ancient Ionic columns have been placed either side of the urn, on opposite edges of the pedestal and shallow basin on which this urn stands.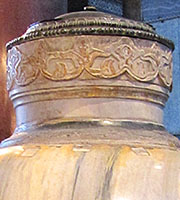 The decorated neck
and lid of the urn.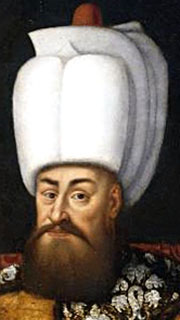 Ottoman Sultan Murad III.
17th century painting,
attributed to a Spanish artist.