Through the skilful negotiating of advantageous trading concessions with the Turkish authorities, western capitalists were able to introduce new production, processing, trading and shipping methods, and make larger profits quicker by suppplying demands in domestic and foreign markets.

Tobacco was turned into a highly profitable cash crop as demand for the weed rapidly increased in Turkey and internationally and smoking tobacco, particularly Balkan and Turkish blends, became fashionable among all classes. Similar economic and commercial changes, due largely to the influence of such foreign investors, were taking place in other Turkish cities such as Smyrna (Izmir).

For centuries the city of Kavala had been confined within the walls of the cramped citadel (the Panagia peninsula). However, after Sultan Abdülaziz I gave permission for building outside the walls in 1864, warehouses, factories and the grand representative houses of the wealthy sprung up around the harbour. With such mansions and other buildings, the "tobacco barons" boldly demonstrated their wealth, power and influence. At the time this very foreign, literally outlandish architecture must have appeared quite alien to Turks and Greeks alike.

With its crenalleted battlements, miniature towers and other decorative elements the mansion resembles a central European Gothic castle. This impression is added to by the fact that it stands on Kiprou Street which is elevated above the level of the main Eleftheriou Venizelou Street.

After Herzog's death, his son Baron Mór Lipót Herzog sold the mansion to another tobacco company in 1921. Eventually the company was forced to sell the house due to debts, and it was purchased in 1937 for the city by the mayor, Athanasiou Balanou. It has since served as Kavala's town hall.

Recently Herzog's descendants have been involved in legal battles to regain artworks from the family collection he started which were looted during the Second World War.

Odos Kiprou 10, Kavala 65302.
Tel: 2510 22 78 20
Office hours: 08:00 - 16:00

Website: www.kavala.gov.gr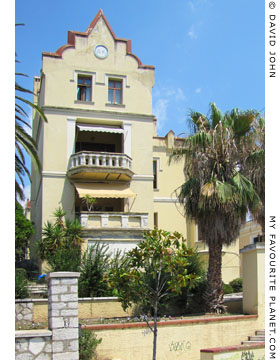 The Wix Mansion

The Wix Mansion (Μέγαρο Wix), just
to the right (east) of the Town Hall,
is another of Kavala's "tobacco baron"
mansions. It was built around 1899
by Herzog's representative Adolf Wix
(1866-1932), who later became the
Hungarian Baron Adolf Wix von Zsolnay.