My Favourite Planet > English > Europe > Greece > Macedonia > Kavala >

| | | | | | | |
| --- | --- | --- | --- | --- | --- | --- |
| Kavala, Greece | Kavala gallery | | | 29 of 29 | | |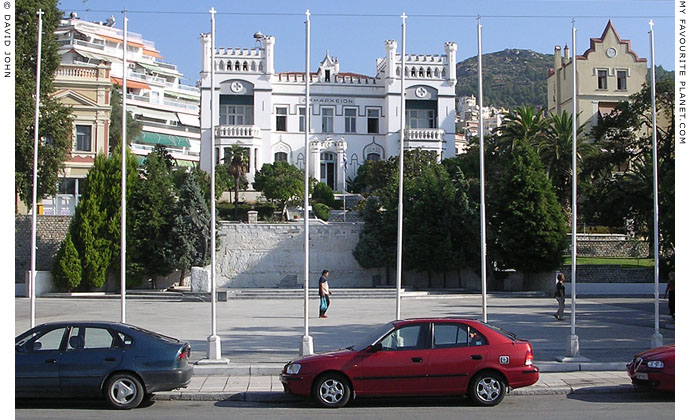 Kavala town hall (Dimarcheion) and the Wix Mansion ("small town hall"), right.
Kavala Town Hall (Δημαρχείον, Dimarcheion), built at the end of the 1890s as the residence of the Hungarian tobacco trader Baron Peter Herzog (often referred to as Pierre Herzog) from Budapest, is one of Kavala's "tobacco baron" mansions.

Herzog was an enormously wealthy Jewish banker, grain and tobacco merchant, an energetic businessman and passionate art collector. He founded the tobacco trading company Herzog et Cie, managed in Kavala by Adolf Wix (see below), and gained a virtual monopoly in Macedonian tobacco. By 1905 he had become the main supplier of the Ottoman Sultan in Istanbul.

He was one of the entrepreneurs who liberalized trade in the declining Ottoman Empire. Until the mid 19th century the Sultan's government and officials had strictly controlled trade and prices in commodities such as tobacco, which merchants, especially foreign investors, considered a hindrance to trade and profit-making.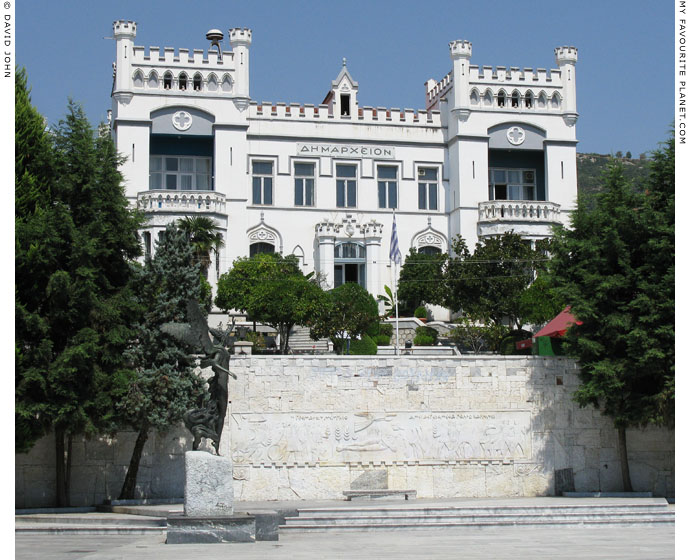 Kavala town hall, directly in front of which is the Heroes' Public Park (Πάρκο Ηρώων,
Parko Iroon) and a long marble relief by Dionysios Gerolymatos (Διονύσιος Γερολυμάτος)
representing the struggles of the Macedonian people (see Sightseeing in Kavala).

Through the skilful negotiating of advantageous trading concessions with the Turkish authorities, western capitalists were able to introduce new production, processing, trading and shipping methods, and make larger profits quicker by suppplying demands in domestic and foreign markets.

Tobacco was turned into a highly profitable cash crop as demand for the weed rapidly increased in Turkey and internationally and smoking tobacco, particularly Balkan and Turkish blends, became fashionable among all classes. Similar economic and commercial changes, due largely to the influence of such foreign investors, were taking place in other Turkish cities such as Smyrna (Izmir).

For centuries the city of Kavala had been confined within the walls of the cramped citadel (the Panagia peninsula). However, after Sultan Abdülaziz I gave permission for building outside the walls in 1864, warehouses, factories and the grand representative houses of the wealthy sprung up around the harbour. With such mansions and other buildings, the "tobacco barons" boldly demonstrated their wealth, power and influence. At the time this very foreign, literally outlandish architecture must have appeared quite alien to Turks and Greeks alike.

With its crenalleted battlements, miniature towers and other decorative elements the mansion resembles a central European Gothic castle. This impression is added to by the fact that it stands on Kiprou Street which is elevated above the level of the main Eleftheriou Venizelou Street.

After Herzog's death, his son Baron Mór Lipót Herzog sold the mansion to another tobacco company in 1921. Eventually the company was forced to sell the house due to debts, and it was purchased in 1937 for the city by the mayor, Athanasiou Balanou. It has since served as Kavala's town hall.

Recently Herzog's descendants have been involved in legal battles to regain artworks from the family collection he started which were looted during the Second World War.

Odos Kiprou 10, Kavala 65302.
Tel: 2510 22 78 20
Office hours: 08:00 - 16:00

Website: www.kavala.gov.gr



The Wix Mansion

The Wix Mansion (Μέγαρο Wix), just
to the right (east) of the Town Hall,
is another of Kavala's "tobacco baron"
mansions. It was built around 1899
by Herzog's representative Adolf Wix
(1866-1932), who later became the
Hungarian Baron Adolf Wix von Zsolnay.
Photos, maps and articles: copyright © David John,
except where otherwise specified.

Some of the information and photos in this guide to Kavala
originally appeared in 2004 on davidjohnberlin.de.

All photos and articles are copyright protected.

Images and materials by other authors
have been attributed where applicable.

Please do not use these photos or articles without permission.

If you are interested in using any of the photos for your website, project or publication, please get in contact.

Higher resolution versions are available on request.

My Favourite Planet makes great efforts to provide comprehensive and accurate information across this website. However, we can take no responsibility for inaccuracies or changes made by providers of services mentioned on these pages.
Visit the My Favourite Planet Group on Facebook.

Join the group, write a message or comment,
post photos and videos, start a discussion...


George Alvanos
rooms in
Kavala's historic Panagia District
Anthemiou 35,
Kavala, Greece
kavalarooms.gr