My Favourite Planet > English > Europe > Greece > Macedonia >

| | | | | |
| --- | --- | --- | --- | --- |
| Kavala, Greece | Kavala - practical information | | page 3 | |




The Tourist Information Centre in Kavala. See below for details.
Kavala is a small, compact city, can be explored on foot, and it is fairly easy to find your way around. Many sights and important facilities are signposted, and the Tourist Information Centre (see below) offers friendly help and free maps.

The city centre is flat, but outside this downtown area many streets are quite steep. The narrow streets of the old Panagia district can at first seem like a bit of a maze, but once you have visited the Kastro and viewed Kavala from above, orientation should get easier.

There are local city buses and plenty of relatively cheap taxis
(see page 4: How to get to Kavala).

| | | | |
| --- | --- | --- | --- |
| Kavala | Facts and figures | | |

name:
Kavala (Greek, Καβάλα)
also known as Kavalla, Cavalla, Cavalle

Ancient name: Neapolis (Νεάπολις, New City)

Byzantine name: Christoupolis (Χριστούπολις, City of Christ)
location:
Capital of the prefecture of Kavala, in the region of Macedonia, northeastern Greece; on the Northern Aegean coast.

The city is immediately south of the A2 (E90) "Egnatia Odos" motorway.

The island of Thassos lies directly south of Kavala, across the Bay of Kavala.
geography:
Kavala lies on an ampitheatre-like slope around the Bay of Kavala, on the southeast slope of the long range of Mount Simvolo (Όρος Σύμβολο, highest point 667 metres).

Simvolo, which stretches from west to east, north of the Gulf of Kavala, is part of the Rhodope Mountains. It is separated from the larger Mount Pangaion (Παγγαίο όρος, highest peak 1,956 metres) by the valley of the River Marmara (Μαρμαρά ποταμό), also known by its ancient name Pieria Valley (Πιέρια Κοιλάδα), which provides the main land link between Central and Eastern Macedonia, and along which the A2 (E90) "Egnatia Odos" motorway runs.

See a photo of Mount Simvolo and Mount Pangaion at the top of Macedonia page 3.
region:
East Macedonia and Thrace
(Ανατολική Μακεδονία και Θράκη, Anatoliki Makedonia kai Thraki)

One of the three regions of the semi-autonomous region of Macedonia (see Macedonia page 3).
regional unit:
Kavala
population:
(2011 census)
city: 54,027
municipal community: 56,371
municipality: 70,501
regional unit: 131,289
distances:
Athens 680 km southwest

Thessaloniki 165 km west

Philippi 17 km north
Drama 36 km north

Kavala International Airport 30 km southeast

Keramoti ferry port 45 km southeast

Xanthi 56 km northeast
Komotini 101 km east
Alexandroupolis 149 km east

Distances are approximate and vary according to route.

See also: page 4: How to get to Kavala.


local time:
Eastern European Time (EET)
Daylight Saving Schedule:
Summer (from last Sunday in March)
GMT/UTC +3 hours
Winter (from last Sunday in October)
GMT/UTC +2 hours
telephone code:
+30 2510
currency:
Euro
climate:
As with the rest of northern Greece, between Mediterranean (temperate, with wet winters and hot, dry summers) and continental (wetter, cooler).

Temperatures December-February 3° - 19° C; during summer months the highest temperature is usually around 35°C.

Although it is generally warm and sunny between the end of May and September, rain showers and thunder storms are common, even in summer.
| | | | |
| --- | --- | --- | --- |
| Kavala | Useful addresses & phone numbers | | |
NOTE: Most of the phone numbers in this guide have been sourced from official websites and documents, which sometimes quote different numbers for the same organization. If you think that any of the information is not correct or up-to-date, please get in contact.

Kavala Tourist Information Centre

The large tourist information booth is conveniently situated on Eleftheriou Venizelou Street (Ελευθερίου Βενιζέλου), which is the main street running west to east through the centre of the city, just before the park at Eleftherias Square (Πλατεία Ελευθερίας, Plateia Eleftherias, Freedom Square). It is less than 5 minutes by foot east of the Town Hall, the KTEL bus station and the ferry port, on the way to the Panagia district.

The staff are friendly, informative and helpful. They can help you with queries about sightseeing, transport (buses and ferries), local events and they will even book accommodation for you. There are free maps and brochures for Kavala, and other publications, souvenirs and tickets for local events are on sale.

Address
The corner of Eleftheriou Venizelou and I. Dragoumi streets
(near Plateia Eleftherias).

Tel: 2510 23 10 11

website: kavalagreece.gr

e-mail: touristinfo@kavalagreece.gr

Opening hours
Summer: Monday to Saturday 08:00 – 21:00
Winter: Monday to Saturday 08:00 – 20:30

For information about Kavala's sights, such as Kavala Castle (Kastro), the Kamares aqueduct, the Imaret, the Apostle Paul Monument, Archaeological Museum, Municipal Museum and Tobacco Museum, see page 5: Activities and sightseeing in Kavala.


KTEL Kavalas inter-city bus station

The busy bus station is at the corner of two narrow streets in the city centre, near the harbour, 5 minutes walk from the ferry terminal.

4 Mitropolitou Kavalas Street, on the corner of Filikis Eterias Street.

Tel: 2510 22 22 94

Ticket office: 2510 23 22 67

website: www.ktelkavalas.gr

For further details, see page 4: How to get to Kavala

Municipality of Kavala

Kavala Town Hall (Δημαρχείον, Dimarcheion)

Odos Kiprou 10, Kavala 65302.

Office hours: 08:00 - 16:00

Tel: 2510 22 78 20

Website: www.kavala.gov.gr

Central Port Authority of Kavala

Tel: +30 2510 223716, 224967, 224472
Fax: +30 2510 223628

Kavala International Airport

"Alexander the Great" (Μέγας Αλέξανδρος, Mégas Aléxandros),
near Chrisoupoli, 30 km west of the city.

Tel: +30 25910 53273

For further information see page 4: How to get to Kavala

Post office

(Ταχυδρόμος, tachydromos)

Mitropolitou Chrysostomou 8, 65001 Kavala.

On the next block (north) of the KTEL bus station.

Tel: +30 2510 22 35 40

Opening hours: Monday - Friday 07:30 - 14:30

Website: www.elta.gr/en-us/findapostoffice.aspx#

The website of Hellenic Post S.A. (Ελληνικά Ταχυδρομεία, Ellenika Tachidromeia, abbreviated EΛTA, ELTA) provides a search page for finding post offices in Greece. The interface is rather geeky, and you have to know the region and municipality of the town you are searching for.

OTE office

(Οργανισμός Τηλεπικοινωνιών Ελλάδος A.E., Hellenic Telecommunications Organization S.A.)

OTE, the Greek national telecommunications organization, has offices in every city with services for long distance telephone calls.

International calls can also be made from public phone booths, although you may need to buy a phone card from a kiosk (periptero). Since most people now have mobile phones, the OTE offices have become less essential for travellers.

On the corner of Averof and Kyprou streets, 65404 Kavala.

The east side of the same block as the post office.

Tel: 2510 561150
Fax: 2510 230999

Opening hours: Monday - Saturday 08:00-23:00

Kavala General Hospital

(Γενικό Νοσοκομείο Καβάλας, Geniko Nosokomio Kavalas)

See photo below.

The new General Hospital, opened in 2010, replaces the old hospital which was housed in several buildings around the city.

It is located in the hills 1.5 km northwest of the city centre, just south of Junction 32 of the Egnatia Odos motorway A2 (E90) with national Road EO12 into Kavala. The large complex of modern buildings can be clearly seen from the motorway.

Agios Silas (Άγιος Σίλας), 65500 Kavala.

Telephone Centre: (+30) 2513 50 11 00

Medical emergency / first aid: 166

Website: www.kavalahospital.gr/pub
Useful information in Greek and English, but no "how to get here" info, or even a link to a map.

Visiting hours
Monday - Friday 17:30 - 18:30
weekends and holidays 11:30 - 12:30 and 17:30 - 18:30

Police station

Odos Omonias 119, 65403 Kavala.

Tel: +30 2510 223607, 622211, 622291

Emergency number: 100

Website: http://www.astynomia.gr/index.php?option...
National website of the Greek police force, with basic info about Kavala police station in Greek only.

Fire Department 199
Forest Department 191
Coast Guard 108
Weather Report 149

TAXI Kavalas +30 2510 232001-4
TAXI Xrisoupolis (airport) +30 2591 22406, +30 2591 22755
TAXI Eleftheroupolis +30 2592 23500
TAXI Krinidon (Philippi) +30 2510 516350






Peliphone in Kavala harbour


This way to the Kastro


Kavala post office


Entrance to a house in the
Panagia district of Kavala.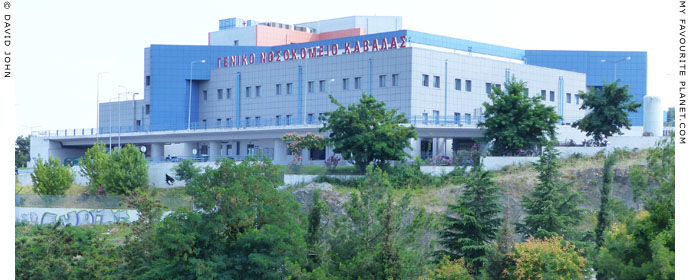 The new Kavala General Hospital, in the hills to the northwest of the city centre (see details above).
| | | | |
| --- | --- | --- | --- |
| Kavala | Area map | | |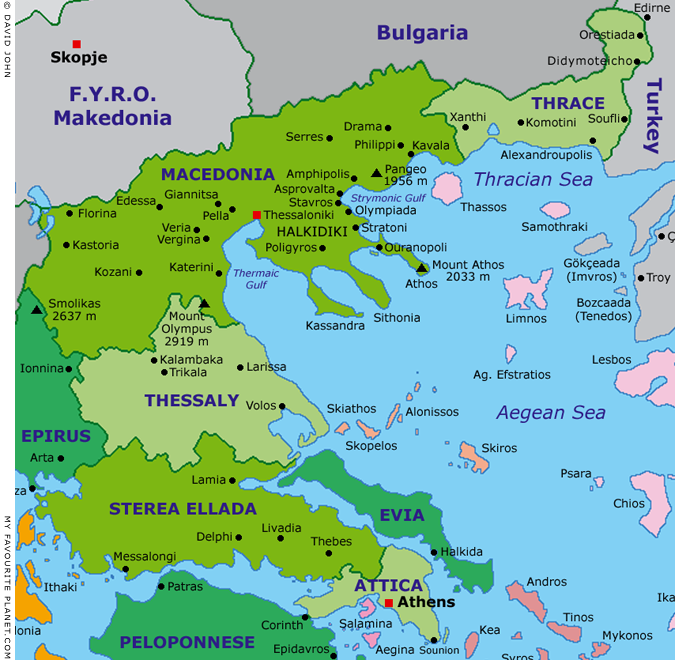 Interactive map of Macedonia, Thrace, Central Greece and the Aegean.


Colour key for Greek island groups (west-east)



See also our interactive map of Greece.
Photos, maps and articles: copyright © David John,
except where otherwise specified.

Some of the information and photos in this guide to Kavala
originally appeared in 2004 on davidjohnberlin.de.

All photos and articles are copyright protected.

Images and materials by other authors
have been attributed where applicable.

Please do not use these photos or articles without permission.

If you are interested in using any of the photos for your website, project or publication, please get in contact.

Higher resolution versions are available on request.

My Favourite Planet makes great efforts to provide comprehensive and accurate information across this website. However, we can take no responsibility for inaccuracies or changes made by providers of services mentioned on these pages.
Visit the My Favourite Planet Group on Facebook.

Join the group, write a message or comment,
post photos and videos, start a discussion...


George Alvanos
rooms in
Kavala's historic Panagia District
Anthemiou 35,
Kavala, Greece
kavalarooms.gr