My Favourite Planet > English > Europe > Greece > Northern Aegean > Samos >

| | | | | | | |
| --- | --- | --- | --- | --- | --- | --- |
| Samos, Greece | Samos gallery | | | 35 of 55 | | |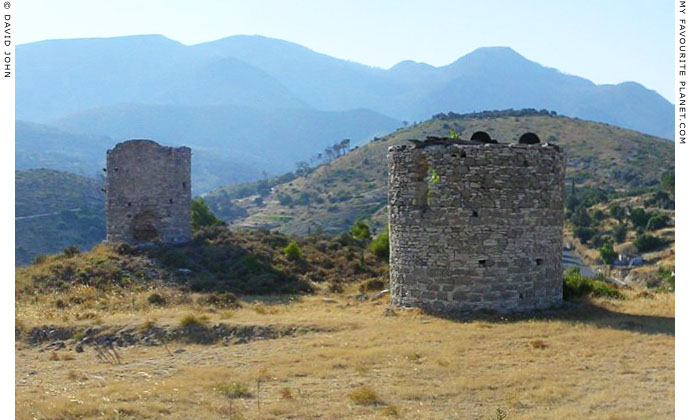 Old windmills on the hill above Chora, Samos.
These two ruined windmills, in a field on the hill northwest of Chora, are all that remain of the local wind revolution. We have not yet found out how old these mills are, but it is known that windmills were in use in the Aegean from the 16th century. See, for example, windmills built in 1588 on the nearby island of Patmos.

During the Rennaissance ancient technologies were rediscovered or reinvented in Europe, and mills using machinery powered by wind and water spread appeared all over the continent, as well as in other places such as western Turkey. The widespread use of such machines on an industrial scale eventually led to the Industrial Revolution, and steam then electricity replaced natural energy. Windmills became redundant and most were demolished, their materials recycled.

In many places (for example Lassithi in Crete) people realized too late that windmills were important part of their scientific and cultural heritage, not to mention their picturesque aspect as tourist attractions. Since the windmills of Mykonos became a trademark of the island, many ruined windmills in Greece have been restored.

Wind power is making a comeback around the world, though now to generate electricity rather than to grind cereals or pump water. At the time of writing Samos has four electricity-generating windparks, and more are planned. See photos of the windpark south of Chora on gallery page 27, and another near Marathokambos on gallery page 32.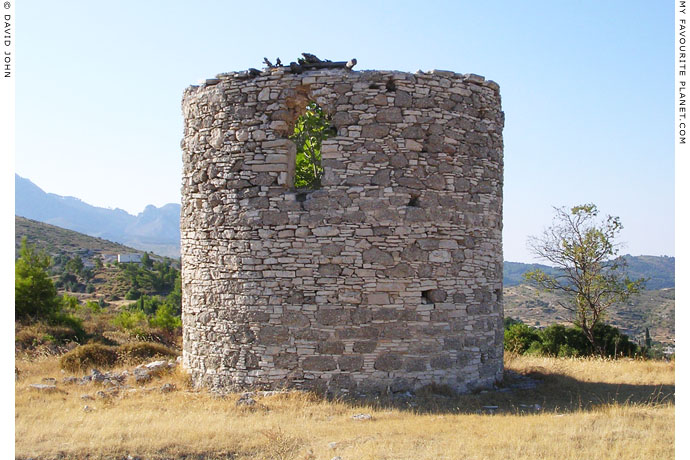 The ruined windmills stand like medieval towers on the hill above Chora.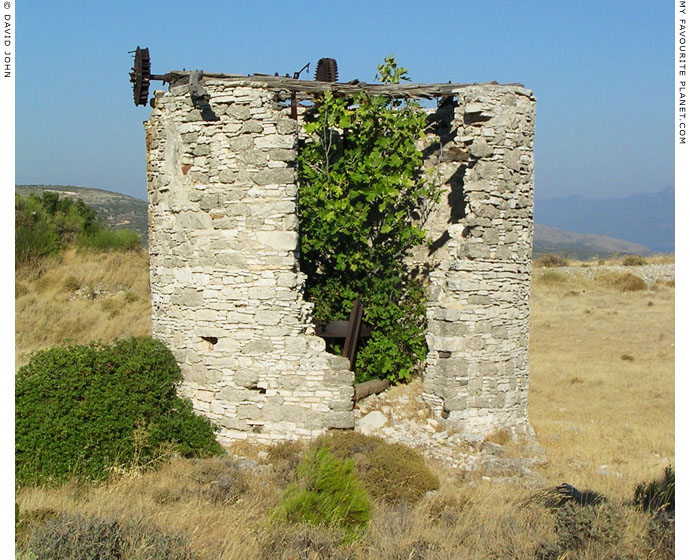 Snug as a bug in a windmill.



A fig tree grows in the ruin of an old windmill on the hill above Chora, Samos.



A part of the windmill's mechanism is still in situ.
Photos, maps and articles: © David John 2003-2019,
except where otherwise specified.

All photos and articles are copyright protected.

Images and materials by other authors
have been attributed where applicable.

Please do not use these photos or articles without permission.

If you are interested in using any of the photos for your website,
publication or project, please get in contact.

Higher resolution versions are available on request.


Some of the information and photos in this guide to Samos
originally appeared in 2003-2004 on davidjohnberlin.de.


My Favourite Planet makes great efforts to provide
comprehensive and accurate information across this website.
However, we can take no responsibility for inaccuracies or changes
made by providers of services mentioned on these pages.
Visit the My Favourite Planet Group on Facebook.

Join the group, write a message or comment,
post photos and videos, start a discussion...







George Alvanos
rooms in
Kavala's historic Panagia District
Anthemiou 35,
Kavala, Greece
kavalarooms.gr
Olive Garden Restaurant
Kastellorizo,
Greece
+30 22460 49 109
kastellorizo.de
Papoutsis
Travel Agency
Kastellorizo,
Greece
+30 22460 49 286
greeklodgings.gr