My Favourite Planet > English > Middle East > Turkey >

| | | | | | |
| --- | --- | --- | --- | --- | --- |
| Ephesus, Turkey | Practical information for Ephesus | | | page 3 | |




The lower entrance to the Ephesus Archaeological Site. The ticket booth is to the left of the turnstiles.
The archaeological site of Ephesus is 3 km (2 miles)
southwest of the town of Selçuk which has its own guide
with practical information and a photo gallery, including
photos of the Ephesus Archaeological Museum, Selçuk.
For information about the Temple of Artemis,
see Selçuk gallery 1, pages 3-4.
Detailed information about Ephesus' sights can be found
with the photos in our Ephesus photo gallery.
For opening times and admission charges for sites and sights

see Page 4: Sightseeing in Ephesus

Ephesus
Turkey
Facts and figures

The archaeological site of Ephesus is 3 kilometres (2 miles) southwest
of the town of Selçuk, in the Selçuk district of İzmir Province, Turkey.

There are two entrances to the site, the upper and lower entrances
(see page 4: Sightseeing).


name:
Ephesus; Turkish, Efes

Ancient Greek Ἔφεσος, Ephesos


region:
Aegean (Turkish, Ege Bölgesi)


province:
Izmir


district:
Selçuk


local time:
Eastern European Time (EET)

Daylight Saving Schedule:

Summer (from last Sunday in March)
GMT/UTC +3 hours

Winter (from last Sunday in October)
GMT/UTC +2 hours


currency:
Turkish Lira (TL or TRY)


climate:
Mediterranean, temperate with hot,
dry summers and mild, wet winters


language:
Turkish




Further local information about the Ephesus and Selçuk area
can be found in the guide to Selçuk.

Further information for Turkey, including visa details,
can be found in our introduction to Turkey.
Ephesus
Turkey
Local addresses
Selçuk Tourist Information Office:

Atatürk Mahallesi, Uğur Mumcu Sevgi Yolu, Selçuk
(opposite the Ephesus Museum, see next page)

Tel: (02 32) 892 63 28

Weekdays: 8:30-12:00 and 13:00-17:30
Weekends: 9:00-12:00 and 13:00-17:00

Free maps of Selçuk and Ephesus available.

Website: www.selcuk.gov.tr

Selçuk Municipality Office: (02 32) 892 69 25 / 892 69 11

Website: selcuk.bel.tr

Police Headquarters: (02 32) 892 60 04

Hospital: (02 32) 892 70 36
Ephesus
Turkey
Area map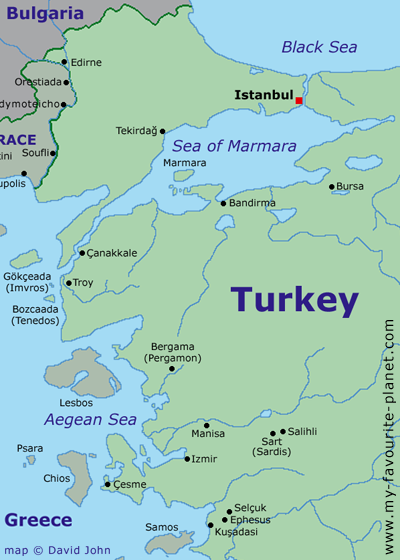 Map of north-western Turkey and the Aegean area.

See a larger interactive map of this area.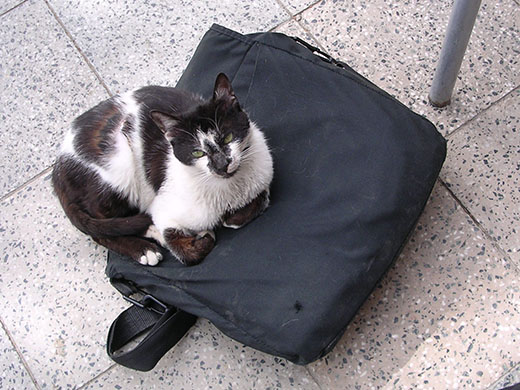 The cat is out of the bag.
Photos and articles and map: © David John

Additional photos: © Konstanze Gundudis

All photos and articles are copyright protected.

Images and materials by other authors
have been attributed where applicable.

Please do not use these photos or articles without permission.

If you are interested in using any of the photos for your website,
project or publication, please get in contact.

Higher resolution versions are available on request.

Some of the information and photos in this guide to Ephesus
originally appeared in 2004 on davidjohnberlin.de.
Visit the My Favourite Planet Group on Facebook.

Join the group, write a message or comment,
post photos and videos, start a discussion...