My Favourite Planet > English > Middle East > Turkey > Kuşadası >

| | | | | | | |
| --- | --- | --- | --- | --- | --- | --- |
| Kuşadası, Turkey | Kuşadası photo gallery | | | 7 of 14 | | |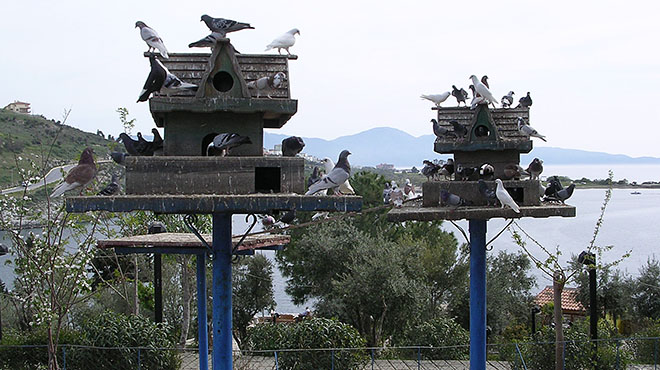 Doves and pigeons on Guvercin Ada (Dove or Pigeon Island).
The Genoese fortress on Güvercin Ada is currently closed for renovation.
See Museum Boom part 1 at The Cheshire Cat Blog.

You can still walk along the causeway and around the foot of the fortress.
The name Kuşadası means bird island ("kuş" = bird and "adasi" = island). You may be told that this is due to the fact that the bay's headland resembles a bird's head when seen from the sea. Personally, I don't get this. Perhaps this was once true, but it is difficult to see the resemblance today. I keep staring at maps and photos trying to imagine it.

Even more confusing is that the island (or islet) to the south of the town's harbour is actually called Güvercin Ada which means Dove Island. Bird Island, Dove Island - whatever. Well, at least it gives people something to discuss while sitting at one of the local fish restaurants.

And the island is technically not even an island. A causeway was built to it in the 19th century, as part of the refortifications during the Greek War of Independence, turning the islet effectively into a headland. This causeway is now a pretty solid structure, along which fishing and excursion boats moor and local anglers catch their evening meal.

The fortress on the island was built by the Genoese who established a trading settlement here, known as Scala Nuova, in the 13th century.

Today the island is part historical monument, part public park. The fortress houses a disco, a restaurant, several trees, a flower garden, some captive rabbits and innumerable pigeons and doves. You can swim here (although you may prefer one of the local beaches) and the views of the Ionian coast to the south, along Kuşadası's waterfront to the north and over to Samos in the west are quite beautiful.
Map, photos and articles: © David John,
except where otherwise specified.

Additional photos: © Konstanze Gundudis

All photos and articles are copyright protected.

Images and materials by other authors
have been attributed where applicable.

Please do not use these photos or articles without permission.

If you are interested in using any of the photos for your website,
project or publication, please get in contact.

Higher resolution versions are available on request.

Some of the information and photos in this guide to Kuşadası
originally appeared in 2004 on davidjohnberlin.de.
Visit the My Favourite Planet Group on Facebook.

Join the group, write a message or comment,
post photos and videos, start a discussion...