My Favourite Planet > English > Middle East > Turkey > Kuşadası >

| | | | | | | |
| --- | --- | --- | --- | --- | --- | --- |
| Kuşadası, Turkey | Kuşadası photo gallery | | | 10 of 14 | | |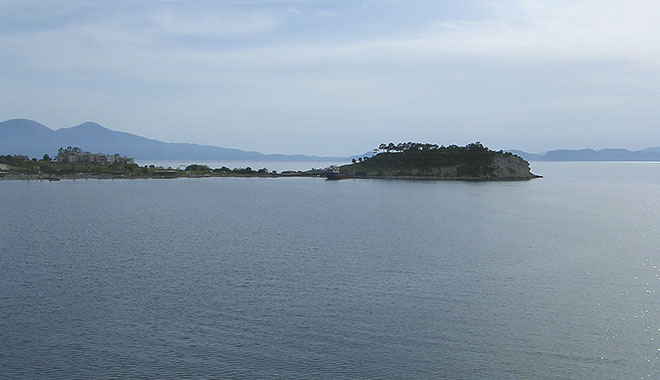 View southwards from Güvercin Ada (Dove or Pigeon Island) to the Yilanci Burnu headland.
The Genoese fortress on Güvercin Ada is currently closed for renovation.
See Museum Boom part 1 at The Cheshire Cat Blog.

You can still walk along the causeway and around the foot of the fortress.
The Yilanci Burnu headland, south of Guvercin Ada (Dove Island), is thought to be the site of the ancient Ionian settlement Neapolis (Νεάπολις, New City). It seems very little archaeological exploration has taken place here to substantiate this theory (see A brief history of Kuşadası).

The view southwards toward Samsun Daği (the Greek Mount Mykele) on the Dilek Peninsula (left). The countryside, coast and beaches from Kuşadası to the Dilek Peninsula - Büyük Menderes Delta National Park (Dilek Yarımadası Milli Parkı, known locally as Milli Parkı) are famed for being the most beautiful in Ionia. On the other side of the mountain is also the ancient city of Priene.

On the right of the photo is the eastern tip of Samos. Just behind the headland in the foreground, Greece and Turkey are just a kilometer or so away from each other and sometimes it is difficult to see where the mainland ends and the island begins.

From Kuşadası it is easy to take day trips to a number of fascinating historical sites, for example Ephesus, Priene, Miletus and Dydima. See Ionian spring, a 3-part photo essay about Ionia at The Cheshire Cat Blog.
Map, photos and articles: © David John,
except where otherwise specified.

Additional photos: © Konstanze Gundudis

All photos and articles are copyright protected.

Images and materials by other authors
have been attributed where applicable.

Please do not use these photos or articles without permission.

If you are interested in using any of the photos for your website,
project or publication, please get in contact.

Higher resolution versions are available on request.

Some of the information and photos in this guide to Kuşadası
originally appeared in 2004 on davidjohnberlin.de.
Visit the My Favourite Planet Group on Facebook.

Join the group, write a message or comment,
post photos and videos, start a discussion...