My Favourite Planet > English > Middle East > Turkey > Kuşadası >

| | | | | | | |
| --- | --- | --- | --- | --- | --- | --- |
| Kuşadası, Turkey | Kuşadası photo gallery | | | 12 of 14 | | |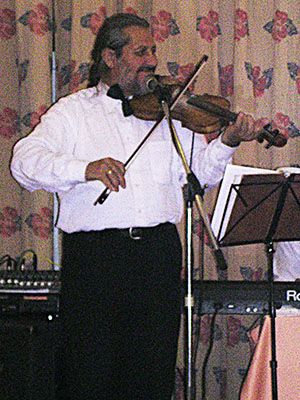 Turkish violinist plays in the restaurant of a Kuşadası hotel.
Many tourist hotels and restaurants in Turkey offer live music evenings. The quality and type of music on offer varies considerably. In addition to the traditional local folkloric entertainment it has become usual in recent years for music groups to play a mixture of popular modern Turkish and western hits with modern instruments. The versatile electric piano can be made to approximately emulate many instruments and moods, including a range of backbeats, keeping the number of musicians and overheads for a band to a minimum.

Savvy performers tailor their programmes to suite the tastes of whichever nationality presents the bulk of the evening's audience (Brits, Americans, Germans, Italians, Scandinavians...).

Some singers have memorized a large repertoires of foreign hit songs without knowing the respective languages or having the least knowledge of the meaning of the lyrics. What counts, it seems, is that a song is delivered with feeling and gusto.

A typical restaurant music programme begins with relatively downbeat tunes while the guests are dining, and things get louder and faster later in the evening to get everybody into party mood and onto the dancefloor.
Map, photos and articles: © David John,
except where otherwise specified.

Additional photos: © Konstanze Gundudis

All photos and articles are copyright protected.

Images and materials by other authors
have been attributed where applicable.

Please do not use these photos or articles without permission.

If you are interested in using any of the photos for your website,
project or publication, please get in contact.

Higher resolution versions are available on request.

Some of the information and photos in this guide to Kuşadası
originally appeared in 2004 on davidjohnberlin.de.
Visit the My Favourite Planet Group on Facebook.

Join the group, write a message or comment,
post photos and videos, start a discussion...