My Favourite Planet > English > Middle East > Turkey > Pergamon >
| | | | | | | |
| --- | --- | --- | --- | --- | --- | --- |
| Pergamon gallery 2 | Pergamon art | | | 7 of 26 | | |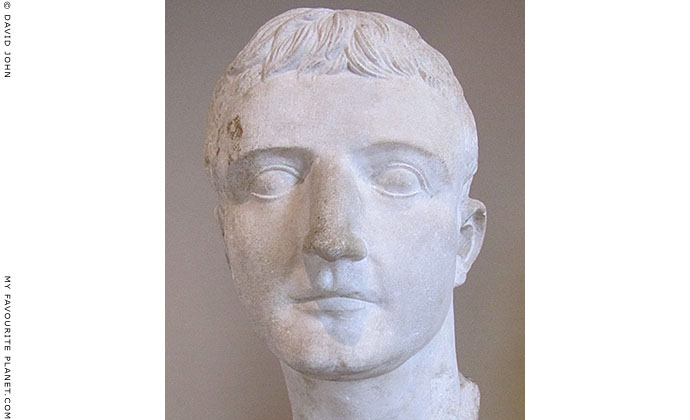 Roman Emperor Tiberius. Marble head from Pergamon,
now in the Istanbul Archaeological Museum.
Marble head of Roman Emperor Tiberius Julius Caesar Augustus (42 BC - 37 AD, emperor 14-37 AD), made in Pergamon during his lifetime [1].

He was the second Roman emperor, who confirmed the divinity of his predecessor Augustus (see pevious page), thus initiating the tradition of the imperial cult. Tiberius himself refused divine status, and there are no temples dedicated to him.

As in the portrait of Augustus, we are presented with an image of a man of philosophic intelligence and sensibility, an ideal ruler, appealing to contemporary taste in the Graeco-Roman world. The pupils of his eyes have been lightly chiselled in by the sculptor, presumably as a guide to the painter who would add (super) lifelike colour to statues of gods and heroes.

Detail of a bust of Tiberius.
Circa 30 AD.

National Archaeological
Museum, Naples, Italy.
Inv. No. 6052.
Farnese Collection.

Detail of a statue restored
with a portrait head of
Tiberius. 2nd century AD.

National Archaeological
Museum, Naples, Italy.
Inv. No. 6049.
Farnese Collection.
Marble portrait of Tiberius.
4-37 AD. From Rome, Italy.

Altes Museum, Berlin.
Inv. No. Sk 1872.

Portrait of Emperor Tiberius
in his youth. Found by Heinrich
Schliemann in Troy.
Marble. Early 1st century AD.

Neues Museum, Berlin.
Inv. No. Sch 9587.

Cast of the bust of Tiberius
as a young man, from the
marble original (27 BC - 14 AD)
in the Ny Carlsberg Glyptotek,
Copenhagen. Found in Egypt
in 1896.

Ara Pacis, Rome.
Pergamon
gallery 2
Notes, references and links



1. Head of Emperor Tiberius from Pergamon

Marble. Roman period, Julio Claudian Dynasty, time of Tiberius.
Found at the Sanctuary of Demeter, Pergamon, in 1909.
Height 43 cm.
Istanbul Archaeological Museum.
Inv. No. 2163 T (Cat. Mendel 558).

See:

H. Hepding, Mitteilungen des Deutschen Archäologischen Instituts, Athenische Abteilung, Band 35, 1910, pages 500-501 and plate XXV, 3.

Gustave Mendel (1873-1938), Catalogue des sculptures grecques, romaines et byzantines,
Tome Second, pages 281-282. Musée Impérial, Constantinople (Istanbul), 1914.
Maps, photos and articles: © David John,
except where otherwise specified.

Additional photos: © Konstanze Gundudis

All photos and articles are copyright protected.

Images and materials by other authors
have been attributed where applicable.

Please do not use these photos or articles without permission.

If you are interested in using any of the photos for your website,
project or publication, please get in contact.

Higher resolution versions are available on request.
Visit the My Favourite Planet Group on Facebook.

Join the group, write a message or comment,
post photos and videos, start a discussion...