"Let us ascend... to the Acropolis itself, that from our survey all the city and the objects within it may at once be in plain sight."

Lucian, Fisherman, 15.

The western entrance to the Acropolis is the least steep approach, and the late Archaic ramp here was eventually widened during Classical times. Around 52 AD, during the reign of Emperor Claudius (41-54 AD), this was replaced with a grand marble stairway, along the centre of which ran a ramp for leading sacrificial animals up to the sacred precincts (see the illustration on gallery page 6). The stairway was first reconstructed in the 19th century after archaeologists had cleared the way of centuries of accumulated rubble and later defence works.

By the time many visitors get this far, they have usually already walked around the Plaka and through the new Acropolis Museum, and are probably already thinking about lunch. So it's no wonder that some of them take a rest and sit on the steps to take a breath, rest their feet and enjoy the view, while the younger ones take snapshots of each other.

Most visitors seem suitably impressed by the wonders of the Acropolis, but not all are discussing the masterpieces of Pheidias & Co. On my last visit, a young American was describing to his friend, who had apparently been hopping around the Greek islands and away from "civilization" for a while, the intricate details of the latest episodes of their favourite TV series and the nefarious doings of all the various characters.

"If Athens town you never have seen,
you're a fool; but if you have been
and are not taken with it, you're a jackass;
And if you're glad to leave it, a packass."

Lysippus (flourished around 434 BC), Arcadian comic poet of the Old Comedy.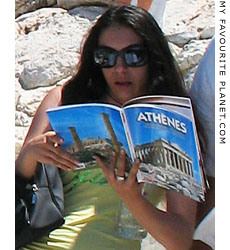 "It looks bigger in this photo."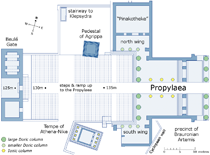 See plans of the entrance to
the Acropolis, with the Beulé
Gate, the Propylaia, the Temple
of Athena Nike, the Pedestal
of Agrippa and the top of the
stairway to the Klepsydra,
on gallery page 10.