My Favourite Planet > English > Europe > Greece > Macedonia > Kavala >
| | | | | | | |
| --- | --- | --- | --- | --- | --- | --- |
| Kavala, Greece | Kavala gallery | | | 16 of 29 | | |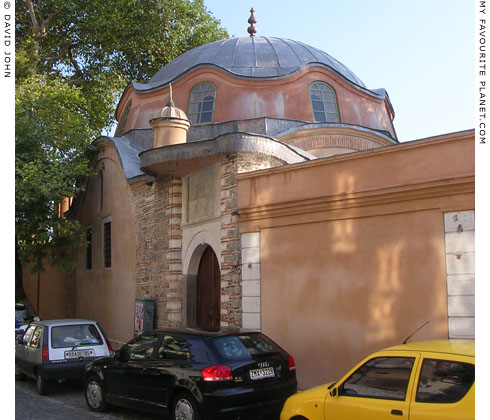 The mosque of the Imaret, almshouse and hostel for
medressa students, built by Mehmet Ali in 1817.
The Imaret (or Külliye), which Mehmet Ali had built in 1817, along the west side of the peninsula, on the street leading to his house, and near the site of the ancient sanctuary of Parthenos, city's patron goddess (see History of Kavala). An elegant, long, low series of buildings crowned by domes and chimneys, its facade is a long, plain wall punctuated by entrance halls decorated with inscriptions in Arabic script. (Turkish has only been written in the Latin script since Attaturk began his reforms in the 1920s and had the entire vocabulary transcribed acccording to the German phonetic model.) The complex contained a hostel for students of the Medressa (Muslim seminary) a few hundred metres away, a small domed mosque, as well as an almshouse for the poor of the city.

The Medressa and mosque closed after the Turks lost the Balkan wars (1912-1913) and Macedonia gained its independence, but the Imaret continued to feed the poor with soup and bread until 1923.

It fell into disrepair for many years, but has recently been handsomely renovated and re-opened as a boutique hotel restaurant. The simple elegance of this establishment provides a marked contrast to the row of more humble shops, tavernas and bars on the other side of the narrow street. They nevertheless provide good, friendly, and wallet-friendly service. Recommended.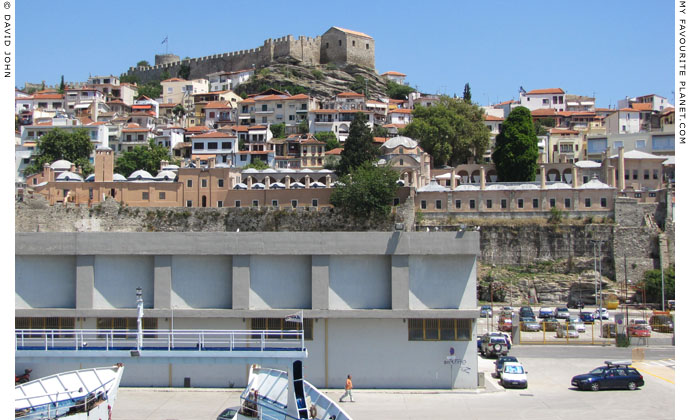 The Imaret viewed from Kavala's main harbour. The Imaret's buildings
stretch along the top of the old defensive walls on the west side of
the Panagia peninsula. The Kastro sits on the rocky acropolis above.
Photos, maps and articles: copyright © David John,
except where otherwise specified.

Some of the information and photos in this guide to Kavala
originally appeared in 2004 on davidjohnberlin.de.

All photos and articles are copyright protected.

Images and materials by other authors
have been attributed where applicable.

Please do not use these photos or articles without permission.

If you are interested in using any of the photos for your website, project or publication, please get in contact.

Higher resolution versions are available on request.

My Favourite Planet makes great efforts to provide comprehensive and accurate information across this website. However, we can take no responsibility for inaccuracies or changes made by providers of services mentioned on these pages.
Visit the My Favourite Planet Group on Facebook.

Join the group, write a message or comment,
post photos and videos, start a discussion...

George Alvanos
rooms in
Kavala's historic Panagia District
Anthemiou 35,
Kavala, Greece
kavalarooms.gr





Olive Garden Restaurant
Kastellorizo,
Greece
+30 22460 49 109
kastellorizo.de
Papoutsis
Travel Agency
Kastellorizo,
Greece
+30 22460 49 286
greeklodgings.gr