My Favourite Planet > English > Europe > Greece > Macedonia > Kavala >

| | | | | | | |
| --- | --- | --- | --- | --- | --- | --- |
| Kavala, Greece | Kavala gallery | | | 21 of 29 | | |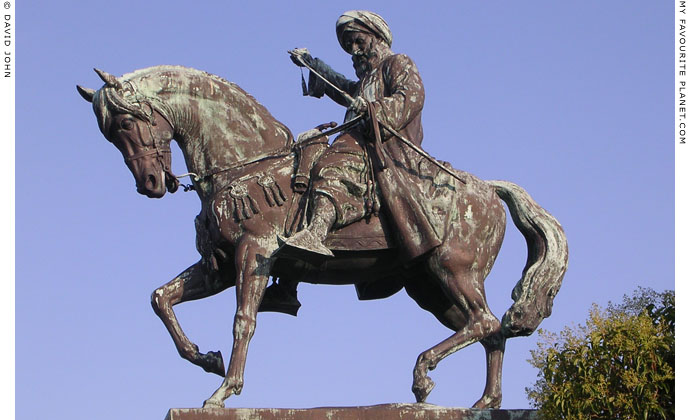 Kavala's Panagia district. Statue of Mehmet Ali (1769-1849), native of Kavala, Pasha of Egypt.
The bronze equestrian statue of Mehmet Ali on the square named after him was made in Paris by Konstantinos Dimitriadis (Κωνσταντίνος Δημητριάδης, 1881-1943), a sculptor and academic who had also been a champion in the Olympic Games. It was commissioned by the Greeks of Egypt as a gift to the city of Kavala, and unveiled by Prince Amr Ibrahim of Egypt on 6 December 1949.

Kavalans are proud to claim Mehmet Ali (also known as Mohammed Ali, 1769-1849), Pasha of Egypt, as a native son. This may come as a surprise to those who know of his ruthless political career, especially his role in attempting to crush Greece's struggle for independence from Turkey.

Mehmet Ali was the son of an Albanian farmer and lived in Kavala for many years. He was accepted by Kavalans as one of theirs, and is still hailed as a great benefactor of the city.

(Some sources state that he born in Cavajo in Albania, which is the cause of some confusion, probably itself caused by confusion of place-names and Mehmet Ali's ethnicity.)

He joined the Turkish army and was ambitious, scheming and ruthless in his swift rise to the top. After leading an Albanian contingent sent by the Turkish sultan to help drive Napoleon's armies out of Egypt, he manoeuvred himself into the postition of Pasha (viceroy) of Egypt in 1805. He waged bloody military campaigns in the Middle East, North Africa and Greece, ostensibly to put down the enemies of the sultan, but he steadily increased his own political power and influence. In 1831 he threatened the Turkish Empire itself by seizing Syria. It took the combined powers of Britain, Russia, Austria and Prussia to dislodge his forces.

He was eventually not only forgiven by the sultanate but his pashalic was made hereditary. Thus began the final Egyptian dynasty which ended with the last reigning monarch King Farouk (1920-65), who abdicated in 1952 after a military coup.

See also: History of Kavala and Sightseeing in Kavala.



Mehmet Ali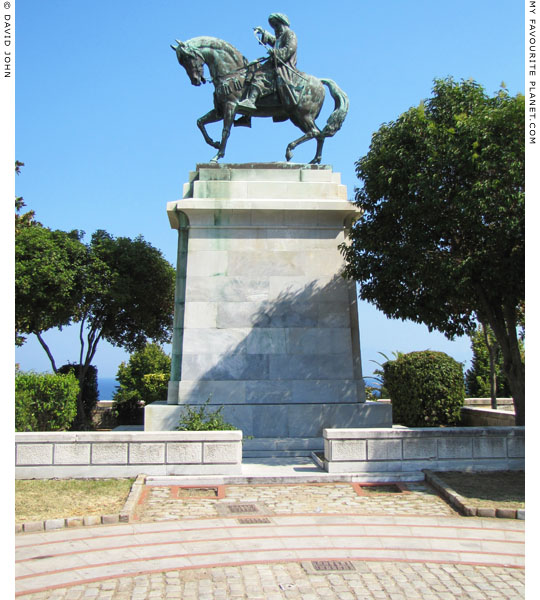 The statue of Mehmet Ali on Mehmet Ali Square.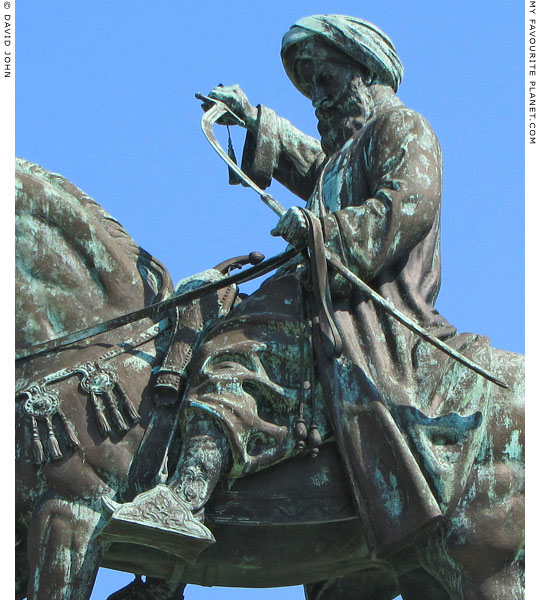 Mehmet Ali sheaths his sword.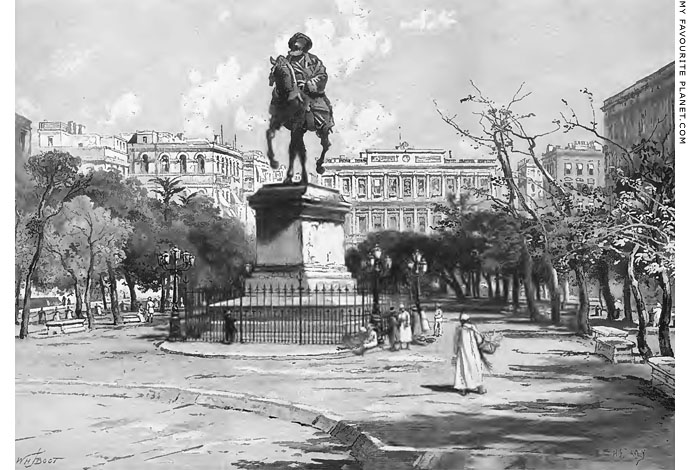 An equestrian statue of Mehmet Ali on the Place Mahomet Ali, Alexandria, Egypt.



Wood engraving by W. H. J. Boot, around 1890.


"The Place Mehemet Ali, usually called for the sake of brevity the Grand Square, is close at hand. This is the centre of the European quarter, and round it are collected the banks, consular offices, and principal shops. This square, the focus of the life of modern Alexandria, is appropriately named after the founder of the present dynasty, and the creator of the Egypt of to-day. To this great ruler, who at one time bid fair to become the founder, not only of an independent kingdom, but of a great Oriental Empire, Alexandria owes much of its prosperity and commercial importance. The career of Mehemet Ali is interesting and romantic..."

"In the middle of the square stands a handsome equestrian statue of Mehemet Ali which is, in one respect, probably unique. The Mohammedan religion demands the strictest interpretation of the injunction in the decalogue against making 'to thyself any graven image', and consequently a statue to a follower of the creed of Mahomet is rarely seen in a Mohammedan country. The erection of this particular monument was much resented by the more orthodox of the Mussulman population of Alexandria, and the religious feelings of the mob manifested themselves in riots and other hostile demonstrations."

Eustace A. R. Ball, Alexandria. In: The picturesque Mediterranean, its cities, shores and islands, Volume 1, pages 207-231. The wood engraving is between pages 212 and 213. Cassell, New York, 1890 (?). At the Internet Archive.

In the caption to the illustration the square is named "Place Mahomet Ali", but in the text "Place Mehemet Ali".
Photos, maps and articles: copyright © David John,
except where otherwise specified.

Some of the information and photos in this guide to Kavala
originally appeared in 2004 on davidjohnberlin.de.

All photos and articles are copyright protected.

Images and materials by other authors
have been attributed where applicable.

Please do not use these photos or articles without permission.

If you are interested in using any of the photos for your website, project or publication, please get in contact.

Higher resolution versions are available on request.

My Favourite Planet makes great efforts to provide comprehensive and accurate information across this website. However, we can take no responsibility for inaccuracies or changes made by providers of services mentioned on these pages.
Visit the My Favourite Planet Group on Facebook.

Join the group, write a message or comment,
post photos and videos, start a discussion...


George Alvanos
rooms in
Kavala's historic Panagia District
Anthemiou 35,
Kavala, Greece
kavalarooms.gr