My Favourite Planet > English > Europe > Greece > Macedonia > Kavala >

| | | | | | | |
| --- | --- | --- | --- | --- | --- | --- |
| Kavala, Greece | Kavala gallery | | | 20 of 29 | | |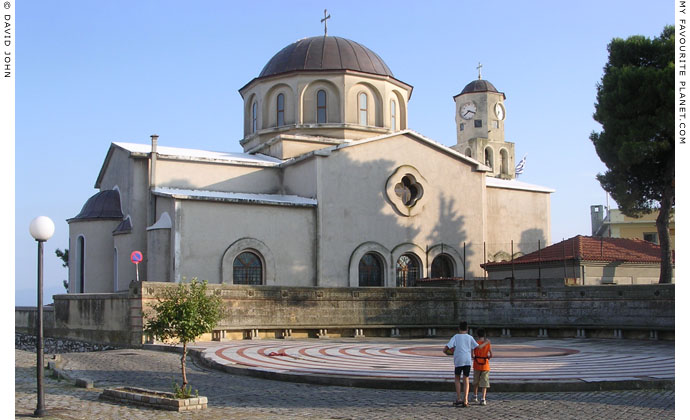 Kavala's Panagia district. Church of the Virgin Mary (Panagia).
The largest church in the Panagia district is known as the Ekklisia Kimisi Theotokou (Ιερός Ναός Κοιμήσεως της Θεοτόκου). Roughly translated, "Kimisis Tis Theotokou" means "falling-asleep" (or Dormition) "of the mother of God", the death of the Virgin Mary (in Greek Παναγία, Panagia, "all holy"); known to Roman Catholics as the Assumption of the Virgin Mary.

In the Greek Orthodox Church this event is celebrated on 15th August and is one of Greece's most important public holidays, after Easter and to many here more popular than Christmas. The holy day is usually celebrated with large public parties, music and dancing, known as panagyri, particularly in villages (see a photo of a panagyri in Orestiada, northeastern Thrace).

The present church, also known simply as εκκλησία της Παναγίας, the Church of Panagia, was built in 1965, after the demolition of a much older post-Byzantine church of the 15th century, which was in the form of a three-aisled basilica with a small dome and a tall belltower. This itself replaced a small early Christian church, also dedicated to Kimisi Theotokou, which was the property of the Pantokrator monastery of Mount Athos. It is thought that this earlier church was demolished by the Turks, or it may have been destroyed during one several sieges which Kavala endured.

The Panagia district and peninsula were named after the Virgin Mary and this church, some time after Macedonia gained its independence from Turkey in 1912.

It may now seem criminal that the 15th century church was demolished to make way for this modern building, however, during the 1960s attitudes to history and preservation were quite different. At this time old buildings were being demolished all over Europe in the name of "progress" and "modernity". It seems certain that some people would have considered the old church unsuitable for the requirements of a modern parish, and those who wished to make a statement with a newer, grander place of worship and symbol of Christianity and the new independent Greece. It may also be the case that the old structure was unsound and too expensive to restore and maintain.

At the end of Poulidou, Kavala 65201, opposite the House of Mehmet Ali.


The first church dedicated to the Virgin Mary is thought to have been
the 5th century Aghia Maria (Church of the Virgin) in Ephesus.
Photos, maps and articles: copyright © David John,
except where otherwise specified.

Some of the information and photos in this guide to Kavala
originally appeared in 2004 on davidjohnberlin.de.

All photos and articles are copyright protected.

Images and materials by other authors
have been attributed where applicable.

Please do not use these photos or articles without permission.

If you are interested in using any of the photos for your website, project or publication, please get in contact.

Higher resolution versions are available on request.

My Favourite Planet makes great efforts to provide comprehensive and accurate information across this website. However, we can take no responsibility for inaccuracies or changes made by providers of services mentioned on these pages.
Visit the My Favourite Planet Group on Facebook.

Join the group, write a message or comment,
post photos and videos, start a discussion...


George Alvanos
rooms in
Kavala's historic Panagia District
Anthemiou 35,
Kavala, Greece
kavalarooms.gr