My Favourite Planet > English > Europe > Greece >
| | | | | |
| --- | --- | --- | --- | --- |
| Macedonia | History of Macedonia, Greece | | page 2 | |

Statue of Alexander the Great on Thessaloniki's seafront. In the distance Mount Olympus.
We are currently working on a detailed articles
on the history of Greece, including Macedonia.

Meanwhile, see these related pages which contain
historical information about Macedonia and Thrace:

A brief history of Kavala

A brief history of Pella
(hometown of Alexander the Great)

History of Stageira and Olympiada
(hometown of Aristotle)

A brief history of Thrace

History of Alexandroupoli, Thrace

Neolithic idol from Mount
Pangaion (Παγγαίο όρος),
Macedonia.

Amphipolis Museum

An early 20th century photo of two Macedonian women
wearing colourful local costume.

"Greece: Belles of the border in rich array.
Astonishing opulence of gold embroidery, silver craftsmanship, and
delicate needlework enhances the splendour of their Macedonian
costume, in which bold colours are blended with rare artistic skill."

Photo: L. G. Popoff

Source: J. A. Hammerton (editor), Peoples Of All Nations, Volume 4:
Georgia to Italy, page 2480. The Almagamated Press Ltd., London,
circa 1920. At the Internet Archive.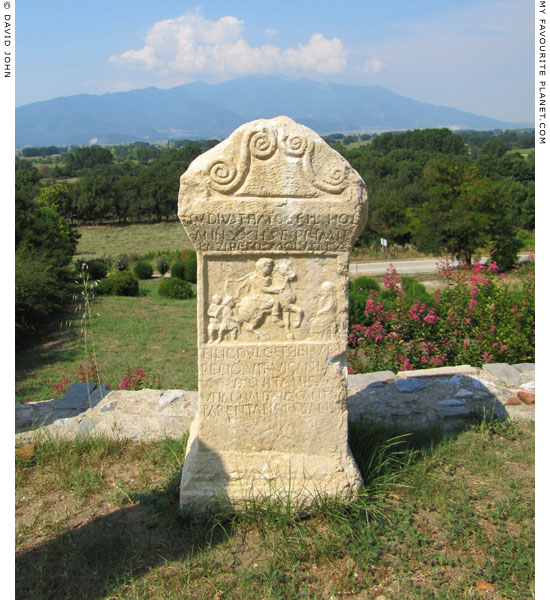 An inscribed grave stele with a hero horseman relief at the archaeological
site of Philippi, Macedonia, Greece. In the background is Mount Pangaion.
Macedonia,
Greece
Area map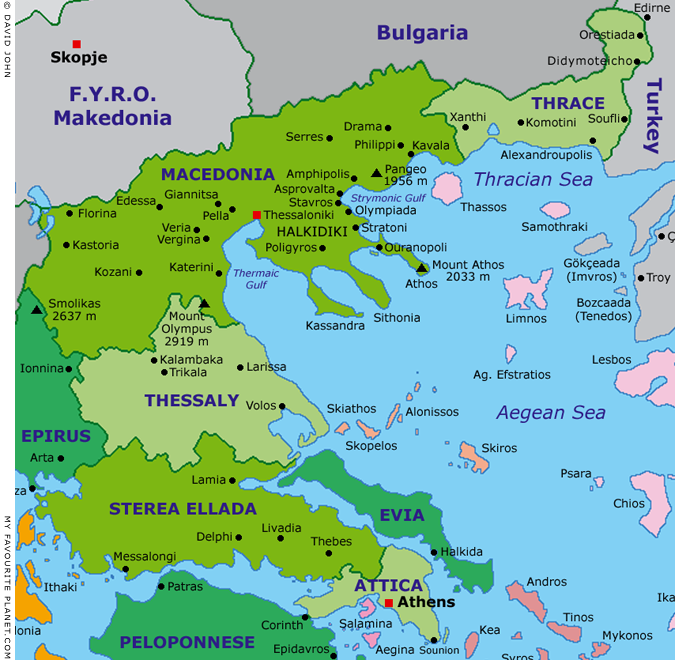 Interactive map of Macedonia and the North Aegean Sea.

See also our interactive map of Greece.
Articles, maps and photos: © David John,
except where otherwise specified.

Some of the information and photos in this guide to Macedonia
originally appeared in 2004-2005 on davidjohnberlin.de.

All photos and articles are copyright protected.

Images and materials by other authors
have been attributed where applicable.

Please do not use these photos or articles without permission.

If you are interested in using any of the photos for your website,
project or publication, please get in contact.

Higher resolution versions are available on request.

My Favourite Planet makes great efforts to provide comprehensive and accurate information across this website. However, we can take no responsibility for inaccuracies or changes made by providers of services mentioned on these pages.
Visit the My Favourite Planet Group on Facebook.

Join the group, write a message or comment,
post photos and videos, start a discussion...




George Alvanos
rooms in
Kavala's historic Panagia District
Anthemiou 35,
Kavala, Greece
kavalarooms.gr


Olive Garden Restaurant
Kastellorizo,
Greece
+30 22460 49 109
kastellorizo.de
Papoutsis
Travel Agency
Kastellorizo,
Greece
+30 22460 49 286
greeklodgings.gr