The small village of Olympiada is set in landscape typical of eastern Halkidiki, with its wooded hills and rows of sandy bays. The village itself stands on a wide beach with clean, clear water. At the south side, just beyond the fishing harbour which is home to numerous small boats, are the two wooded hills of the Liotopi peninsula, the site of the ancient city of Stageira, the hometown of the philospher Aristotle.

It is a relatively modern village, founded by Greek refugees from Turkey in the 1920s (see history part 7). It has developed into a low-key beach resort with two excellent small hotels, rented rooms and apartments and a handful of good restaurants, and has retained its relaxed, friendly village atmosphere.

As with most resorts in Halkidiki it does not cater for mass-tourism. The majority of holiday-makers who visit here are people seeking a safe, quiet seaside retreat with attractive countryside and opportunites for day-trips around Macedonia. The area is particularly popular with families. Visitors come here from all over the world, particularly from central and eastern Europe, many to see Aristotle's birthplace.

The villagers are friendly, the swimming is good, and the beauty of local countryside is ideal for walking, cycling or driving around.

If you have your own transport, it is quite easy to visit other places around Halkidiki, such as Ouranopolis, Polygyros, Olynthos and the wild areas of Mount Stratonikos and Mount Holomontas just west of Olympiada. Also nearby in Macedonia are Thessaloniki, Pella, Veria and Vergina, Amphipolis, Kavala and Philippi.

Public transport around Halkidiki is a bit trickier (see page 11: how to get there), with bus services around the peninsula centred at Thessalonika.

The place is simply beautiful and highly recommended.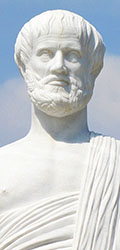 Modern statue
of Aristotle
in Olympiada

See Olympiada
gallery page 5.