My Favourite Planet > English >
| | | | | |
| --- | --- | --- | --- | --- |
| News archive | 2012 | | 2012 | |
"To a philosopher all news, as it is called, is gossip,
and they who edit and read it are old women over their tea."

Henry David Thoreau
Drood's Column waxes lyrical

November 2012

Fans of Edwin Drood's Column will have noticed that their favourite blogger, The Mysterious Edwin Drood, has been absent more often this year as he crosses the planet in search of subjects to poke.

The My Favourite Planet editor, impatient as usual for good copy, has in turn been scouring the lairs of literature for something tasty and tasteful to fill-in for the Drood's punchy prose during these absences. Finally, he has been able to snatch the publishing rights for a very special collection of poetry from beneath the noses of a covey of indignant literary agents.

The collection, "Bird under water" by Hugh Featherstone, is to be published online for the first time by MFP. You can read the first of the poems in a new section of Edwin Drood's Column While the Drood's away... So now you can read Drood's Column, even when he's not there.

Bird under water

at Edwin Drood's
Column
Streamlining the planet

November 2012

My Favourite Planet pages are getting a new look, designed to make it easier for our readers to navigate around the website's various guides, sections and blogs.

It will take a while before the more streamlined layout can be applied to the entire site, but you can see the first re-designed pages on the latest editions of Edwin Drood's Column.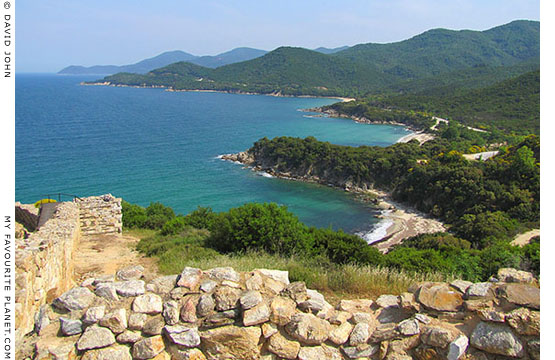 My Favourite Planet goes to Aristotle's hometown
Pergamon reloaded

6 May 2012

The My Favourite Planet illustrated guide to Pergamon, Turkey has been totally redesigned and extended to 66 pages of photos and information about the ancient Hellenistic city of Pergamon and the modern town of Bergama.

There are now two photo galleries: the first contains pictures of Pergamon and Bergama; the second is new, with photos and information about the works of art and architecture from the city which have found their way into the world's museums.

We have also included more practical info, and even more information and images will be added over the coming months.

Pergamon parrot
in the new gallery

... And while we're on the Ps ...

The guide to Pella, Macedonia Greece, hometown of Alexander the Great, has also been revamped. Several more photos and a lot more information about the archaeological site and museum - its history, art and architecture - and plenty of info on how to get there.

We plan to revisit Pella this month and will be reporting on the new archaeological museum, as soon as we can find the exit...

Pella panther
Visit the My Favourite Planet Group on Facebook.

Join the group, write a message or comment,
post photos and videos, start a discussion...







George Alvanos
rooms in
Kavala's historic Panagia District
Anthemiou 35,
Kavala, Greece
kavalarooms.gr
Olive Garden Restaurant
Kastellorizo,
Greece
+30 22460 49 109
kastellorizo.de
Papoutsis
Travel Agency
Kastellorizo,
Greece
+30 22460 49 286
greeklodgings.gr