My Favourite Planet > English >
| | | | | |
| --- | --- | --- | --- | --- |
| News archive | 2013 | | 2013 | |
"It's amazing that the amount of news that happens in the world
every day always just exactly fits the newspaper."

Jerry Seinfeld, comedian
Growing the planet

My Favourite Planet is 5 years old

5 November 2013

The first My Favourite Planet pages went online in November 2008, and by January 2010, we were proudly announcing that, just over a year after the website's launch, we had already published 850 pages of information, photos and maps. Back then we estimated that we were producing an average of over 70 pages every month.
5 years later, we have come a long way, right around the globe, from Boston to Bali, via Istanbul and Pyongyang and several stations in between. There are now 1158 pages online, and while it may appear that we have slowed down, most pages have gained in scope, content and depth. We currently have another 150 pages in preparation (hopefully to be published in the new year), and are continually working to improve and update the information about places featured in existing guides and add new photographs and illustrations.

We have also added further sections, notably the blogs, and Edwin Drood's Column alone so far accounts for 152 pages, featuring short fiction, timeless musing and pithy news commentary, all written in the inimitable Droodian style (the man does add a bit of tone to the place). The Cheshire Cat Blog has only managed 38 pages, but that's cats for you. It must be said though, that many of those 38 blogs are huge, richly-illustrated works, and some are quite entertaining.

This website would not exist without the help and support of friends and contributors, and we would like to thank all those who have given their talents, time, energy, advice and love to this project. Special gratitude is due to Peter Hinze, Gordon Mcleod, Konstanze Gundudis, Francis Caruso and Hugh Featherstone for their constant and invaluable input. Thanks also to all those who have sent messages of appreciation and criticism, as well as those uncommon few who have provided a lift, a couch, a meal or a cup of coffee to weary travel writers.

There are many exciting plans and ideas for expanding and improving My Favourite Planet, and as ever we invite our readers to contribute their stories, articles, images and videos.

If you would like to get involved, see our

contribute

page.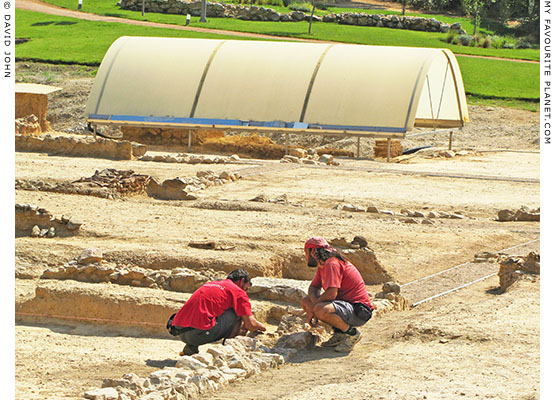 Aristotle's garden



October 2013 After several announcements over the last 17 years
that the archaeological site of the Athens Lyceum, where Aristotle
founded his Peripatetic school of philosophy, was to be opened
to the public, it looks like it may be finally about to happen.

Digging Aristotle, a photo essay at The Cheshire Cat Blog.
How does your garden grow?

24 October 2013

The site of the Lyceum in Athens, where Aristotle founded his Peripatetic school of philosophy in the 4th century BC, was discovered by accident in 1996. Since then several official announcements have proclaimed the imminent opening of the site to the public. Now, 17 years later, it looks like it may be finally about to happen.

The Cheshire Cat visits the site and admires the landscaped garden which has been laid around the Lyceum's remains in preparation for the big day... some time quite soon.

Digging Aristotle at The Cheshire Cat Blog

Digging Aristotle

The Cheshire Cat
Blog
A tale of two islands

3 October 2013

The Cheshire Cat visits a book launch and discovers the 130 year link between the tiny Mediterranean island of Kastellorizo (a.k.a. Megisti) and the Ilha de Santa Catarina off Brazil's Atlantic coast.

Read about Déspina Spyrídes Boabaid's new book, Meghísti (Kastellorizo): Greek Island between three continents:

Déspina's Meghísti at The Cheshire Cat Blog

Déspina Spyrídes Boabaid

The Cheshire Cat
Blog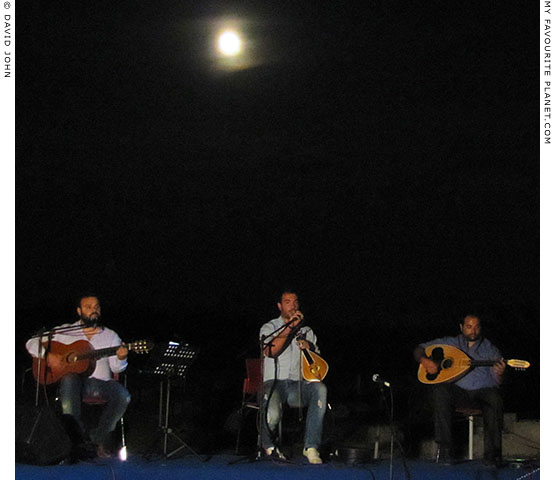 Full moon in Pella



21 August 2013 The Cheshire Cat returns to Macedonia, Greece to revel
at the annual August full moon concert at the birthplace of Alexander the Great.

Full moon in Pella, a photo essay at The Cheshire Cat Blog.
Polygyros interlude

July 2013

While researching for the guide to Aristotle's home town Stageira in Halkidiki, northern Greece, we visited the peninsula's capital Polygyros. The archaeological museum here, you are informed, is where the finds from Ancient Stageira and several other local historical sites can be seen. What nobody tells you is that the museum is yet another of those which has been closed for some time for renovation (see previous article below). Hard cheese.

Polygyros is a pleasant little town, so our visit turned out not to be a waste of time. And since we could find no adequate guide to the place, we decided to create our own. This guide will be expanded after our next visit, once the museum is finally reopened...

The new My Favourite Planet travel guide to Polygyros, Halkidiki, Macedonia, Greece.

Polygyros
the guide
Hugh's small world

18 June 2013

Childhoods may be very different, but have a myriad common elements, and the ways in which people remember their early lives chime with similarities. Memories of others' first experiences of the planet strike chords somewhere deep within us all.

Hugh Featherstone's resonant poem Small world, from the selection Bird under water, is now online at While the Drood's away.
Sorry, we're closed

June 2013

If you have ever travelled to a museum only to discover that it is CLOSED, you can now avoid seeing red by reading the Cheshire Cat's list of some of the museums which are not open for business this year.

In MUSEUM BOOM, the Cheshire Cat Blog also looks at recently opened museums and collections under construction.

This blog will be extended over the coming months, and we are calling for further information from our readers about any kind of museum anywhere in the world, whether it is opening, closing or changing.

(See also How does your garden grow?, the article about Aristole's Lyceum above.)

MUSEUM BOOM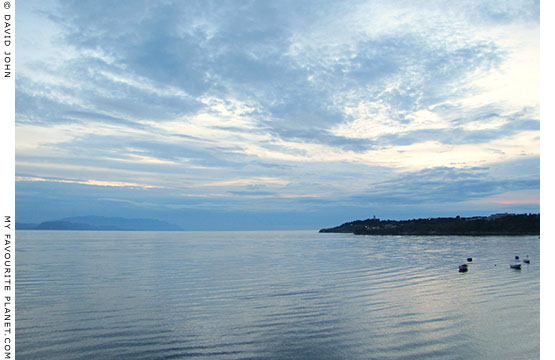 Spring in Ionia

May 2013 The Cheshire Cat Blog explores various aspects of human, animal
and plant life around the Central Aegean coast of Turkey, known in ancient times
as Ionia, location of cities such as Ephesus, Miletos and Priene.

Ionian Spring, a photo essay in three parts at The Cheshire Cat Blog.
The Cheshire Cat springs back

28 May 2013

Like spring in the northern hemisphere, the Cheshire Cat makes a slow start this year, and wanders around the Central Aegean coast of Turkey to watch the beginning of the annual migration of the great squibbler and the lesser-striped tourist.

Ionian Spring Part 1 at The Cheshire Cat Blog is about humans, wind and water. Part 2 features flowers and plants, and the lizards appear in Part 3.

Ionian Spring

a photo essay
in three parts

The Cheshire Cat
Blog
And now we are three

7 May 2013

Edwin Drood's Column celebrates three years of Droodian invective and perspective, but The Mysterious Edwin Drood doesn't appear to be in a party mood. In his latest missive, Que Sarin sera!, Edwin rolls his sleeves up to tackle wars and terrorism on all fronts, the NEW New World Order and considers "the role that a Nazi nerve gas may finally play in the future, post-conflict, organisation of the Middle East as well as in its ongoing, provocative dialogue with the West". Yippee!

No balloons and cake then, Mr Drood?

Oh well... at least the editor looks happy: he says that it will save a fortune on catering and prevent the environment being cluttered with yet more paper plates and napkins, and that we should all get back to our desks and take those silly party hats off.
New archive for old news

April 2013

As part of the ongoing redesign of My Favourite Planet (see Streamlining the planet, My Favourite Planet news, November 2012), we have now moved news items from previous years into our brand new news archive.

Those with a penchant for archaic and arcane announcements can now see when we launched our first blog, put our first video online or started publishing poetry.

At the moment the archive is organized in reverse chronological order - with the newest items on top. The editor is considering whether this should be altered, and if so, which lucky person gets to undertake the task.
Visit the My Favourite Planet Group on Facebook.

Join the group, write a message or comment,
post photos and videos, start a discussion...







George Alvanos
rooms in
Kavala's historic Panagia District
Anthemiou 35,
Kavala, Greece
kavalarooms.gr
Olive Garden Restaurant
Kastellorizo,
Greece
+30 22460 49 109
kastellorizo.de
Papoutsis
Travel Agency
Kastellorizo,
Greece
+30 22460 49 286
greeklodgings.gr