My Favourite Planet > English >
| | | | | |
| --- | --- | --- | --- | --- |
| News archive | 2011 | | 2011 | |
"News has a kind of mystery."

From the opera Nixon in China by John Adams and Alice Goodman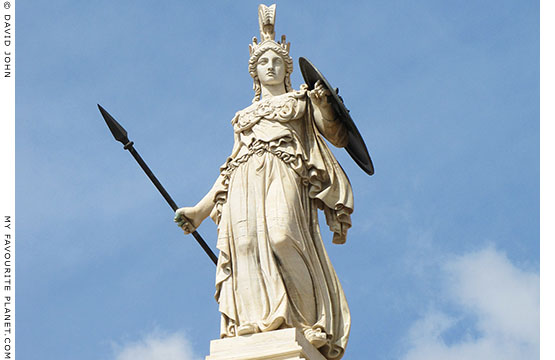 My Favourite Planet goes to Athens

December 2011 The My Favourite Planet guide to Athens is launched this month
with our Athens Acropolis photo gallery, containing 36 pages of photos and plans
as well as articles about the history of the ancient citadel.
MFP goes totally Athens

1 December 2011

The first part of the My Favourite Planet illustrated guide to Athens goes online today. There are already 36 pages of photos and information about the Acropolis online, and we will be continually adding to the guide over the next months.

The MFP guide to Athens is being organized as a series of galleries, one for each of the city's districts, sights and sites, with original photos as well as historical and cultural articles on every page. The Greek capital is most famous for its ancient monuments and museums, but we also hope to bring our readers something of the flavour of contemporary Athens too.

We hope you enjoy it. As ever, we invite to join in by sending us your photos, videos and words. If you have a favourite hotel, restaurant, bar, street or area in Athens (or anywhere else in the world), feel free to get in contact.

Visit Athens on My Favourite Planet.

Climb up to
our new
Acropolis gallery
People's planet

30 November 2011

My Favourite Planet is pretty place-oriented, but people do sometimes get a look in. While compiling articles for our new guide to Athens, it became clear that certain names and faces were cropping up regularly during the city's history. Some of the personalities are well known, while others remain more obscure and difficult to find out about, even in our wonderful wiki-world. So we decided to devote some space to the people on this planet, which also saves us having to keep explaining who they are on every page where their name appears; cuts down on the footnotes too.

The first person in our brand new people section is the 19th century French archaeologist Charles Ernest Beulé, who achieved the unusual distinction of being the only archaeologist to have an ancient Athenian monument named after him. Hardly earth-shattering stuff, but we had to start somewhere, didn't we?

Hopefully, Monsieur Beulé won't have to remain alone long, and will be soon joined by more scintillating society.

See the new section: People on My Favourite Planet.

Read the profile
of Charles Beulé
9 / 11 – 10 years after

6 September 2011

Over the coming week the world's media will be incessantly revisiting the horrific terrorist attacks on the USA on 11th September 2001, a series of events which led to seemingly never-ending wars and which continue to affect the lives of millions of people across the planet.

Like the assassination of President Kennedy, the attacks were televised globally and have left a psychological imprint on a generation. Doubtless, journalists will be asking people the question: "Do you remember where you were when those planes hit the Twin Towers?" Edwin Drood remembers exactly where he was, and in his latest blog, Ambivalent anniversaries part 1, he asks, among other things, where are we at now, and how will this era look to future historians? "History", he reminds us, "has a way of dulling the edges of horror".

Edwin Drood's Column, at My Favourite Planet Blogs.

photo:
TheMachineStops




My Favourite Planet goes to the movies

June 2011 We finally get our first video online, thanks to those nice
people at YouTube. And a pretty lively flick it is too, as Köçek dancers
go twirling their skirts through the streets of Istanbul along to some
raucous Turkish folk music. Not to be missed.

Find out more and watch the video at
The Cheshire Cat's Istanbul wedding dance.
My Favourite Planet's first video

1 June 2011

The latest The Cheshire Cat Blog, Istanbul essentials - Part 3: Istanbul wedding dance, features My Favourite Planet's first ever video with rare footage and photos of köçek dancers - men in skirts - dancing at a street wedding celebration. Not to be missed.

Be sure to turn down the volume of your computer's speakers or headphones before you start the video: the traditional Turkish music gets pretty loud and raucous.

The Cheshire Cat Blog on My Favourite Planet.

Köçek dance
video

in Cheshirecolor ®
Lucky old island

April 2011

When The Cheshire Cat received an unexpected e-mail in Spanish, announcing that a statue of him was about to be unveiled, he was delighted, baffled and bemused. Who was the mysterious Mayor of Afortunada? And where on Earth was this place anyway?

With the help of an academic author in Madrid, a Swedish geologist and a 15 year-old computer wiz, we discover an unknown island far out in the middle of the Atlantic Ocean.

Explore the hows, wheres, whys and what-have-yous at
The Fortunate Isle: The mysterious case of the invisible island of Afortunada

The Fortunate Isle

The Cheshire Cat
Blog
Drood turns 50 - pages

29 March 2011

The Mysterious Edwin Drood has just posted his fiftieth blog "The marriage of the Arnolfinis", as Edwin Drood's Column goes into its twelfth month of publication and Drood continues pole-vaulting jauntily from one international topic to another.

The Drood has just sent us the following communiqué:



" Many years ago I saved this tiny press snippet, in the hope that it might come in useful one day: "Mrs Linette Crawley of Weston Leigh missed being crushed on Monday when a bulldozer demolished her home by mistake." Just popped out for a packet of Woodbines and missed being crushed. Tough luck, Mrs Crawley, maybe you'll be home next time. Meanwhile I have been fortunate enough to reach the age of fifty, well sort of, in a virtual way without either being crushed, lynched, flogged or burned at the stake (although there have been some close shaves). Today I was informed by my editor that I've now been doing this for a full fifty episodes. Not bad for something that started as a test balloon.

Yes, today's posting is really the 50th edition of Edwin Drood's Column on My Favourite Planet. In the meantime I have a community of readers in places as far afield as Tokyo, New York, Chicago, San Francisco, London, Berlin, Oxford, Bristol, Sofia, Copenhagen, Tallin, Cologne, Windhoek, Wellington, Antwerp ... although, as far as I can gather, they all know me either personally or round a couple of corners. It would be great to speak to a wider audience, but this can only happen if you all wave the flag a bit. so please, big up the Drood and spread the links around.

50 episodes of Droodian invective and perspective, wow! Tempus bloody fugit. Break out the Mazeltov cocktails. Slaughter the fatted calf. Or better still, cross the channel to be present at

the wedding of Benjamin Arolfini and Diana Williams

, with all that this entails in opportunities for social commentary and shrewd observation.

" Edwin Drood's Column

at My Favourite Planet Blogs.
Mersey beats

February-March 2011

The Cheshire Cat walks the streets of Liverpool and finds a city proud of its past, looking to the future and moving to the beat of a different drum.

Mersey beats, Part 1: She gives me religion takes a look at faith in the city. Liverpool has two main religions: one is the worship of great gods who do battle on holy turf amid a mass of true believers, and is known as football; the other one happens in churches ...

This mega-blog is so big that we decided to present two months-worth of blog on one page, rather than splitting it up.

Usually, The Cheshire Cat Blog appears every month
at My Favourite Planet Blogs.

Mersey beats

The Cheshire Cat
Blog
Winter wonderlands

January 2011

Following on from December's Snowstorm Blues, The Cheshire Cat continues the wintery theme into the new year with Winter wonderlands, a photo essay on the snowbound northern hemisphere from USA, Wales, Belgium and Germany, by:

Lesley A. Smith, David Elis-Williams, Gordon Mcleod,
Mark Mallett, Martine Passagez, Konstanze Gundudis,
Peter Hinze and David John.

Due to "technical reasons" (which usually means something is on fire), for the present, The Cheshire Cat will be appearing monthly rather than weekly.

Winter
wonderlands

The Cheshire Cat
Blog
Visit the My Favourite Planet Group on Facebook.

Join the group, write a message or comment,
post photos and videos, start a discussion...







George Alvanos
rooms in
Kavala's historic Panagia District
Anthemiou 35,
Kavala, Greece
kavalarooms.gr
Olive Garden Restaurant
Kastellorizo,
Greece
+30 22460 49 109
kastellorizo.de
Papoutsis
Travel Agency
Kastellorizo,
Greece
+30 22460 49 286
greeklodgings.gr