My Favourite Planet > English > Europe > France > Paris >
| | | | | | | |
| --- | --- | --- | --- | --- | --- | --- |
| Paris | Paris gallery | | | 1 of 54 | | |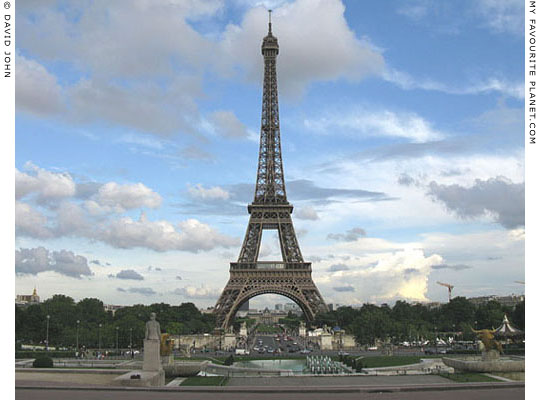 The Eiffel Tower from the Jardins du Trocadéro.
54 pages of photos of Paris

Click on a thumbnail to go to photo's gallery page.
Articles and photos: © David John, except where otherwise specified.

All photos and articles are copyright protected.

Images and materials by other authors have been attributed where applicable.

Please do not use these photos or articles without permission.

If you are interested in using any of the photos for your website,
project or publication, please get in contact.

Higher resolution versions are available on request.

My Favourite Planet makes great efforts to provide comprehensive and accurate information
across this website. However, we can take no responsibility for inaccuracies or changes made
by providers of services mentioned on these pages.

We welcome considerate responses to these articles and all other content on My Favourite Planet.
Please get in contact.
Visit the My Favourite Planet Group on Facebook.

Join the group, write a message or comment,
post photos and videos, start a discussion...






George Alvanos
rooms in
Kavala's historic Panagia District
Anthemiou 35,
Kavala, Greece
kavalarooms.gr
Olive Garden Restaurant
Kastellorizo,
Greece
+30 22460 49 109
kastellorizo.de
Papoutsis
Travel Agency
Kastellorizo,
Greece
+30 22460 49 286
greeklodgings.gr