My Favourite Planet > English > Europe > Greece > Macedonia >

| | | | | | | |
| --- | --- | --- | --- | --- | --- | --- |
| Polygyros, Halkidiki, Greece | Polygyros gallery | | | 3 of 9 | | |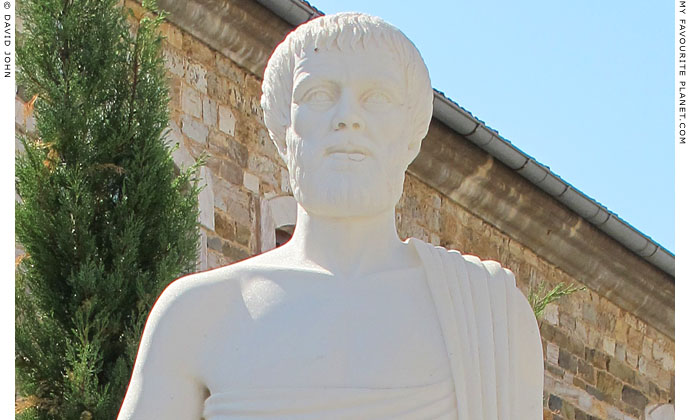 A modern statue of Aristotle by A. Alexiades outside Polygyros Town Hall.
Just about every town in Macedonia seems to be getting a statue of the philosopher Aristotle (Ἀριστοτέλης, 384-322 BC), who was born in the nearby city of Stageira.

Compare this statue of Aristotle to other modern portrayals of him in his home town and in Thessaloniki on Olympiada gallery page 5, where you can also read more about his life and his connection with Halkidiki.

The sculptor, A. Alexiades, has signed the sculpture but not dated it. The philosopher is portrayed as younger than in other modern sculptures of him which are based loosely on ancient Roman works, thought to be copies of a bronze original made around 330 BC by Lysippos, Alexander the Great's official portrait sculptor.

Aristotle is wearing a himation, a long woollen blanket wrapped around the torso with one end draped over the left shoulder, and backless sandles, and is holding a scroll, presumably of papyrus, in his right hand. The casket of scrolls beside his left foot (see photo below) is a nice touch.



Aristotle in full length
photos:
© David John



Aristotle's portable library


Alexander the Great plaque
in Polygyros bus station.

Alexander is another local hero whose
portrait is a common sight around Macedonia
and the rest of Greece. This profile is based on
Hellenistic coins depicting Alexander wearing
ram's horns, the symbol of Zeus Ammon.

See more ancient portraits of Alexander
on the Alexander the Great page
in the My Favourite Planet People section.
Text, map and photos: © David John,
except where otherwise specified.

Additional photos: © Konstanze Gundudis

All photos and articles are copyright protected.

Images and materials by other authors
have been attributed where applicable.

Please do not use these photos or articles without permission.

If you are interested in using any of the photos for your website,
project or publication, please get in contact.

Higher resolution versions are available on request.

My Favourite Planet makes great efforts to provide comprehensive and accurate information across this website. However, we can take no responsibility for inaccuracies or changes made by providers of services mentioned on these pages.
See also
The Cheshire Cat Blog
photo essays and
articles about Greece:

Athens (street life)

Athens (Aristotle's Lyceum)

Dion

Meteora

Pella

Polygyros

Thessaloniki

Visit the My Favourite Planet Group on Facebook.

Join the group, write a message or comment,
post photos and videos, start a discussion...




George Alvanos
rooms in
Kavala's historic Panagia District
Anthemiou 35,
Kavala, Greece
kavalarooms.gr