My Favourite Planet > English > Europe > Greece > Macedonia > Stageira & Olympiada >

| | | | | | | |
| --- | --- | --- | --- | --- | --- | --- |
| Stageira & Olympiada | Ancient Stageira gallery | | | 2 of 38 | | |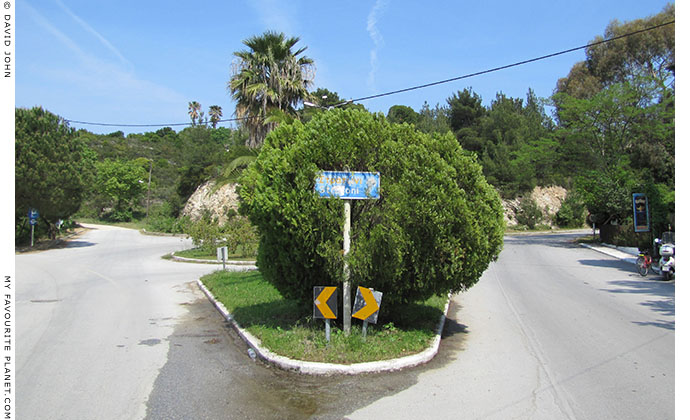 The road to Ancient Stageira from Olympiada village.
The way to Stageira from Olympiada

At the southern end of Olympiada village the main street forks in two directions. To the right, the road heads south to Stratoni (15 km). This is the way to the main entrance to the archaeological site of Ancient Stageira.

The road to the left becomes a dirt track leading around the south side of Olympiada bay, which is the north side of the Liotopi headland on which the two hills of Stageira stand. This is the way to the northwest entrance to the archaeological site of Ancient Stageira. We will show you the way on the next three pages.

However, we recommend that you enter the site by the main entrance, from where you can get a good overview of the place.

If you are travelling by car, leave it in the village, as there are no parking facilities at either entrance.

Your vehicle will be safe in the village. If you have any doubts, ask the friendly staff at Hotel Germany, who will give you advice.



Detail of the above photo: road sign pointing right to Stratoni.

Follow the arrow to the right for the road to Stratoni
and the main entrance to the archaeological site of Ancient Stageira.
Photos, maps and articles: copyright © David John,
except where otherwise specified.

Additional photos: copyright © Konstanze Gundudis

All photos and articles are copyright protected.

Images and materials by other authors
have been attributed where applicable.

Please do not use these photos or articles without permission.

If you are interested in using any of the photos for your website,
project or publication, please get in contact.

Higher resolution versions are available on request.

My Favourite Planet makes great efforts to provide
comprehensive and accurate information across this
website. However, we can take no responsibility for
inaccuracies or changes made by providers of services
mentioned on these pages.
Visit the My Favourite Planet Group on Facebook.

Join the group, write a message or comment,
post photos and videos, start a discussion...





George Alvanos
rooms in
Kavala's historic Panagia District
Anthemiou 35,
Kavala, Greece
kavalarooms.gr