My Favourite Planet > English > Europe > Greece > Macedonia > Stageira & Olympiada >

| | | | | | | |
| --- | --- | --- | --- | --- | --- | --- |
| Stageira & Olympiada | Ancient Stageira gallery | | | 5 of 38 | | |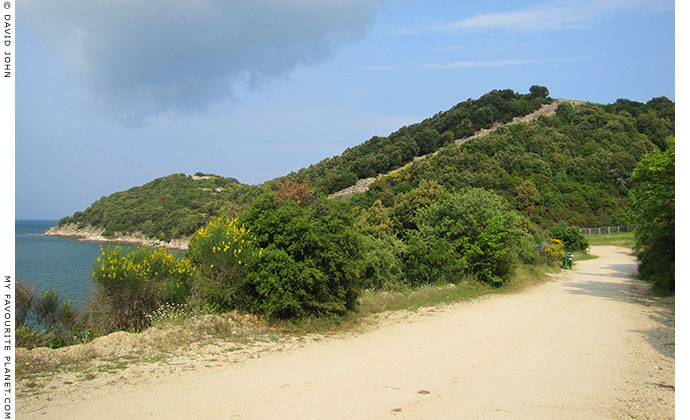 The path to the northern entrance to Ancient Stageira from Olympiada village.
How did we get here?

See directions on gallery pages 2 - 4.

Here is the dirt track to the northwest entrance of Stageira from ground level.

To the left of the track is the small cove and sandy beach, visible in the photo on the previous page.

Just around the next bend is the northwest gate to the archaeological site of Stageira.

The 5th century BC classical fortification wall (see photo below) can be seen climbing diagonally up the South Hill to the acropolis.

On the next page we go back to the main entrance to Stageira, at the south side of the archaeological site.

If you find the directions confusing, see the interactive map of the site on gallery page 7.



Roadside shrine along
the northern footpath
to Stageira.

See
Olympiada gallery
page 18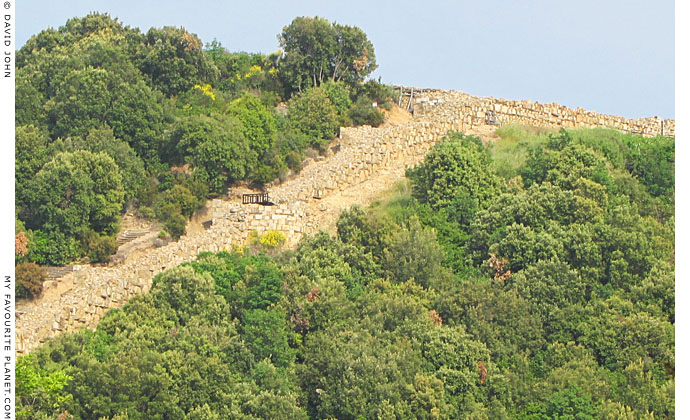 The top of the western section of the Classical fortification wall, built in the 5th century BC.



A stepped path leads up the inside of the wall to the acropolis,
and there is a wooden viewing platform on one of the wall's towers.



See more photos and information about the wall and the acropolis on gallery pages 8-17.
Photos, maps and articles: copyright © David John,
except where otherwise specified.

Additional photos: copyright © Konstanze Gundudis

All photos and articles are copyright protected.

Images and materials by other authors
have been attributed where applicable.

Please do not use these photos or articles without permission.

If you are interested in using any of the photos for your website,
project or publication, please get in contact.

Higher resolution versions are available on request.

My Favourite Planet makes great efforts to provide
comprehensive and accurate information across this
website. However, we can take no responsibility for
inaccuracies or changes made by providers of services
mentioned on these pages.
Visit the My Favourite Planet Group on Facebook.

Join the group, write a message or comment,
post photos and videos, start a discussion...