My Favourite Planet > English > People >


Herodotus of Halicarnassus



Herodotus (Ἡρόδοτος, Herodotos; circa 484 - circa 425 BC), often referred to as "the Father of History", was a Greek historian born in Halicarnassus, Caria (today Bodrum, Turkey).

His work

Histories

(ἱστορία, Istoría, which in Ancient Greek meant

Inquiries

), written in Ionic Greek around 460-420 BC, is the account of the wars between the Persians and the Greeks during the 6th - 5th centuries BC, but also includes historical and geographical background information, mentions of myths, legends, oracles and anecdotes. The scope of the work is vast and ambitious, as he discusses the histories, beliefs and aspects of the lifestyles of Greeks, Medes, Persians, Egyptians and other peoples from the eastern Mediterranean to Central Asia.

The entire book has survived, although like many ancient works it has been copied and recopied by hand and perhaps edited at some point over the centuries. The division of the work into nine books, each titled with the name of one of the nine muses, may be a later modification.

The accuracy and even the veracity of many of Herodotus' statements have been doubted by ancient and modern authors. He was usually careful to differentiate between what he saw and experienced himself and what other people told him during his travels through Greece, Asia and Egypt, sometimes expressing his opinions on such reports. A great deal of what he wrote has been confirmed by modern archaeologists and historians, in some matters it seems he was misinformed or misunderstood information he received, and the truth or otherwise of many of his claims may never be discovered.

Histories

is one of the most important surviving literary sources of information about the history of ancient Greece to the Classical period, and one of the most often quoted. The book is very readable, informative and often entertaining, and has long been a must-read for anyone interested in the ancient history of Europe and the Middle East.

A number of other ancient Greek authors before and after Herodotus also wrote histories, most of which have survived only as fragments, quotes or mentions by later writers. Two of his most important immediate successors, whose works have survived, were

Thucydides

and

Xenophon of Athens

.

Herodotus' Histories can be read online
at Perseus Digital Library.

In Greek, with notes in Greek:

A. D. Godley, Herodotus, Histories. Harvard University Press, 1920.

In English, with notes:

A. D. Godley, Herodotus, Histories. Harvard University Press, 1920.


There are a number of more recent translations in print, notably:

Herodotus, The Histories, translated by Robin Waterfield. Oxford World's Classics series, Oxford University Press, 1998, reissued 2008. Paperback, 784 pages. £9.99, USA $10.95.
A hefty paperback editon, with an introduction, timeline, comprehensive notes, indexes, maps and bibliography.





Marble head of Herodotus.
2nd century AD.

The head of Pentelic marble, 45 cm high,
was found in 1993 built into a modern
house just south of the Stoa of Attalos,
in the Athenian Agora. It is thought to
have been part of a draped statue
which stood in a library or gymnasium.

Agora Museum, Athens. Inv. No. S 270.


Marble head of Herodotus.
2nd century AD Roman period copy
of a Greek original of the late 5th or
early 4th century BC. From Italy.

Neues Museum, Berlin. Inv. No. Sk 295.

These are two of the best-known types
of bust of Herodotus. In the badly-worn
Athens bust, he appears older, with
deeper furrows in the forehead and lines
beneath the eyes. In comparison, the
Berlin head seems to be of a much
younger man. Another type of bust,
discovered at Athritis (modern Benha),
Lower Egypt and now in the Metropolitan
Musem of Art, New York, shows him
between these ages: middle-aged and
somewhat more serious.

All the busts (including a double-herm
of Herodotus and Thucydides in Naples,
see photos below) appear to show the
same person, with a high-brow and a
beard ending in two parted, conical coils.



Marble herm of Herodotus.

From a double herm of Herodotus and Thucydides.
Early 2nd century AD copies of early 4th century BC
Greek originals. Found in Hadrian's Villa, Tivoli,
around 1547-1555. Later in the Farnese collection.

National Archaeological Museum, Naples.
Inv. No. 6239.


Marble bust of Herodotus.

3rd century AD copy of a
4th century BC Greek original.

National Archaeological Museum, Naples.
Inv. No. 6146.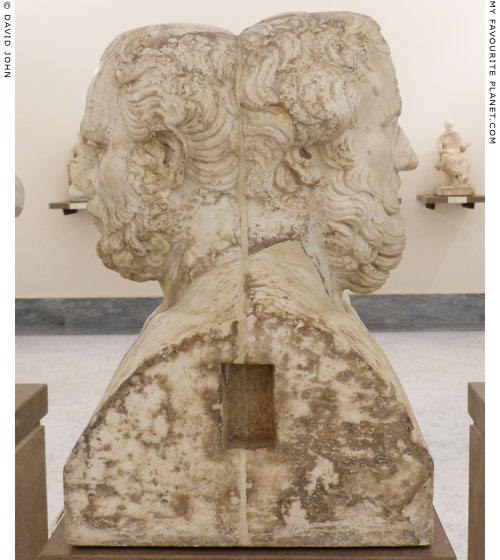 Side view of the double herm of Thucydides (left) and Herodotus in Naples.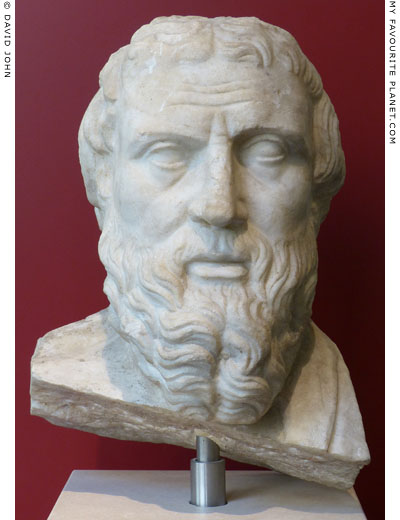 Head of a marble herm of Herodotus.



Greek marble. 2nd century AD. Recovered from the rubble
of demolished wall near the Porta Metronia, Rome.



Palazzo Massimo alle Terme, National Museum of Rome.
Inv. No. 124478. Acquired by the museum in 1940.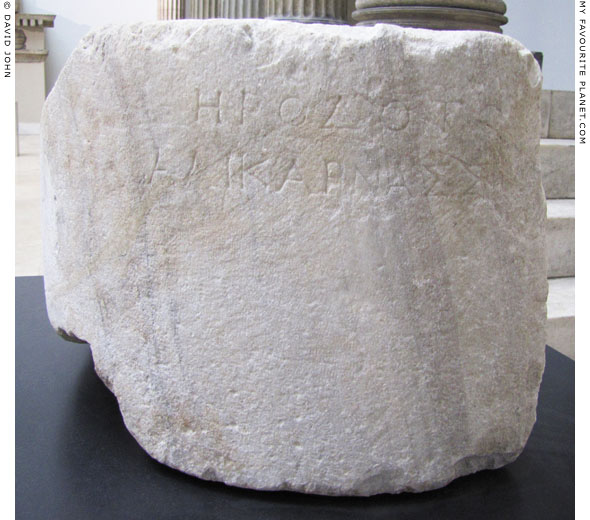 Fragment of an inscribed marble base of a standing statue of Herodotus from
the Sanctuary of Athena Polias Nikephoros, Pergamon. Late Hellenistic period.



Pergamon Museum, Berlin. Inv. No. IvP 199. Inscription IvP I 199.


The broken segment of a cylindrical, white marble block was found in March 1881 in the "Turkish Middle Tower" on the southern edge of the sanctuary. An indentation in the shape of a right foot on the top of the block indicates that it was the base for a standing bronze statue. Part of the inscription on the side of the base has survived, with the name ΗΡΟΔΟΤΟ[Σ] ΑΛΙΚΑΡΝΑΣΣ[ΕΥΣ] (Herodotos Alikarnasseys, Herodotus of Halicarnassus).

Height 34 cm, circumference 60 cm, height of lettering 2.5 cm.

Bases for statues of other Greek poets and historians have also been found at the sanctuary: Alkaios of Mytiline, Apollonios, Balakros, Homer and Timotheos [1]. The statues were probably part of a collection of monuments dedicated to famous writers exhibited in the Library of Pergamon within the sanctuary.

See also the base of a statue of Homer from the Sanctuary of Athena, Pergamon.
| | | |
| --- | --- | --- |
| Herodotus | Notes, references and links | |
Photos and articles © David John
Visit the My Favourite Planet Group on Facebook.

Join the group, write a message or comment,
post photos and videos, start a discussion...